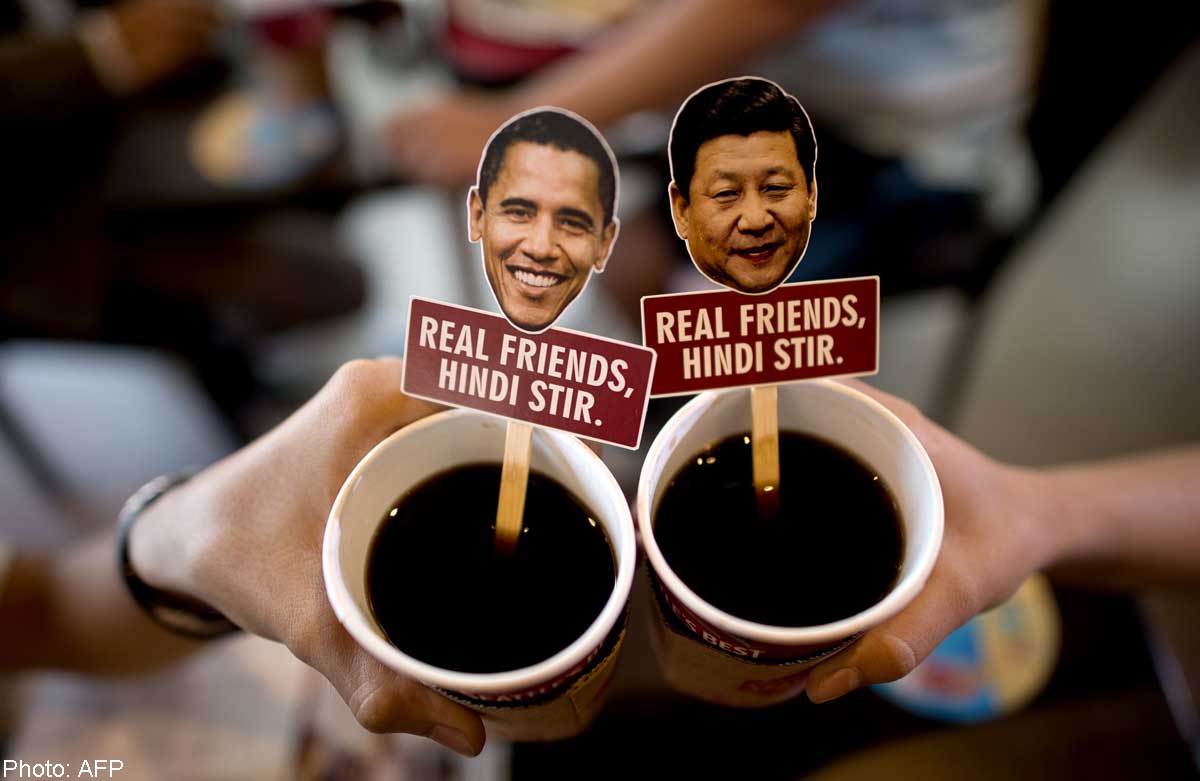 The US and China will try to use a high-level meeting next week to reset their strained bilateral ties, say Washington observers, who noted that both sides' leaders have in recent weeks been trying to build up positive momentum for the summit.
While relations have been beset by a host of diplomatic problems - the most recent being the indictment of five Chinese military officers for cyber-espionage - analysts say both sides are trying to make sure the issues do not sabotage the meetings.
Chinese President Xi Jinping told former US Treasury secretary Hank Paulson on Wednesday that he hoped both countries could use the US-China Strategic and Economic Dialogue (SED), to be held in Beijing on July 9 and 10, to inject "positive energy" into their ties.
"The two sides should expand common interests, deepen cooperation, plant more flowers, not thorns, clear the interference and avoid suspicion and confrontation," Mr Xi was quoted as saying by Chinese state media.
He added, however, that he hoped the US could take an objective view on China's "basic national conditions as well as its domestic and foreign policies".
This more conciliatory tone, coming just weeks after a fiery exchange over territorial issues at the Shangri-La Dialogue in Singapore, was also evident among US officials. In his testimony before US lawmakers last week, US Assistant Secretary of State for East Asia and Pacific Affairs Daniel Russel strenuously rejected any notion that the Sino-US relationship was descending into a rivalry, citing the strength and depth of the existing relationship.
"There are those who argue that Cold War-like rivalry is inevitable and that the United States and China are condemned to a zero-sum struggle for supremacy, if not conflict. I reject such mechanistic thinking," he said.
This week, when asked by a Chinese reporter for his thoughts on the ties, Deputy National Security Adviser Ben Rhodes also focused on the positives.
"If we have a difference in one area, it need not derail the entire bilateral relationship, because both of us have so much at stake in that bilateral relationship, and in fact, the world has a lot at stake in that bilateral relationship," he said, raising the continued cooperation between the two countries in the P5+1 talks on the Iranian nuclear programme as an example.
And while there will certainly be an effort to change the tone of the relationship, Ms Bonnie Glaser, senior adviser for Asia at the Centre for Strategic and International Studies in Washington, told The Straits Times that progress will likely be limited.
"This is an opportunity to change the negative tone that has prevailed since late last year, when China set up the air defence identification zone, compounded by the US decision to indict five People's Liberation Army officers and differences over the South China Sea. So I anticipate some positive atmospherics, but I don't expect any breakthroughs either in the strategic or the economic track," she said.
"The SED is so large, it is really not the best venue for reaching strategic understanding or problem-solving. Hopefully, the atmosphere of the bilateral relationship can be improved. Later in the year, President (Barack) Obama's visit to China may provide an opportunity to make more substantive strides forward."

This article was first published on JULY 4, 2014.
Get a copy of The Straits Times or go to straitstimes.com for more stories.