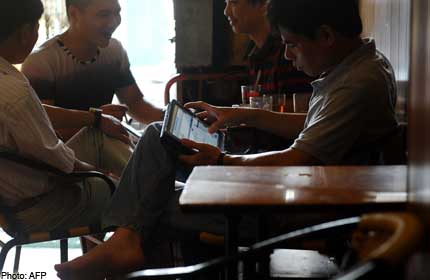 VIETNAM - Vietnam's controversial decree, making it illegal for Internet users to share news reports online, has quietly come into effect with little discernible reaction so far.
The order states that blogs and other social media sites must contain only personal information.
Adding to the cloud of confusion is the fact that it remains unclear what the penalties are for violations.
Mr Anh Minh Do, a Hanoi- based editor at online news company Tech in Asia, said in an interview: "There's no crackdown yet. We have to wait and see if someone gets thrown in jail and how the public reacts."
Discussion of politics on the Internet in Vietnam is already constrained. Bloggers critical of the Communist Party government have been jailed, prompting condemnation by human rights groups. So far this year alone, 46 bloggers and democracy activists have been prosecuted and jailed on charges of spreading anti-government propaganda.
But in response to criticism by the United States and European Union among others, government officials last month said that they had misunderstood the decree. Its intent was to protect intellectual property rights and copyright and, therefore, to contribute to the development of Internet standards in the country.
Deputy Minister of Information and Communications Le Nam Thang was quoted as saying that "online media agencies have to supply authentic and accurate information to the public".
He also said: "We should improve communication at schools and in families and society to guide Internet users towards good and healthy information."
Dr Jonathan London, a professor at City University of Hong Kong who does research on Vietnam, said: "There's no doubt that there is an element of state policy that wants to be firm on things of this nature - like intellectual property rights."
But he said the decree has a draconian tone and buzzwords like "national interest" that people construe as a "blanket edict that declares vast modes of expression online as potentially dangerous and off limits".
Mr Minh said: "People who have intellectual property rights to protect are optimistic that the decree will help them.
"But as for the public, Vietnamese are cynical. Vietnam's laws are vague, and that is for a reason - so that they can be used to prosecute someone when they (the government) feel they want to."

Get a copy of The Straits Times or go to straitstimes.com for more stories.