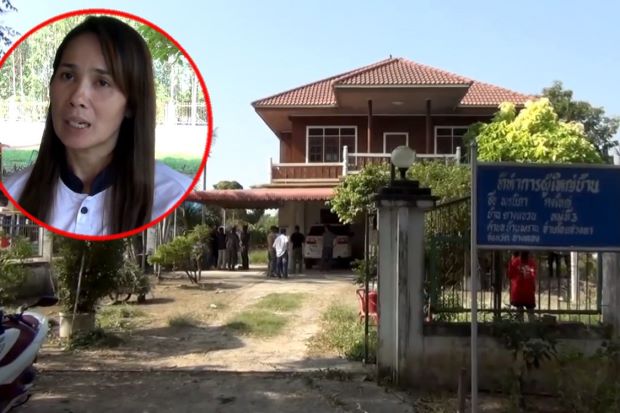 BANGKOK - A 43-year-old village headwoman, who woke up to find a gun pointed at her head and was tied up by two men who had invaded her home in Angthong's Sawengha district early yesterday, managed to untie herself, then grab a hidden gun and shoot and wound the intruders.
After receiving a report of a home intrusion and robbery, police went to the victim's two-storey home in Tambon Si Pran at 7am.
Sawaengha Police Station superintendant Pol Colonel Krittidech Sirichannont said they had found a blood trail that indicated where the intruders had fled the house belonging to village headwoman Pornnipa Khongyai (pic).
Pornnipa told police that she was sleeping alone at home when two men broke into her house at about 4am through the back window.
After the men went to search an area on the ground floor where she told them that she had hidden her gun, she untied herself and pulled out the pistol from under her pillow.
The intruders returned to the bedroom just as she managed to arm herself and she opened fire at them.
She said the men then fled through the back of house and sped away on a motorcycle. It was reported that the two men had left with Bt5,000 (RM626) in cash, a gold necklace worth about Bt100,000 (S$4,143) and a mobile phone.
Police officers collected evidence including eight spent cartridges and three bullets at the scene.
Although officers contacted local hospitals to discover if anyone had sought treatment for a gunshot wound, they had not located any suspects as of press time.
Police would also check CCTV cameras along possible escape routes in the hunt for the intruders, Krittidech said. Local people praised Pornnipa for fighting back, although they also noted that in her capacity as a village headwoman she had undergone some defence training that gave her the courage to do so.