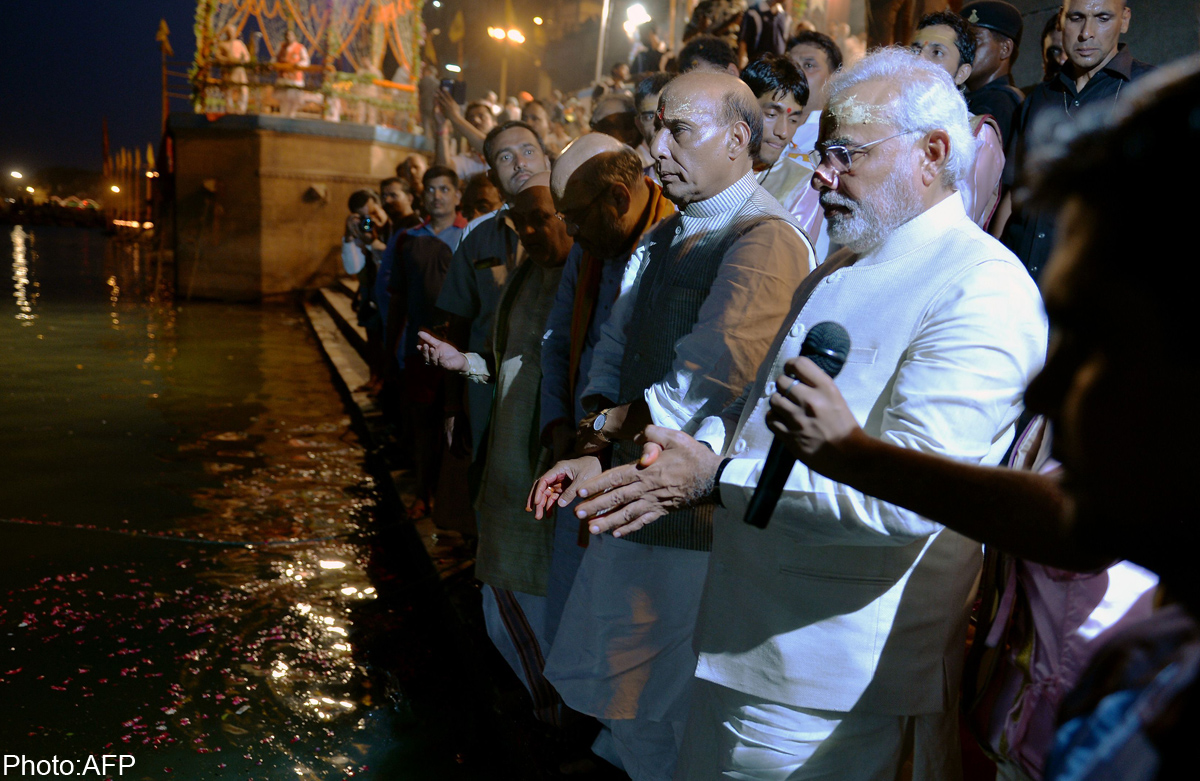 SINGAPORE - Singapore's success story in water management can be effectively replicated in India, says Professor Seetharam Kallidaikurichi, a former director at the Institute of Water Policy at the Lee Kuan Yew School, now based in Manila.
"Singapore's experience is very do-able and politically appropriate with India's recent changing leadership under new prime minister Narendra Modi. Most Asian countries may have the technology but not the political will. It also may not be at the stage of development where the outcome can be replicated."
He saluted Singapore's evolution from a water-scarce country with polluted rivers and waterways to one lauded for its water management initiatives with a burgeoning water industry. And he attributed this success to Singapore's engineering systems approach, which views a large and complex problem from all angles including non-technical factors such as economics, policy and social considerations. Taking such a holistic outlook also led to innovative solutions such as the recycling and treatment of used water to NEWater, reclaimed water pure enough for drinking and industrial use.
He added: "If Singapore can do it, so can India, just going on the flow of how Singapore, a country with so little water of its own, managed to become the world's most successful in water management, a model country that serves as a benchmark for others."
The new Indian government has promised a clean-up of the river Ganges, even appointing Ms Uma Bharti - who took charge as minister of water resources, river development - to supervise the rejuvenation of the Ganges. Mr Modi has promised the sacred river will be clean in five years. "Mother Ganga needs someone to take her out of this dirt and she's chosen me to do the work,"
Mr Modi told Bloomberg Businessweek, on the banks of the river where Hindu pilgrims believe a dip washes away sins.
But the Ganges is no ordinary river. It originates pristine from a Himalayan glacier 3,048km high, worshipped as a goddess, reverently called mother. Yet raw sewage from 29 cities blights its 2,525km route as bloated bodies of dead animals, funeral pyre ashes, reduced flow from dams and factory waste foul its waters.
Attempts over three decades
Various governments have spent nearly Rs40,000 crores over three decades to clean the river. The first official government effort for Ganga conservation was started by former prime minister Rajiv Gandhi in 1985, whose government launched the Ganga Action Plan. Its first phase started in 1985. Later, its second phase and other river schemes in the country were merged under the centrally sponsored National River Conservation Plan. And yet, the river remains filthy.
"About 32,000 dead bodies are cremated every year in Varanasi - or 88 every day," said Dr B.D. Tripathi, at the Centre for Environmental Science at Banaras Hindu University. "For this, about 16,000 tonnes of firewood are required and during the burning process about 7,000 tonnes of ash are released into the Ganges."
According to the National Ganga River Basin Authority, which is trying to clean up the river, the amount of toxins, chemicals and dangerous bacteria found in it is now almost 3,000 times higher than is considered safe by the World Health Organisation.
But Mr Modi, who was elected from Varanasi, the holiest city in Hinduism, is adamant about a new facelift. He told The Hindustan Times: "It is my dream to restore sacred Ganga's glory and utilise this ancient river's full potential by using it as a waterway from Gangotri to Kanpur, Kanpur to Allahabad and Allahabad to Kolkata to transport people as well as cargo.
"We will prepare a roadmap for transforming this ancient river into a mode for cargo and public transport. The area around the stretches would also be beautified. This will not only help develop tourism but will also bring in revenue," he said.
Prof Seetharam, now with the Asian Development Bank in Manila, Philippines, gave his views as the five-day Singapore International Water Week (SIWW) was on from June 1 to 5. The Water Week is a global platform to share and co-create innovative water solutions. It is part of Singapore's strategic programme to grow the water industry and develop water technologies.
The big question: Why is a little red dot of an island an example for the world's largest democracy?
Prof Seetharam cites the Singapore Water Story, after two years of intensive research, which is the most authoritative text that critically and objectively analyses how the city-state managed to transform its urban and water and wastewater management from an average Third World country in 1965 to one of the best in the world two decades later.
Written by three international water academics - Professor Asit Biswas, Ms Cecilia Tortajada and Yugal Joshi - the book charts Singapore's rise from having only three reservoirs at the time of independence to becoming a world leader in water practices for self-sufficiency.
It also discusses the enabling environment that made this possible. The Singapore Water Story is one of consistent long-term and visionary planning followed by timely execution. It is one of leadership and relentless pursuit of improvements of living conditions and quest for sustainable development. It is a success story of self-reliance and creation of growth opportunities, consistent with good governance, notwithstanding the scarcity of natural resources that would normally limit such a development process.
Professor Kishore Mahbubani, Dean of the Lee Kuan Yew School of Public Policy, who wrote the foreword for the book, said: "If Singapore could go from Third World to First World in water management in one generation, it provides hope to millions, if not billions, of urban residents in Asia and beyond."
Lessons from Singapore
Taking lessons from Singapore's long-term land-use planning, Prof Seetharam said the Modi government should embark on a longer-term, perhaps even a decade-long, clean-up project of the rivers and waterways in India, which are the main sources of water.
"Start with small waterways in every city and state and get it to be embraced nationally," said Prof Seetharam. "It's like cleaning a village tank, do it as a social community project first.
Likewise the problem of slums and clusters has to be solved on an urgent basis by regularising the unplanned colonies and making alternative settlements simultaneously.
"We have to make model townships where water, sanitation and other basic amenities are provided to people. We also have to help them become self-sustainable by setting up rainwater harvesting and water recycling plants," said Prof Seetharam.
More serious thought must be given to the effluent and solid waste discharges from industrial and commercial activities, which needs to be regulated with effective policy implementation and law enforcement. Instead of just using engineering or hardcore technological solutions, the main target must be to stop the pollution from entering the river by looking at soft management solutions as well.
"From Delhi to Kolkata, Mumbai to Chennai, there's a need to foster a strong national leadership with a political will that works towards the vision of making water services in the cities sustainable and efficient," he said.
"This kind of leadership was visible during Singapore's transformation first by former Prime Minister Lee Kuan Yew and later by others. It makes it easier for the leadership to make quick decisions and law enforcement for the benefit of the public while India, being in a multi-party democratic set-up, has ineffective and slow implementation of policy," he added.
Good water policy is good for political success, he added, citing major Asian cities like Seoul (South Korea), Tokyo (Japan), Kuala Lumpur (Malaysia), Surabaya (Indonesia) and Bangkok (Thailand) where there is strong evidence that governments who cleaned up the water bodies in their countries served long political terms.
The United Nations Development Programme (UNDP) says that within 15 years, almost half the world's population - that's over three billion people - will be living in areas of high water stress. Water is already the commodity of the 21st century.
The United Nations predicts that the world's population will exceed 10 billion by 2050 and more than one billion people will lack access to clean drinking water by then.
Each US citizen uses an average of almost 600 litres of water a day, while in China, each person uses just 90 litres apiece - but they are catching up. According to an article in Fortune magazine, India expects water demand to double in a decade and demand for agricultural water will rise by more than 40 per cent by 2030.
Alluding that water could be the new gold, a big commodity bet, Dr Gabrielle Walker, an expert in climate change and a former Princeton academic, said: "Over the next two decades we will need up to 40 per cent more water to meet rising demand, and it's far from clear where that water will come from. We can just pump the groundwater from deeper and deeper, or strip out the salt from seawater. But both of these approaches are hugely energy intensive and more energy requires... more water."
Praise for Singapore's political will
Prof Seetharam, however, feels that "water being new gold is an often used old catch phrase". He said: "I think we should take a departure from articles that cause alarm about water scarcity and describe problems and find who to blame, to those that can point to success and celebrate good action. In 2007, when we issued the inaugural Asian water development outlook we stated that the 'problems are not because of physical scarcity of water but due to lack of good governance'."
Eminent water laureate Prof Asit Biswas, a winner of the Stockholm Water Prize, praises the political will of (former Prime Minister) Lee Kuan Yew for Singapore's water success story. "Most other leaders were only interested in water when there was a drought or flood. Mr Lee was different. I'm not aware of a single prime minister in the world who had so much interest in water that he wanted a monthly report," said Prof Biswas in an interview with The Straits Times.
Prof Biswas noted: "Singapore's approach to holistic long-term multi-sectoral planning can be adopted in many cities (not countries) of the developed and developing world. Even when the same technology is available for other cities and countries to use, they have not been able to excel as the PUB has done."
In India, all eyes will be on Mr Modi's efforts to clean up the Ganges. It would be good news not just for the people of Varanasi, but also for the 450 million other Indians who live along the river's 2,525km-long banks - about 6 per cent of the world's population - who depend on the river for water.

Get a copy of tabla! for more stories.