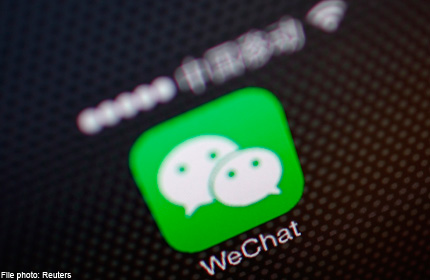 CHINA - Mr Du Yongfei used to update his Twitter-like Sina Weibo microblog account once a week and scour the "tweets" of those he followed during his commutes on the subway to and from work.
But the 26-year-old housing agent has barely logged into his account in the past six months.
"Weibo is getting boring - the comments have become very safe. I've switched to using WeChat instead - it's private and people seem to be less inhibited in what they say," he told The Straits Times, referring to the Chinese mobile messaging app.
Mr Du is not alone in his waning interest. Some 28 million or 9 per cent of microblog users quit using the platform last year as Beijing's tightening grip on the Internet took its toll and changing user patterns saw a migration from computers to smartphones and other mobile devices.
The decline - to 281 million microblog users - is the first since figures were initially collated in 2010, and has raised fears that the government might have succeeded in neutralising the platform, often used by Chinese citizens to expose corruption and wrongdoings.
The increased controls seem to have benefited mobile messaging services such as WeChat, whose users surged in number by 79 million last year, rising 22 per cent to 430 million, according to a half-yearly report released last month by the China Internet Information Centre.
In fact, 37 per cent of those who stopped using Weibo - the Chinese term for microblogs - last year turned to WeChat, the centre added.
Observers say that even though the crackdown on microblogs deemed sensitive by Beijing has prompted users to migrate to other social media services such as WeChat, the trend is in line with often-fickle social media usage.
WeChat is not the only mobile messaging service around - others include China Mobile's Fetion - but it is the leading one now and it is growing rapidly.
"The crackdown has dampened enthusiasm for posting on Weibo political comments such as criticisms of the government. People are more careful now," said Professor Doug Young at Fudan University's Journalism School, who is the author of a recent book about the media in China.
"Other users who have relied on Weibo for contrarian views can't get them any more. That's partly why Weibo has experienced a sudden reversal of fate," he told The Straits Times.
One expert on the Chinese Internet, Mr Renaud de Spens, even attributes 90 per cent of the blame for the drop in the number of users to the crackdown.
Dozens of high-profile microbloggers have been arrested in the past year for spreading rumours or on charges unrelated to their microblogging activity, in a campaign some say is aimed at stifling criticism of the Communist Party.
In such a climate, it is no surprise that WeChat is growing more popular, as it affords its users greater privacy than microblog sites do, say experts.
For instance, information on WeChat can be shared only within certain groups, which reduces the risk of running into legal trouble for public remarks made, so users can be more candid.
Moreover, as Mr Jason Lee, a former editor of technology blog TechNode, told The Straits Times, WeChat's more interesting and playful social features, which include games, have made it a hit with users.
"Ultimately, WeChat is a more useful product that has also become a source of entertainment" - something Weibo has struggled to become, he noted.
However, with WeChat rapidly gaining popularity and its users now able to open public accounts that others can subscribe to - a feature similar to having followers on Twitter - Beijing is surely keeping a keen eye on it as well, experts say. And it could be the next in line for stricter controls.
Prof Young said both the authorities and Chinese Internet giant Tencent, which owns WeChat, are probably keeping close tabs on WeChat public accounts.
"If things start going viral and these accounts attain wider transmission, there's no reason for them not to be subjected eventually to the same rules as Weibo."
Mr Lee added: "As long as the government wants to protect itself and believes censorship is the way to do that, social media services will always be watched carefully because they are unlikely to disappear."
For Mr Du, the possibility that his new app favourite will also be stifled by rules is something he will ponder another day.
"I don't think it will happen because most people use WeChat as a communication tool, but if it does, so be it - the tech world will figure out something else."
esthert@sph.com.sg

Get a copy of The Straits Times or go to straitstimes.com for more stories.