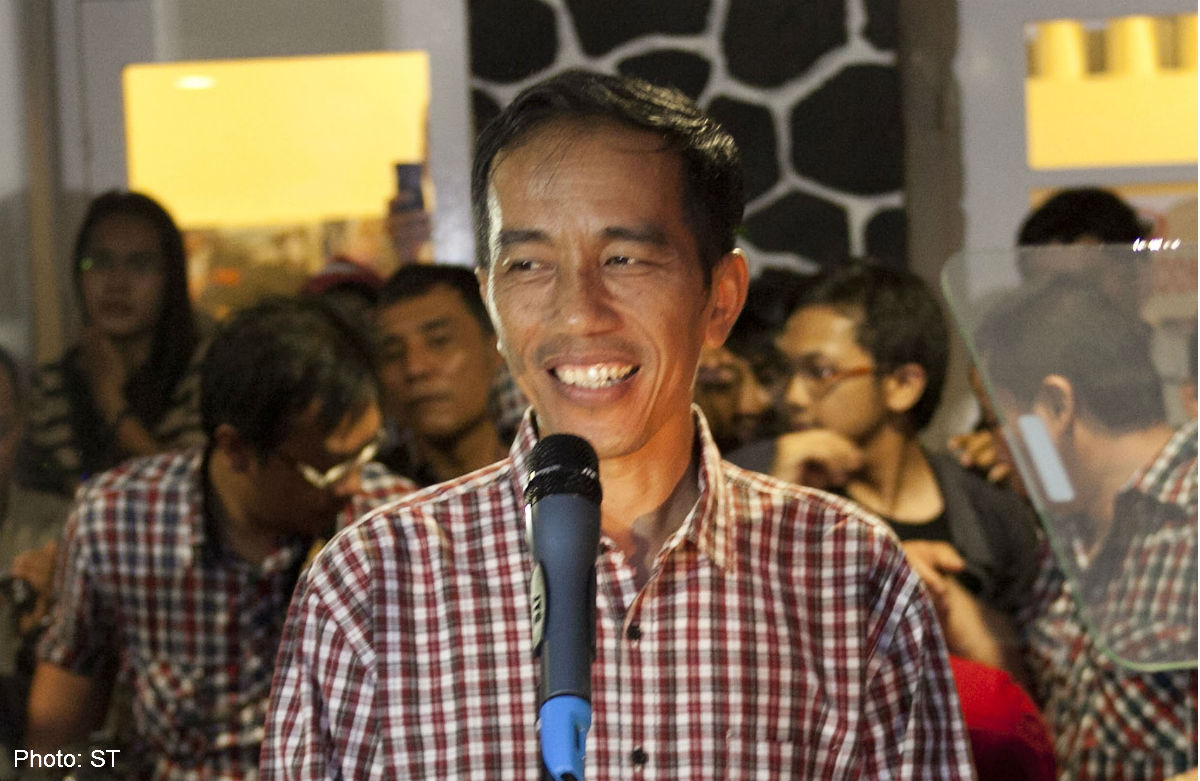 Two months before Indonesia goes to the polls and the country's most popular politician, Jakarta Governor Joko Widodo, won't be drawn on whether he will step up to lead his party and potentially make a bid for the presidency.
"I don't think about it," Mr Widodo says of the upcoming elections on a recent Friday morning, unpeeling a banana in the foyer of the white-columned Dutch colonial gubernatorial offices.
"I am focused on being governor of Jakarta."
Mr Widodo, 52, is dressed in a fluorescent yellow jersey. He arrived from his official residence in the leafy suburb of Menteng at the head of a pack of 15 or so cyclists from Bike to Work Indonesia - a group dedicated to weaning residents off their cars in this notoriously congested city.
Television crews from 12 local stations and two dozen reporters surround him. He motions to anyone standing to sit.
For upwards of an hour he takes questions, shares jokes and signs jerseys amid plates of raw unshelled peanuts and steaming cups of sweet jasmine tea.
"Every day is like this," Mr Widodo says. "It is important for democracy. We must consult with the people."
Known affectionately by his nickname Jokowi, his image of accessibility mixed with an unrelenting focus on Jakarta's poverty, traffic and liveability has catapulted Mr Widodo onto the national stage with approval ratings steadily on the ascendant.
Last month, national daily Kompas published approval ratings that put Mr Widodo's level of support at nearly 44 per cent or more, more than than all the other 11 likely candidates combined.
The next most popular, Subianto Prabowo, a retired general accused of human rights violations, saw his approval ratings sag to 11 per cent.
But his meteoric rise risks stalling. Mr Widodo is mired in a waiting game with the senior leadership of his party, Indonesia Democratic Party of Struggle (PDI-P).
Party chair Megawati Sukarnoputri, 67, the daughter of the independence leader Sukarno, and a former president herself, is believed to want a third tilt at the top job in July when Indonesians go to the polls in the second of a two-step process that will see them first elect members to the legislature, the house of representatives, in April.
Anies Baswedan, rector for the faculty of political science at the University of Indonesia in Jakarta, says that eventually Ms Megawati will step aside; a move that will give her considerable clout as a sort of back-seat driver, if as expected, her opposition party does well at parliamentary elections.
"Hope is still there that he will be nominated," says Mr Baswedan, who himself is a long-shot candidate for the leadership of President Susilo Bambang Yudhoyono's Democratic Party, after term limits force the incumbent from office in October 2014.
Mr Baswedan, who is campaigning for increased education spending, says the election amounts to a generational change as an emerging consuming class are increasingly turned off for elderly politicians dating back to the Suharto era, whom they view as corrupt.
"This election is not about Megawati," Mr Baswedan says. "This isn't about what one person wants. This is about the hopes of millions."
If Mr Widodo is elected, it will be with the support of the young and the poor, struggling to find a place in this rapidly changing country.
While 5 million people - the equivalent of the population of Singapore - are thought to join the ranks of the consuming class every year, 100 million earn less than US$2 a day.
With GDP growth in the neighbourhood of 6 per cent every year for most of the past decade its coterie of 29 billionaires rivals Japan's 33, according to Forbes Magazine.
By all accounts Mr Widodo has secured that support. He introduced health care insurance for the poor and kickstarted two moribund transport projects that had been on the drawing board for as long as 30 years.
He will introduce electronic road pricing to ease traffic congestion this year.
He's moved thousands of squatters out of riverbank slums to make way for work aimed at alleviating the capital's perennial floods.
That populism is mixed with a dash of pragmatism.
Though empowered to set minimum wages, he held off hiking wages in 2013 by the 50 per cent margin he allowed the year before.
Instead he settled on a 10 per cent raise to howls of protests from labour.
Last week, he inked a US$1 billion agreement with Hon Hai Industry, the owner of Foxconn, to build a factory in the northern industrial suburbs of the city with a mix of tax incentives and promises to invest in infrastructure.
His tireless schedule builds confidence that, though he may not be addressing all of Jakarta's challenges at once, he'll get there eventually. Almost daily he whisks busloads of reporters to one or two of Jakarta's 360 slums.
On this day Mr Widodo is swarmed by residents as he steps off the bus, jostling to shake his hand. His aides take notes of the list of complaints from residents, ranging from the price of beef in nearby traditional markets, and high rents to shoddy maintenance.
The apartment blocks he visited are owned by the central government but were built on city land in 1999. The central government wants to more than double rents to the equivalent of US$50 a month.
Mr Widodo will propose paying for improvements such as drainage, and lighting in exchange for curbing the rent hike.
"I will call the management and we'll talk together and we'll make a deal," he says calmly.
"This is street democracy. People talking to me on the street, by the river bank, in the mosque. We must give more attention to the poor."
As Mr Widodo hands out notebooks to ecstatic school children, Aspiiah a 32-year-old mother of three, is adamant Mr Widodo should run for president.
"He comes here and talks to us. The others, like Prabowo never come here," explains Aspiiah, who like many here only has one name. "He is serious about helping. He's not just talking."
Iwan, a 41-year-old driver has a more nuanced opinion.
"Jokowi is doing a good job. But he has only just started. He has a duty to stay as governor," Iwan says adding he'll be voting for Mr Prabowo, even if Mr Widodo is a candidate.
Mr Widodo's party has said it will most likely make a decision on their candidate after legislative elections in April. In her first interview in years last month Ms Megawati played down Mr Widodo's massive popurity citing leadership ability as key.
"Ibu Megawati is right," Mr Widodo said, using the Indonesian honorific. "Who becomes (party) leader is her decision. I am focused on the people."
btworld@sph.com.sg

Get The Business Times for more stories.