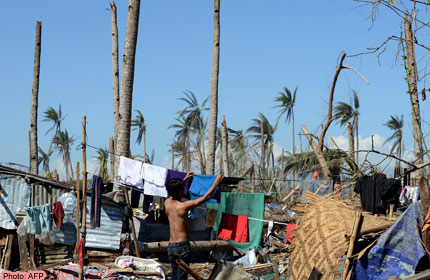 The World Bank has raised to nearly US$1 billion (S$1.25 billion) its financial aid for the typhoon-devastated central Philippines.
The size of the package, in addition to several hundred millions of dollars from other international sources, reflects Asia's biggest disaster recovery and reconstruction effort since 2004's Indian Ocean tsunami.
The World Bank's offer of US$480 million in additional assistance - the Washington-based bank earlier extended a US$500 million emergency loan - was made to Philippine President Benigno Aquino by the bank's head Mr Jim Yong Kim in a telephone call last Friday.
In a statement, Mr Kim praised the "resilience of the Filipino people and the determination shown by President Aquino and his team as they work to recover from a disaster of unprecedented scale".
But he added: "With overwhelming demands, the relief, recovery, and reconstruction effort will take time."
In addition to the World Bank's loan package, the Manila-based Asian Development Bank is extending a US$523 million loan and grant package. Foreign governments and international aid agencies have so far committed US$344 million in cash and relief goods, according to Reuters.
And a UN appeal for funds was raised from US$301 million to US$348 million.
For its part, the Philippine government plans to use 45 billion pesos (S$1.3 billion) from next year's national budget to start a fund for rebuilding areas devastated by Super Typhoon Haiyan, which tore into the central Philippines on Nov 8.
The cost of reconstruction is still being assessed, but a recent government estimate put it at nearly US$6 billion. Projections by international risk analysis specialists believe the damage to be two and even three times higher.
The death toll continues to rise as more bodies are recovered, with the national disaster agency yesterday putting the toll at 5,235, with around 1,600 people still missing. Over four million people were displaced and an estimated 1.2 million houses damaged or partly destroyed.
The task ahead is huge. Haiyan levelled a provincial capital, scores of towns and an untold number of smaller communities, and destroyed or badly damaged critical infrastructure.
But analysts assessing the damage on the overall economy - currently showing among the strongest rates of growth in Asia - believe the government's target for growth of around 6 per cent to 7 per cent this year will still be reached. This is largely because regions devastated by the typhoon account for a small share of the country's gross domestic product.
With the relief effort well underway despite a faltering start, Mr Aquino's administration is readying a reconstruction and rehabilitation plan that will need the backing of Congress, where he has majority support, and international and bilateral donors.
An administration official said Mr Aquino expressed his gratitude to several world leaders in telephone conversations last Friday for the support they are giving in the relief and recovery effort, including Australian Prime Minister Tony Abbott, Japanese Prime Minister Shinzo Abe and Israeli Prime Minister Benjamin Netanyahu.
"The President did mention that (getting messages of hope from world leaders) matters because... it's important for us as a people at this time to know that our neighbours are here and that our neighbours are helping," said deputy presidential spokesman Abigail Valte yesterday.
amcindoe@yahoo.com

Get a copy of The Straits Times or go to straitstimes.com for more stories.