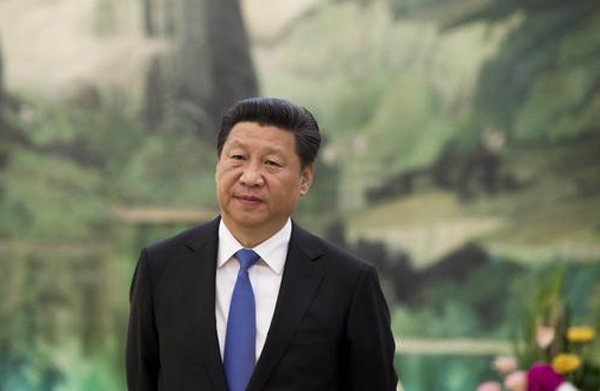 Chinese President Xi Jinping has promoted his biggest batch of military and armed police officers to full general, in a bid to consolidate his power base and boost morale amid an anti-corruption crackdown in the military, say analysts.
The 10 promotions were announced at a ceremony attended by Mr Xi, who chairs the powerful Central Military Commission (CMC), and other CMC members last Friday, the eve of the 88th anniversary of the founding of the People's Liberation Army (PLA).
Beijing-based military observer Wu Ge said the promotions could be a reward for Mr Xi's loyalists. Personnel changes at this level are decided by the CMC, though the CMC chair usually has the final say.
Among those promoted was deputy chief of staff Wang Guanzhong, who won plaudits in China for his war of words with then US Defence Secretary Chuck Hagel and Japanese Prime Minister Shinzo Abe at last year's Shangri-La security dialogue.
Reflecting Mr Xi's vision of turning the PLA into a professional fighting force, four of the newly promoted generals had combat experience in the 1979 war against Vietnam.
They are Lanzhou Military Region commander Liu Yuejun, 60; Jinan Military Region commander Zhao Zongqi, 60; Chengdu Military Region commander Li Zuocheng, 61; and People's Armed Police (PAP) chief Wang Ning, 60.
Analysts noted that the latest promotions came about to fill a larger number of vacancies. Some 40 top officers in the PLA and the PAP have been sacked in connection with corruption since last year.
Topping the list of fallen military "tigers" were retired generals Guo Boxiong and Xu Caihou, former CMC vice-chairmen who were implicated in a pay-for-rank scandal.
The Chinese Communist Party (CCP) sacked Guo, 73, last week and handed him over to military prosecutors. Xu, 71, died of cancer in March while waiting to stand trial.
Nottingham University analyst Steve Tsang, a senior fellow at its China Policy Institute, said the promotions were "first and foremost about consolidating Xi and the CCP's control over the PLA".
"Having brought down two big 'tigers', there is a need to signal that Xi is fully in charge and is promoting his cadres to take charge, so that it is clear to all in the PLA what to expect," he told The Straits Times.
Hong Kong-based military analyst Liang Guoliang said that PLA Navy's political commissar Miao Hua and PAP commander Wang are faces to watch, as they seem to have been promoted ahead of schedule. It usually takes at least four years before a lieutenant-general, the rank both men held for three years, is promoted.
Mr Liang believes Gen Miao could be groomed to succeed navy chief Wu Shengli, 70, who has been in the post since 2006.
PLA expert Arthur Ding, of the Taipei-based Chinese Council of Advanced Policy Studies, considers Beijing Military Region commander Song Puxuan, 61, also newly promoted, another rising star.
"He has served in three military regions - Jinan, Nanjing and Beijing - experience that is highly valued. Furthermore, his career of promotion does not show any relationship with Xu and Guo," added Professor Ding.
Separately, the Beijing Youth Daily reported on Monday that at least 16 top officers across the army, navy, airforce and military academies have been given new portfolios, with around 70 per cent of the reshuffle involving officers in charge of political work.
Given Mr Xi's Leninist leanings, it is "expected that PLA commissars would be favoured in promotion, in parallel to those commanders with combat experience", said Prof Tsang.
This article was first published on Aug 05, 2015. Get a copy of The Straits Times or go to straitstimes.com for more stories.