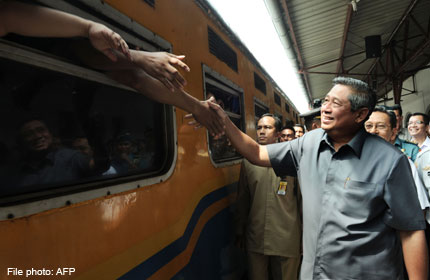 INDONESIA - Indonesian President Susilo Bambang Yudhoyono has announced a Budget stacked with sweeteners aimed at shoring up domestic spending amid slowing economic growth, as the country heads for elections next year.
Basic pay for close to 4.7 million civil servants, 470,000 soldiers and 400,000 policemen will go up by 6 per cent next year after a 10 per cent raise this year, while core pensions will increase by 4 per cent. Cash grants and subsidies for education and health care for poor households will also rise, alongside funds for roads, schools and community health centres.
All this comes as growth for South-east Asia's largest economy this year is set to fall below 6 per cent - the first time in three years - amid global uncertainty.
"The government is formulating a Keep Buying Strategy and preparing a stimulus package in order to prevent layoffs," Dr Yudhoyono told a joint session of Parliament. "Extra effort is also being made to control inflation, so that people's purchasing power and consumption are maintained."
Gadjah Mada University economist Sri Adiningsih noted that in a year dominated by politics and global uncertainty, this may be the best strategy. "Indonesia should rely on private consumption and government spending because exports and investment will slow anyway," she said.
Last month's inflation hit 8.6 per cent year on year due to cuts in fuel subsidies and high food prices, and there are fears domestic consumption, which makes up more than half of gross domestic product (GDP), will be hit.
Industry Minister M.S. Hidayat told reporters the government is looking at tax incentives for companies in labour-intensive industries such as textiles, footwear and toys if they guarantee no layoffs within the next one year.
The government remains bullish, projecting 6.4 per cent growth next year. The new budget will see it spend 1,816.7 trillion rupiah (S$218 billion), up 5 per cent from this year. The ministries with the highest allocations include Defence, Education, Public Works and Religion. Some 17 trillion rupiah has been set aside to run next year's parliamentary and presidential polls.
Dr Yudhoyono is barred by law from seeking a third term, but some of these initiatives may help boost the lot of parties in the governing coalition.
The President noted that poverty dipped from 16.7 per cent in 2004, when he took office, to 11.4 per cent in March, but continuing poverty reduction "requires government intervention that is measurable, targeted and systematic".
Indonesia has also been hit by softening commodity prices, and Dr Yudhoyono said the Budget aims to ensure that future growth is not reliant on natural resources and unskilled labour alone.
For a start, import value-added taxes on non-fiction books will be lifted, tax incentives given for research and development activity, and funds allocated to universal secondary education so that by 2020, 97 per cent of youth aged 16 to 18 will be in high school.
The Budget deficit will be trimmed to 152 trillion rupiah, or 1.49 per cent of GDP, down from 2.38 per cent this year.
"I do not wish to leave a burden for my successor," he said. Rather, the Budget's measures "will be a base for the next administration to maintain continuity in economic development".
zakirh@sph.com.sg
wahyudis@sph.com.sg

Get a copy of The Straits Times or go to straitstimes.com for more stories.