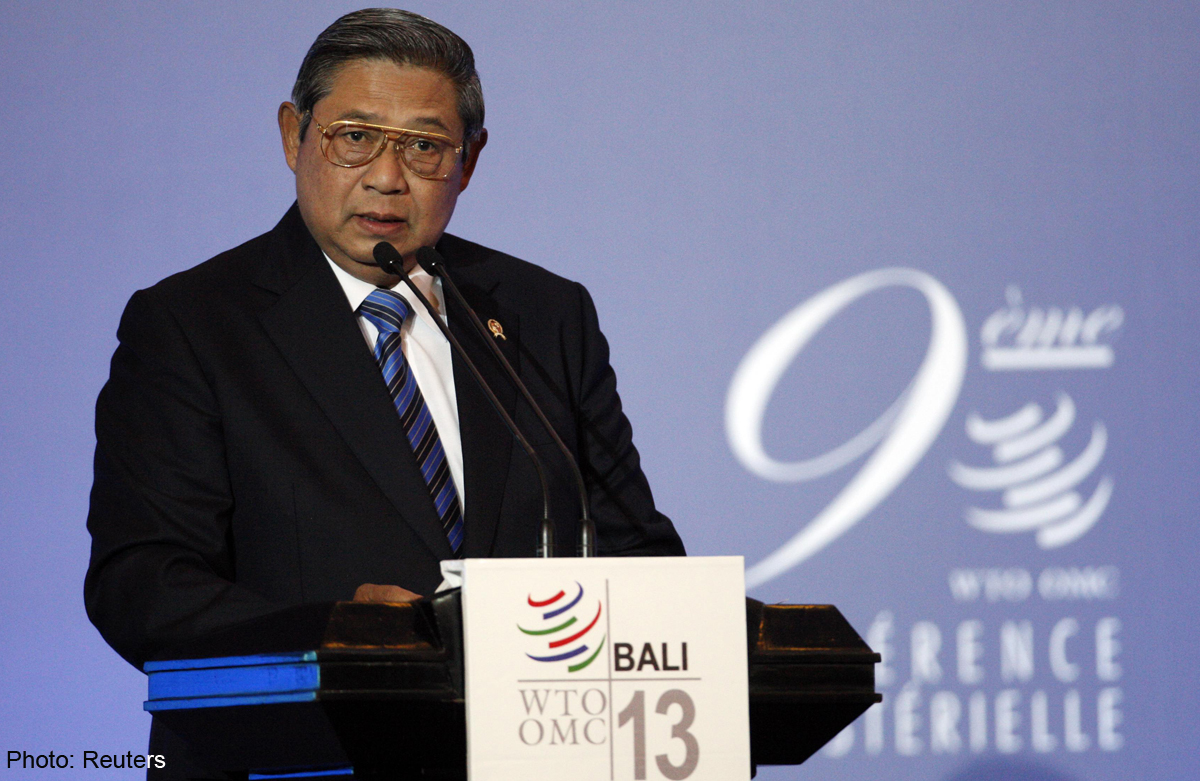 INDONESIA- Indonesian President Susilo Bambang Yudhoyono has prodded top trade officials from 159 countries to produce a deal that would end over a decade of stalled efforts to free up global trade, as they gathered in Bali's Nusa Dua enclave for the start of this week's World Trade Organisation (WTO) ministerial conference.
Negotiators are nail-bitingly close to agreeing on a "Bali package" that would revive the deadlocked Doha Round of talks started in Qatar 12 years ago, and add an estimated US$1 trillion (S$1.26 trillion) a year to a struggling global economy.
Yet the outstanding issues are so intractable that many remain pessimistic about getting a deal at all.
Not the hosts, however, who stressed that much more than just the WTO's credibility and relevance was at stake.
A breakthrough, Dr Yudhoyono said, would reinvigorate global trade and make the world economy fairer and more inclusive.
"Failure is not an option," said Dr Yudhoyono, adding that trade was a critical part of the global effort to wipe out poverty. He called on officials to exercise flexibility and creativity in finding solutions to the impasse.
"You have made more progress than many critics of the WTO thought possible... We cannot afford to let our hard-fought gains fade away," he added.
The hosts have made the dress code for the meetings batik or smart casual, and are hoping this will make it easier for officials to seal a deal.
Piling on the pressure, WTO director-general Roberto Azevedo said: "It is now or never."
Both he and Dr Yudhoyono noted that many countries were pursuing bilateral or regional trade pacts, saying only a multilateral deal would benefit both the weak and strong.
To their credit, officials have made significant progress, agreeing to give the least developed countries greater flexibility to speed up Customs procedures, among others, at the final hour of talks in Geneva last week.
"We have made more progress in just the last few weeks than we have over the past five years," Mr Azevedo, a career Brazilian diplomat, said earlier.
The Doha Round of talks, launched in 2001, sought to liberalise global trade but remained bogged down by disagreements, in part between developed and developing countries, over cuts to tariffs and subsidies.
Ahead of this week's meetings, officials sought to agree on measures across three broad areas: trade facilitation, access to markets for the least developed countries, and agricultural reform, as part of a "Bali package" that Indonesian Trade Minister Gita Wirjawan hopes would set the stage for progress in other areas.
A main stumbling block has been India's refusal to compromise on its food subsidy programme, even as WTO members sought to work in a "peace clause" that would let it breach the subsidy cap for some time.
Critics of the WTO say its rules also chip away at countries' sovereignty and cause job losses.
Yesterday, hundreds of anti- globalisation protesters from various countries demonstrated in Bali's capital Denpasar.
Several demonstrators held a coffin symbolising the WTO.
"WTO is the source of hunger in this world, the loss of jobs for many farmers," organiser Henry Saragih of the Indonesian Farmers Union was quoted as saying by Agence France-Presse.

Get a copy of The Straits Times or go to straitstimes.com for more stories.