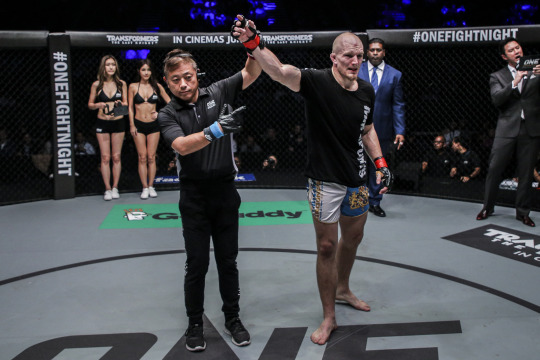 Zebaztian "The Bandit" Kadestam has shocked the world.
The 26-year-old Stockholm, Sweden, native accepted a contest with former title contender Luis "Sapo" Santos on two weeks' notice, and after getting dominated in the earlier rounds, pulled off a colossal upset.
On Friday, 26 May, Kadestam knocked out the Brazilian via knees in the third round of their welterweight contest at ONE: DYNASTY OF HEROES.
"I do not think I have ever fought like that before," he begins. "I was waiting and waiting, because I could feel his power, especially in the first two minutes, he had power in everything. He was fast with his hands and knees. My plan was to attack a lot more, but I could also see him gas early."
There was no feeling-out process, as "Sapo" immediately threw a massive high kick immediately to begin the first round. Kick after kick landed, and a low kick swept out the leg of Kadestam with just over two minutes left in the frame. 
The Brazilian stayed heavy in top position, until he decided to attack with devastating knees to end the opening stanza.
In the second round, "The Bandit" attempted a spinning kick, which Santos used to take the Swede down. He stayed in the open guard of Kadestam, but landed damaging punches and elbows. 
The referee did not see enough, however, as he forced the two to stand up and continue the action on their feet. With less than a minute left in the frame, "Sapo" swept the leg of Kadestam yet again, and finished the round in dominant top position once again.
Things were looking grim for the Stockholm native. He needed a home run in the final round, but it looked unlikely at first. Santos looked for yet another takedown, and he landed it up against the cage. As Kadestam got back to his feet, the Brazilian tripped out his leg to get the third takedown of the fight.
However, after regaining his vertical base, Kadestam landed in side control after a sloppy takedown attempt from a tiring Santos, and delivered a series of devastating knees to the head. 
Just like that, the bout was done. Santos was knocked out, and the Pancrase Gym Sweden product earned himself the biggest victory of his career.
"The Bandit" improves to 9-3, and has emerged as a dark horse contender for Ben Askren's ONE Welterweight World Championship.