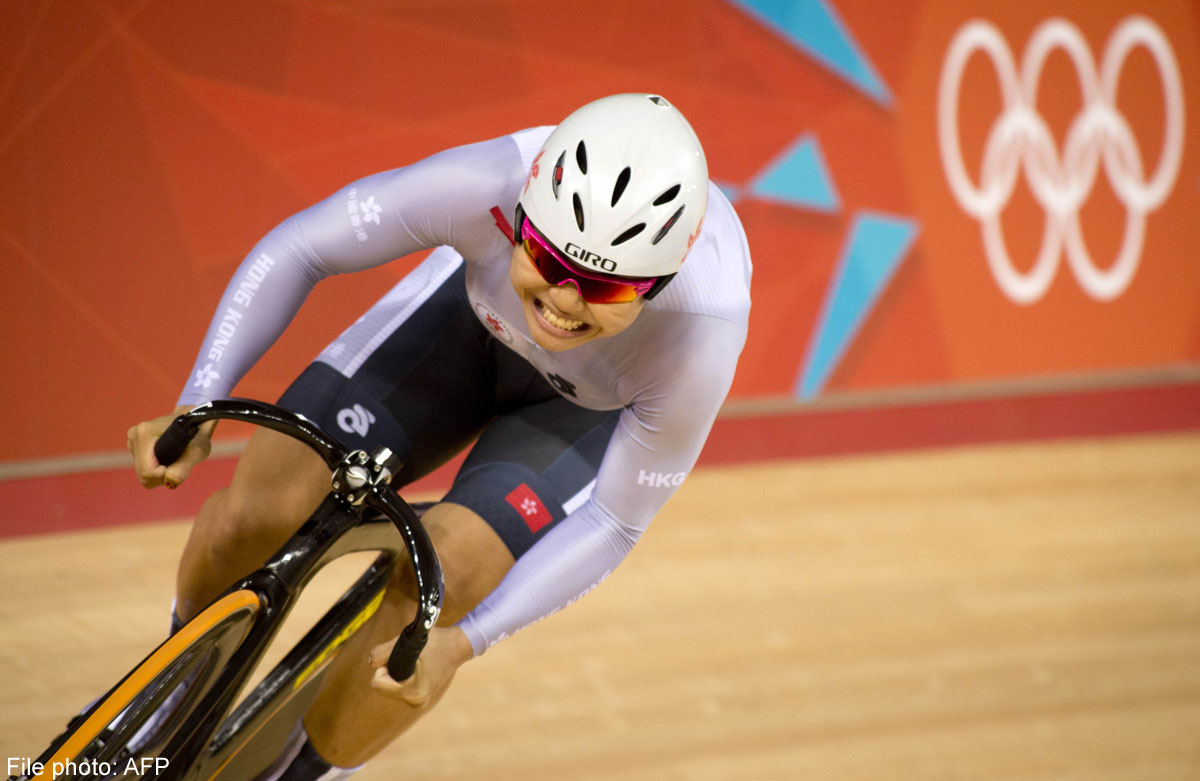 HONG KONG - Hong Kong's Olympic darling Sarah Lee Wai-sze will have to draw on her trademark resourcefulness as she chases double cycling gold at the Asian Games.
Popular Lee will be among the favourites in Incheon but she is facing stiff competition from China's Zhong Tianshi and Lin Junhong in both the keirin and the sprint.
Lee became a star in Hong Kong when she won keirin bronze at the 2012 Olympics, the territory's first cycling medal at a Summer Games and only its third overall.
She followed that up by becoming 500m time-trial world champion in 2013, adding to her Asian Games gold medal in the event from 2010.
But the 27-year-old has not been in scintillating form and she finished just sixth in her time-trial world title defence earlier this year.
South China Morning Post sports editor Noel Prentice said Lee was under pressure, but that she is strong enough to come up with a response.
"Like any major event, Sarah faces some tough competition in her quest for gold in both events, especially from China's Zhong Tianshi and Lin Junhong," said Prentice.
"Both mainlanders have beaten Lee recently, but Lee now has the experience to deal with pressure and high expectations."
Lee is no stranger to adversity, after growing up in Hong Kong's gritty Ngau Tau Kok area and also overcoming anaemia which made her dizzy after sports.
Before winning at the 2010 Asian Games, she underwent a long rehabilitation from a broken arm - an achievement which is held up as an example of Hong Kong's "can do" spirit.
Lee's inner toughness contrasts with the smiling, cheery exterior which has made her "Hong Kong's poster girl", according to Prentice.
"Failing to defend her time trial was a setback - but that event is not on the Games programme in Incheon, so it is not an issue," he said.
Lee said she was confident for the Games after training on a 333m track in Yangyang, South Korea, which differs from the standard 250m but mimics Incheon's open-air velodrome.
"I think we have done the best possible preparation and this will benefit us," she told the Post.
"Even our major rivals China cannot enjoy the same training conditions as they only train on their own 333m track in Qinhuangdao and the structures are a bit different.
"But we are not taking things for granted. The build-up has been hard as I have put a great deal of effort in improving my 200 metres and hopefully I can achieve a major breakthrough in the Games."
Head coach Shen Jinkang said the Asian Games were also an important part of Lee's preparations for the 2016 Olympics in Rio de Janeiro.
"A victory here will definitely bolster Lee's confidence on her preparation leading to the 2016 Olympics," he said.