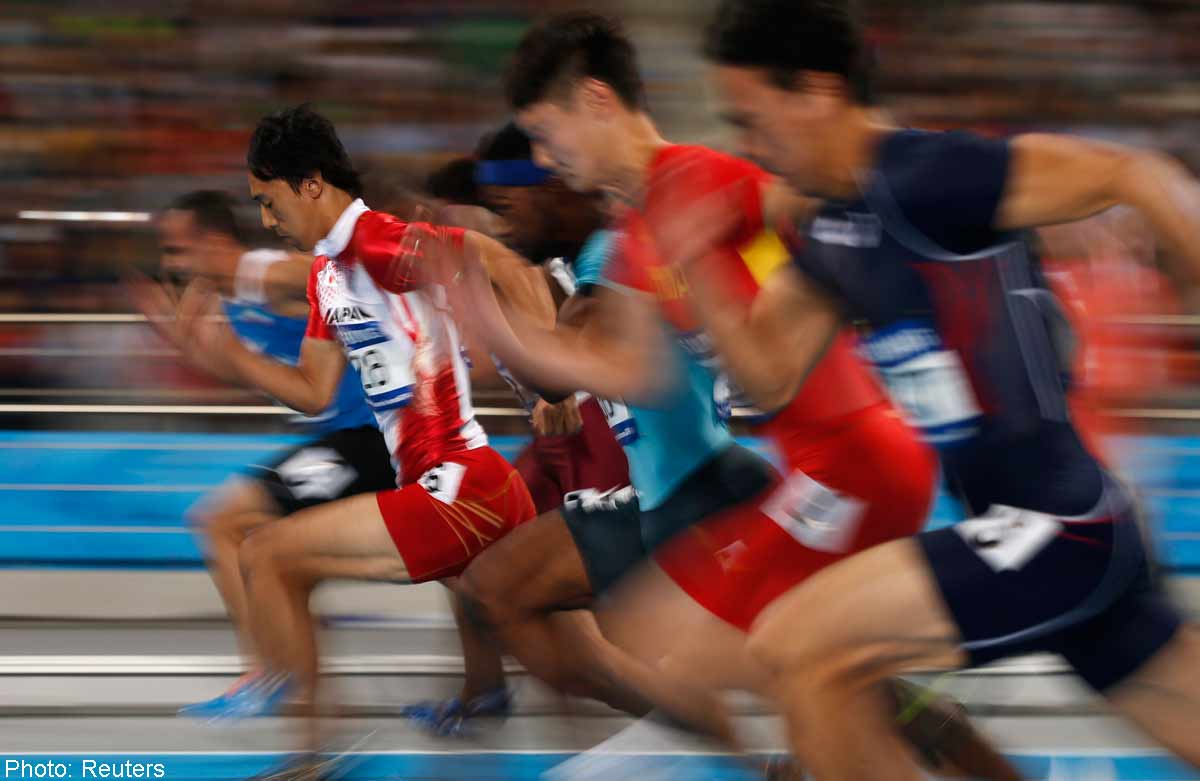 Mouth agape, T Piriyah was still panting from her exertions as she came through the tunnel at the Incheon Asiad Main Stadium.
Seemingly lost in her own world, where the act of balancing on legs battered soft by lactic acid required every ounce of attention, her eyes were wide open, but Piriyah wasn't exactly seeing.
Starting in lane 8, the 22-year-old finished last in the Asian Games women's 400m heats, overtaken at the first bend, chasing shadows by the second, eventually dragging herself across the line in 58.56 seconds.
Piriyah gave it her all, but finished more than six seconds behind heat winner Poovamma Raju Machettira.
It was a similar story for most of the four other athletes wearing the Singapore vest yesterday on the first day of the track and field competition here.
"This is my first Asian Games, and I was very nervous. I knew that the rest of them were way ahead of my standard, and at the start of the race, I kept telling myself to not freak out," said a smiling Goh Chui Ling, 21, bent double after her effort in an earlier 400m heats.
ENRICHING
"This is a bigger deal than the South-east Asia (SEA) Games... and it's been enriching, meeting so many inspiring athletes. I'm very encouraged."
Even Amiruddin Jamal, the only Singaporean who survived the first day of competition - his 10.61sec in the 100m was his season's best, and saw him qualify for today's semi-finals - knew that the Asian level of competition was a tad out of reach.
"Honestly (before the race started) I was thinking that I was going to lose anyway, so why not just give all I got," he said.
While's Singapore's sprinters have just started to find their feet in recent years, they are perhaps a step behind even at the SEA Games.
Crossing the line in 10.45 in an earlier heat, Thailand's Jirapong Meenapra bettered his 2013 SEA Games winning time of 10.48, but he still wasn't pleased.
"This is not good," said the Thai. "My personal best is 10.31 and I want to do the same here (at the Asian Games)."
Meenapra dominated the sprints at last December's SEA Games, winning the 100m, 200m, as well as the 4x100m.
"I think we can win gold here (in the 4x100m)," he added.
While the Thais have often stepped up to be serious contenders at Asia's top table, and dare to dream of gold, Singapore has some way to go.
"(The other sprinters) are really very good, it intimidated us a bit, but I like to run with people better than me, it pushes me (to do better)," said Shanti Pereira, the Republic's fastest woman.
Her 12.02 in the 100m heats fell short of her personal best of 11.85, and the 18-year-old knows she has much to learn.
"I was just thinking, just catch up, catch up as much as you can," she said.
The men's 4x100m team captain, Calvin Kang, was first off the blocks in his heat, but whatever optimism faded within the first 10 metres, as Femi Ogunode got into stride.
The Nigerian-born Qatari finished first in 10.14, while Kang's 10.67 saw him end his challenge in fifth.
Singapore's challenges in the men's 200m - Naqib Asmin and Lee Cheng Wei - and the men's 4x100m and women's 4x400m relays will likely end the same, but this is an exercise for exposure and experience, as the Republic builds towards the SEA Games back home next June.
"We've only got the 4x400m left, and we're hoping for a personal best,"said Shanti. "It's the perfect opportunity, (driven by the standards) in a competition like this."

This article was first published on September 28, 2014.
Get The New Paper for more stories.