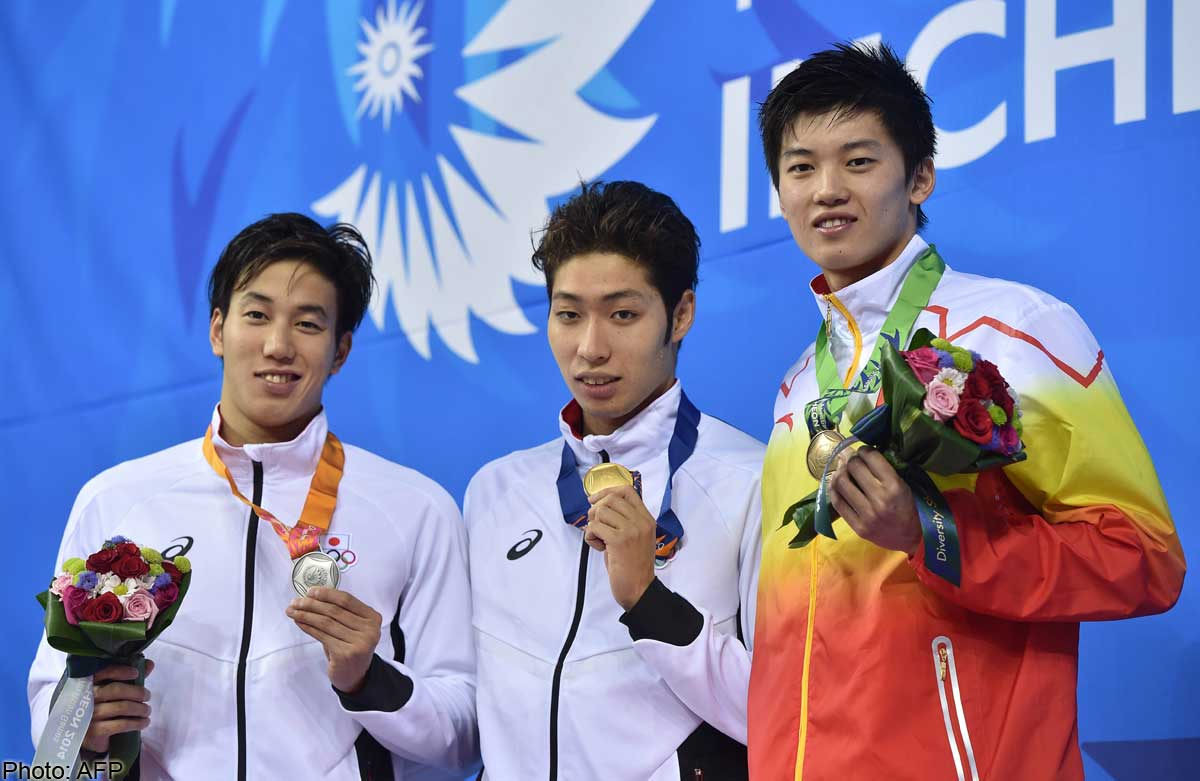 INCHEON, South Korea - Japan's Kosuke Hagino followed a shock 200 metres freestyle gold by adding his signature 200m individual medley and the 4x200m freestyle relay title at the Asian Games on Monday as signs of Chinese frustration began to show.
Hagino's heroics helped Japan finish the second day of the swimming competition in Incheon leading powerhouse China 7-5 in gold medals, prompting a furious rant from a Chinese team official.
As Hagino got up to leave the press conference, chief technical researcher Lu Yifan told him to sit down, snapping: "Wait just a moment! Japan might be leading now but we've only had two days and I can assure you it's just a temporary position.
"Yes, Japan are a powerful team but we will catch up very soon."
After stunning heavyweights Sun Yang and Park Tae-Hwan on the opening day of swimming, Hagino pulverised the opposition to win the 200m medley in an Asian record of one minute, 55.34 seconds.
Hagino, 20, who scored a pulsating victory over Michael Phelps at last month's Pan Pacific championships, won by more than three seconds from team-mate Hiromasa Fujimori at the aquatics arena named after South Korean star Park.
He swam the second leg as Japan won the 4x200m freestyle in a new Games record of 7:06.74 - almost 10 seconds clear of a China quartet missing Sun, who pulled out after hurting his thumb in Sunday's 200m final.
"We're leading China now and if we all take care of our personal targets we could end up in a good place," said Hagino politely, but still managing to get under Lu's skin.
At the halfway point of his six individual events, the Japanese added: "I have three events left and I want to win them all. I want to leave everything out there."
Hot ticket
Hagino, who also took bronze in the 100 backstroke, faces China's reigning Olympic champion Sun and 2008 Olympic gold medallist Park again in Tuesday's 400m freestyle, one of the hottest tickets of the competition.
Kanako Watanabe became Japan's first female Asian Games swimming champion since 2006 by winning the 200m breaststroke in a meet record of 2:21.82, touching out countrywoman Rie Kaneto by a tenth of a second.
"Yesterday I came up short in the 100 metres," said Pan Pacific champion Watanabe, who took silver in the shorter distance.
"Today I desperately needed to win the gold medal."
An explosive start helped Japan's Junya Koga retain the men's 50m backstroke title in a new Games record of 24.28, edging out compatriot Ryosuke Irie (24.98), who had already captured the 100m title, and China's Xu Jiayu (25.24).
Junior world record-holder Shen Duo won the women's 100m freestyle for China in 54.37, short of the junior mark of 53.84 she posted at the recent Youth Olympics.
Team-mate and defending champion Tang Yi took silver in 54.45 with Japan's Miki Uchida third in 54.66.
China's Asian record-holder Lu Ying set a new Games record of 25.83 to win the women's 50m butterfly title ahead of Singapore's Tao Li (26.28) and countrywoman Liu Lan (26.72).
China have dominated the Asian Games swimming in recent years, winning 24 of the 38 golds at Guangzhou in 2010, with Japan finishing a distant second with nine.