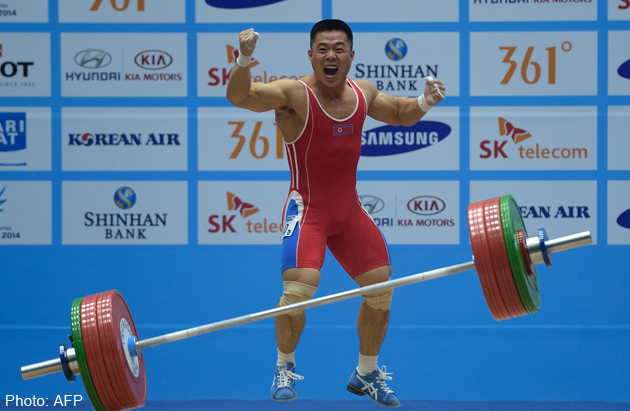 INCHEON, South Korea - The exuberant antics of North Korea's record-breaking weightlifters are causing a stir at the Asian Games as they are cheered on by pro-unification supporters with the police turning up en masse.
With rock music blaring and the crowd on its feet and dancing, North Korea's often stern athletes are the unlikely stars as they whip up a concert atmosphere, coincidentally on the site of the huge three-day annual Pentaport rock festival in Incheon, South Korea.
In front of the media, it's a different story as the weightlifters carefully stick to the party line and confine themselves to thanking the communist state's supreme leader, Kim Jong-Un.
With a large North Korean delegation making a rare trip south for the Games, political sensitivities are raw between two ideologically opposed countries which remain technically at war.
The weightlifting, a North Korean forte, has attracted a vocal group of red-clad cheerleaders yelling support for their "brothers" - as well as police wary of skirmishes with rival activists.
It has made for a heady mix at Incheon's Moonlight Festival Garden arena, and an atmosphere the visiting North Korean lifters have been happy to exploit.
First on Saturday it was Om Yun-Chol, 5ft 0in (1.50m) and weighing just under 56kg, who got the party started by breaking his own world record, leaping high to punch the air in celebration and milking the applause.
Then on Sunday another flamboyant pocket-rocket, London Olympic gold medallist Kim Un-Guk, smashed world records three times in claiming gold in the men's 62kg.
In the crowd, the Ariran Tongil (Korea unification) Cheerleading Squad, who have pledged to support all North Korean athletes at the Games, led the raucous applause.
"We are one. You are one of us," they chanted in Korean, as each lifter from north of the heavily fortified border took to the stage.
On Sunday, shouts of "Kim Un-Guk, Kim Un-Guk" rang around the arena as they held up placards proclaiming "Kim Un-Guk is the best" in Korean.
One cheerleader, Ha Jun-Tae, who described himself as a local government official, told AFP: "We are here to support North Korean athletes because they are our brothers." By the second day of the competition on Sunday, police had descended in numbers with several in the stands and riot police and police commandos outside the venue.
South Korean fans have already been warned they face arrest if they breach the strict National Security Law at the Asian Games by waving North Korean flags.
Nevertheless, the cheerleaders' enthusiasm was infectious and the rest of the crowd, and especially the athletes, were quickly caught up in the atmosphere.
Om, however, soon cooled it and after saluting as the North's anthem was played at his gold medal ceremony, he was firmly back on-message at his press conference.
Asked what was his first thought after he lifted more than three times his bodyweight to set a new world record, he said: "I thought of Kim Jong-Un." "With our leader Kim Jong-un's teachings in mind, I pledged to do my best," he added. "I wanted to break the record, and I worked hard to bring success to Kim Jong-un." Kim also stuck to the script on Sunday. "Everybody aspires to a world record," Kim told AFP. "But it is all thanks to love and care by General Kim Jong-Un.