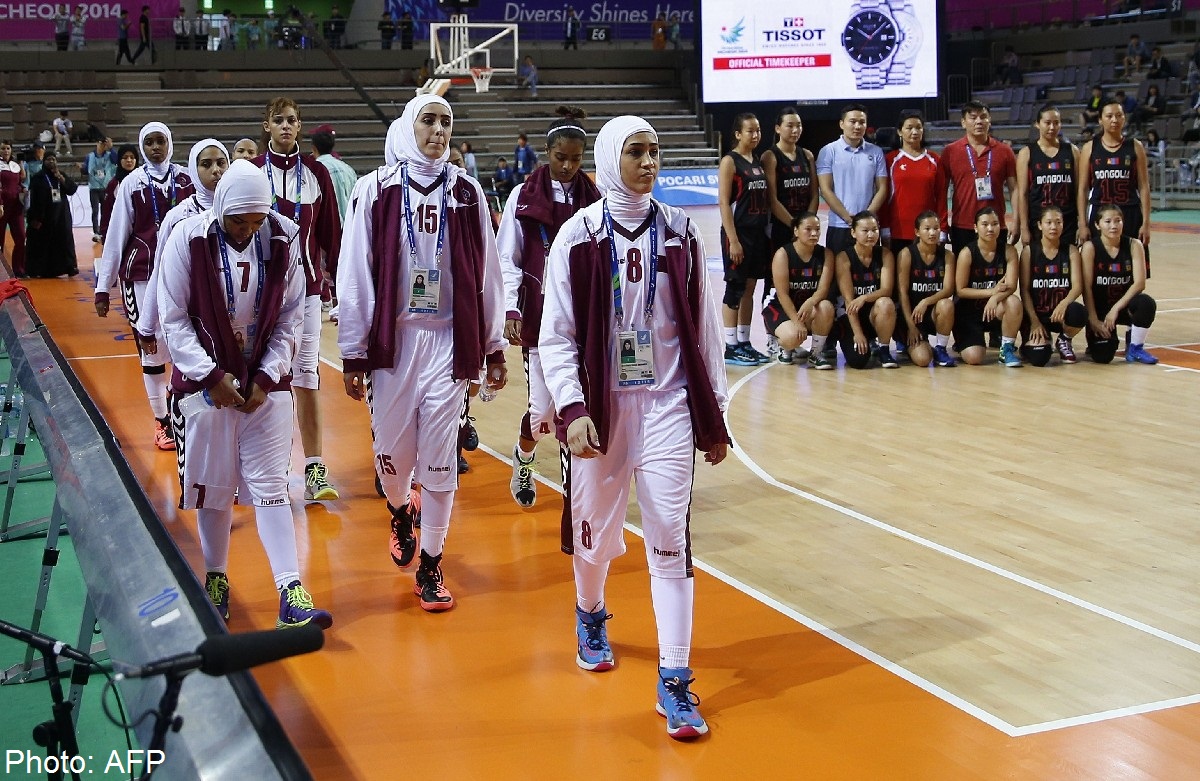 INCHEON, South Korea - Qatar's women basketball players Thursday slammed a ban on them wearing the hijab headscarf as an "insult", after forfeiting a second Asian Games match.
The Gulf state's team have protested strongly at a ban by the International Basketball Federation (FIBA) on headwear on the court.
"This is an insult to us, they did not respect our religion," Qatar forward Refaa Morjan Mohammed told AFP, adding that the team had worn the headscarf many times in Arab Championships without problems.
Qatar captain Amal Mohammed Saleh captain, who plays centre in the hijab, said the ban made no sense when combat sports had allowed it.
Qatar missed their campaign against Mongolia in the qualifying round on Wednesday and their match against Nepal on Thursday.
They say they will not go to the stadium for their game against Kazakhstan on Friday unless they can wear a hijab.
"We were ready for the game, but we were surprised at the stadium that we could not play wearing the scarf - it was an insult to us," the 34-year-old told AFP.
"What are the safety issues? Judo, karate and handball are much more violent sports than basketball - in basketball there's a foul if there is any contact, so what safety issues are they talking about?" Centre Amal Mohamed Awad, 28, warned the game would suffer in Middle East countries unless FIBA had a change of heart.
"I ask the concerned authorities to let us play with the hijab - there are many Arab countries that want to participate but are reluctant to do so because of the laws of the International Basketball Federation," she said.
The Qatar squad has five players who wear a hijab and six who do not.
The slogan of the Incheon Asiad is "Diversity shines here", but the Qataris have complained the hijab rule runs contrary to Olympic principles on respecting cultures and religions.
FIBA have not commented. The governing body is under growing pressure however to fall into line with many other sports, including football, and allow the headscarf.
And the Qataris have had support from the Olympic Council of Asia, whose director general Husain Al-Musallam said the athletes' rights should be the "highest priority".
Incheon Asian Games spokesman Park Dal-Hwa said however the organisers were leaving it to the sports federations concerned to handle the dispute.