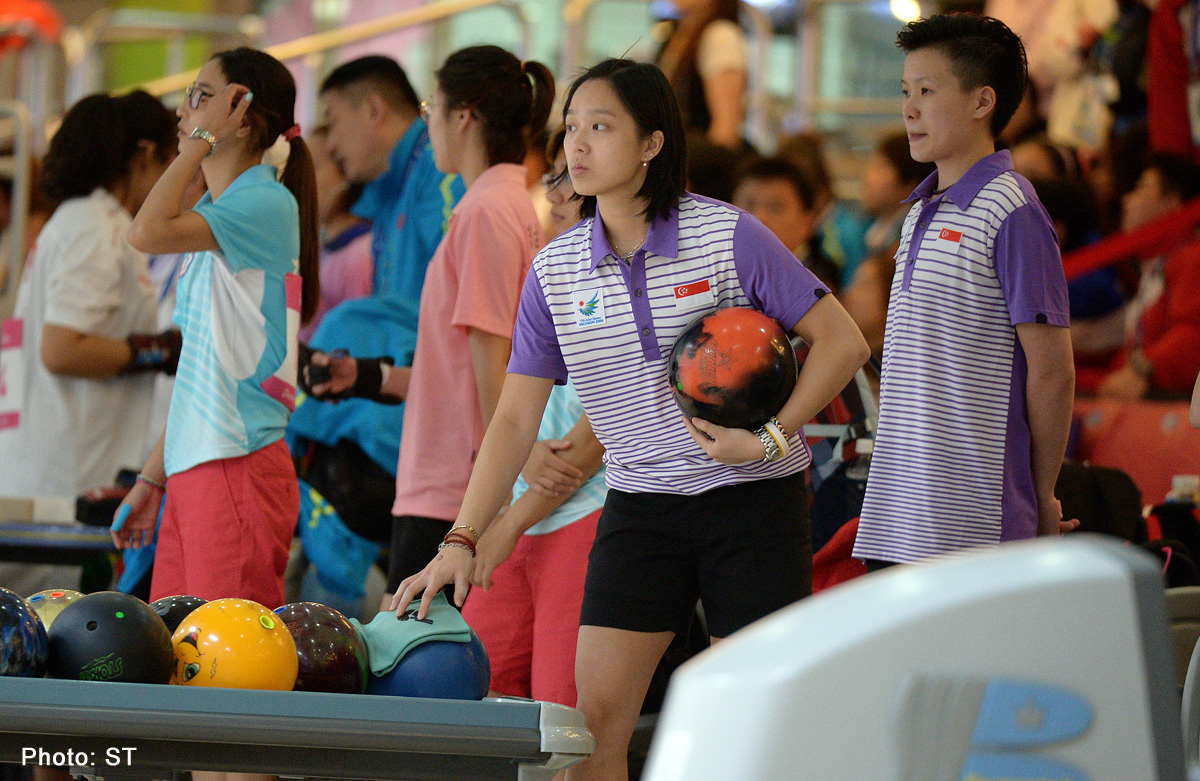 Over the past week or so, Jessie Phua has been spotted at several sports venues across Incheon, the host city for the 17th Asian Games.
Sitting in the stands, clapping, or chatting with athletes down by the pitch, Singapore's chef de mission has been encouraging, engaging, even entertaining questions on her gold-painted finger nails.
At the Anyang Hogye Gymnasium yesterday, those nails were hidden behind crossed arms.
Out on the lanes, there was no gold in sight for the Republic's bowlers, either.
In the women's doubles, all three of Singapore's pairs had a poor first couple of games, with four of their six scores below 200.
Phua, who is also president of the Singapore Bowling Federation, looked positively crestfallen.
While New Huifen and Jazreel Tan rallied to get back into medal contention, they stumbled off the podium to end up fourth, empty-handed, with a combined total of 2,447 pinfalls, 15 behind the South Korean pair of Lee Yeng seung and Jung Da Wun.
Malaysia (Sin Li Jane and Shalin Zulkifli) won silver (2,518), while another Korean pair - Lee Na Young and Son Yun Hee - took gold with 2,553 pinfalls.
Cherie Tan and Shayna Ng (2,424) finished sixth, while Singapore's third pair, Joey Yeo and Daphne Tan (2,160) were 26th.
"Singapore Bowling failed today - we didn't medal. You can lie to yourself and say that you did well, but just didn't win - that's bullshit," said a downcast head coach Remy Ong.
"Tonight is a wake-up call for everyone, including me - why we didn't get the job done," added Ong, who rued the inability of his bowlers to get used to the lanes here.
If his words were harsh, Phua's were imaginably more brutal.
She called for a meeting immediately after proceedings came to an end yesterday and, while her words were muffled, her tone was unmistakable.
MIFFED
She was miffed.
Singapore's female bowlers are considered among the best in the world - along with Malaysia and Korea - and were expected to return from Incheon with a clutch of medals.
But Tan's silver in the women's singles on Wednesday remains the only medal they have to show for their efforts, and with three events - trios, teams and masters - remaining, it's squeaky-bum time.
And Ong is not messing about - things need to be set right.
He will have to rack his brains and come up with strategies for both the Anyang Hogye lanes and the heads of his bowlers.
"My head's still spinning, but I'll cool down and come up with something. I'm not here to be a tourist - we want to get that colour (of medal) that everyone is looking for," he said.
Phua's meeting with the team lasted all of 15 minutes, and the bowlers left for the long ride back to the Athletes Village with heads bowed.
Only Ong remained to face the Singapore media, and he promised better.
"It is important that we learn and move on... and I'm confident that the bowlers will come up with something better in the trios. We'll definitely see better than what we saw (yesterday)," he said.
"We're here to win and we're not going to chicken out.
"If I have to be the bad guy, I will."

This article was first published on September 27, 2014.
Get The New Paper for more stories.