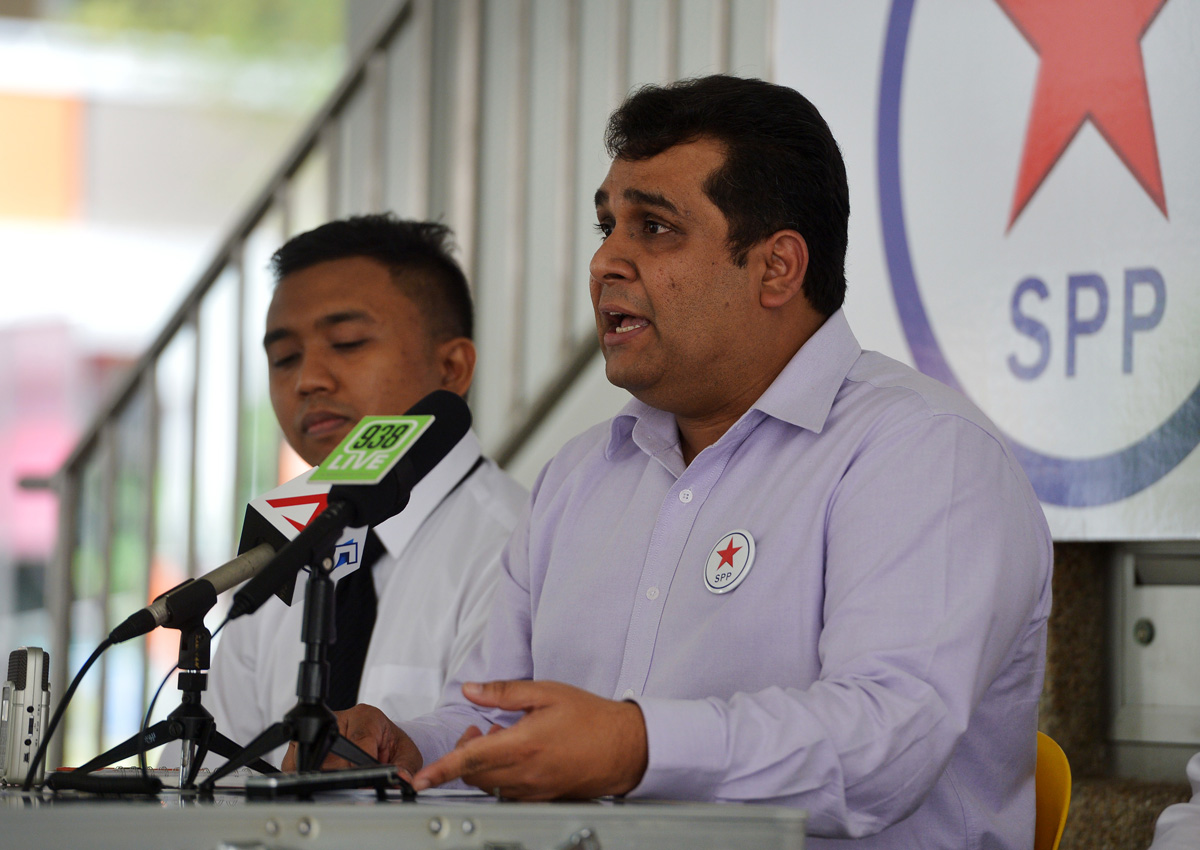 Singapore People's Party (SPP) candidate for Hong Kah North Ravi Philemon attacked the record of his People's Action Party (PAP) opponent Amy Khor during his rally speech, on a night when many others took the stage to launch jibes at one another.
Noting that Dr Khor is Senior Minister of State for Manpower and Health, Mr Philemon reminded the audience at the field of former Hong Kah North Primary School that she had said in Parliament that a "Singaporeans first" manpower policy will not benefit the economy in the long term.
The blogger and activist slammed the healthcare system too for being inadequate when holiday seasons can lead to a hospital bed crunch.
He also criticised the government feedback unit Reach - of which Dr Khor is chairman - for being "stuck in a timewarp" and ineffective. Emeritus Senior Minister Goh Chok Tong had said at an annual Reach event last month that the feedback unit must "evaluate how we can move onto the next stage".
"Dr Khor's report for the last four years looks quite bad, don't you agree?" Mr Philemon said to the audience, riffing on a rally speech he gave on Friday when he said the PAP's report card for the last term was "very, very, very bad".
The National Solidarity Party meanwhile continued to hit out at the Workers' Party (WP) over how it treated negotiations over which opposition party was best placed to contest MacPherson.
Speaking at a field at Tampines St 81, NSP acting secretary-general Lim Tean said the WP's trademark blue does not suit tigers, unlike the orange of the NSP. He was quoting Prime Minister Lee Hsien Loong, who had said that Singaporeans had gotten a "mouse in the house" instead of a "tiger in the chamber" when they voted for the opposition.
"We must put a stop to this nonsense of trying to be a very pliant, a very meek opposition," said Mr Lim. He is part of a team running in Tampines GRC.
Over at Clementi Stadium, the Reform Party's (RP) West Coast GRC candidates hit out at what they felt was PAP arrogance.
Party chief Kenneth Jeyaretnam said Minister in the Prime Minister's Office S. Iswaran made him feel "small" after the PAP candidate in West Coast GRC spotted a "tiny mistake" in the RP team's forms on Nomination Day.
"I felt I was back at school. Minister Iswaran had me called over and then lectured me on potentially a very serious error that could disqualify us. I did feel like a very small boy then," he said.
RP chairman Andy Zhu also complained about the "unfair" struggle for his team to match up to the PAP's level of campaigning, citing the sheer size of his opponent's volunteer base and access to taxpayers' money.
He appealed to the crowd to forgive his team, which is running in West Coast GRC, for knocking on fewer doors and scarcer campaign merchandise, adding: "It is not that we are not sincere... After Parliament was dissolved, we were running like hares, hopping around to get things done! We have no help. We don't take the taxpayers' money and put all those posters up there!"
yanliang@sph.com.sg
marilee@sph.com.sg

This article was first published on September 6, 2015.
Get a copy of The Straits Times or go to straitstimes.com for more stories.