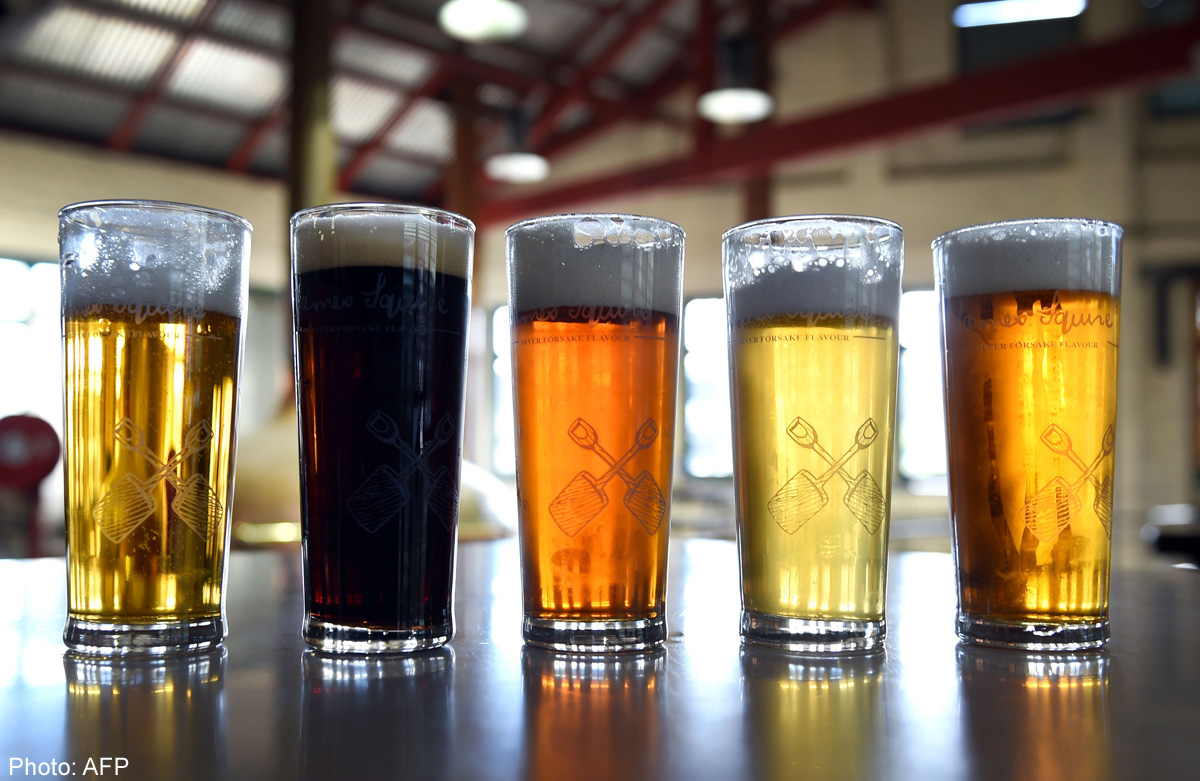 SYDNEY - When you're making a beer in honour of Australia's first brewer - a noted womaniser who arrived as a convict on the First Fleet - a lack of respect for authority goes with the territory.
But it also says something about the changing beer tastes of Australians, known for their love of a "cold one", that they are now looking to embrace more diverse flavours in their tipples from beetroot to liquorice, says brewmaster Chuck Hahn.
"We're out to offend people," declares the New York-born brewer from Sydney's Malt Shovel Brewery who has been experimenting with beer for more than 40 years.
"We get lovers and haters. We want to be distinctive," he tells AFP from inside the brewery where he has produced the successful James Squire ales, in honour of Australia's first brewer, since 1998.
Hahn is one of the country's most high-profile brewers, and is widely credited with helping kickstart the boutique beer industry Down Under after a successful career with big brewers in the United States, New Zealand and Australia.
Over this time, he has seen the Australian palate move on from drinkers simply asking for whatever beer was on tap to something more discerning.
"Back in '81, you walked into a pub and pubs would have three or four beers on tap, maybe five and you just had to remember what state you were in to order the right beer," he says.
"But now every pub must have 12 or 15 beers on tap to be halfway there."
Drinkers looking for new tastes
Enter the craft brews, which are growing rapidly elsewhere in the world, and Australia is no different.
"People just aren't satisfied with normal flavours now," says Hahn, 68.
"They want more exquisite flavours. And what's driven that really has been all... the interest in food and ingredients. People are really interested in that."
Australia's Craft Beer Industry Association was created in 2011 and is riding the boom, with membership growing from 62 to 83 in the past year, according to executive officer Chris McNamara.
At a time when beer consumption is falling in Australia and being challenged by wine more strongly than ever, McNamara says there are increasing numbers of homebrewers making the leap to a commercial enterprise.
Craft beers have about 3.0 per cent of the Australian beer market, but they are also bringing in non-traditional beer drinkers, and he believes there is huge potential to grow.
"We're looking at a different audience than the normal beer drinker in a lot of ways," he explains.
"Going out and drinking a lot of beer is generally not a part of what the industry is selling.
"It's all about drinking for flavour. And drinking local."
'Least aspirational'
This is the ethos of Pat McInerney from craft beer Willy the Boatman which began trading commercially in May.
McInerney and brew partner Nick Newey still see themselves as having a "home brewer" mindset even though they have moved on from just supplying family and friends.
They currently have their beer produced by other breweries, but are about to open their own brewery in Tempe in Sydney's inner west.
"I wouldn't say that we are the most... risk taking in terms of our craft," says McInerney. "You know, we don't put anchovies or artichokes in our beer," he jokes.
"But I think the ethos is still very much that of the home brewer. We still get really excited about making beer.
"I'm not saying that other craft brewers don't; but it's just something that Nick and I really enjoy doing."
He cites an involvement with the local community as part of this ethos, and admits he can't imagine selling his beers anywhere else.
"We're probably the least aspirational brewers in Australia," he says with a laugh. "We're not in it to make a million bucks. We're in it for the love of beer."