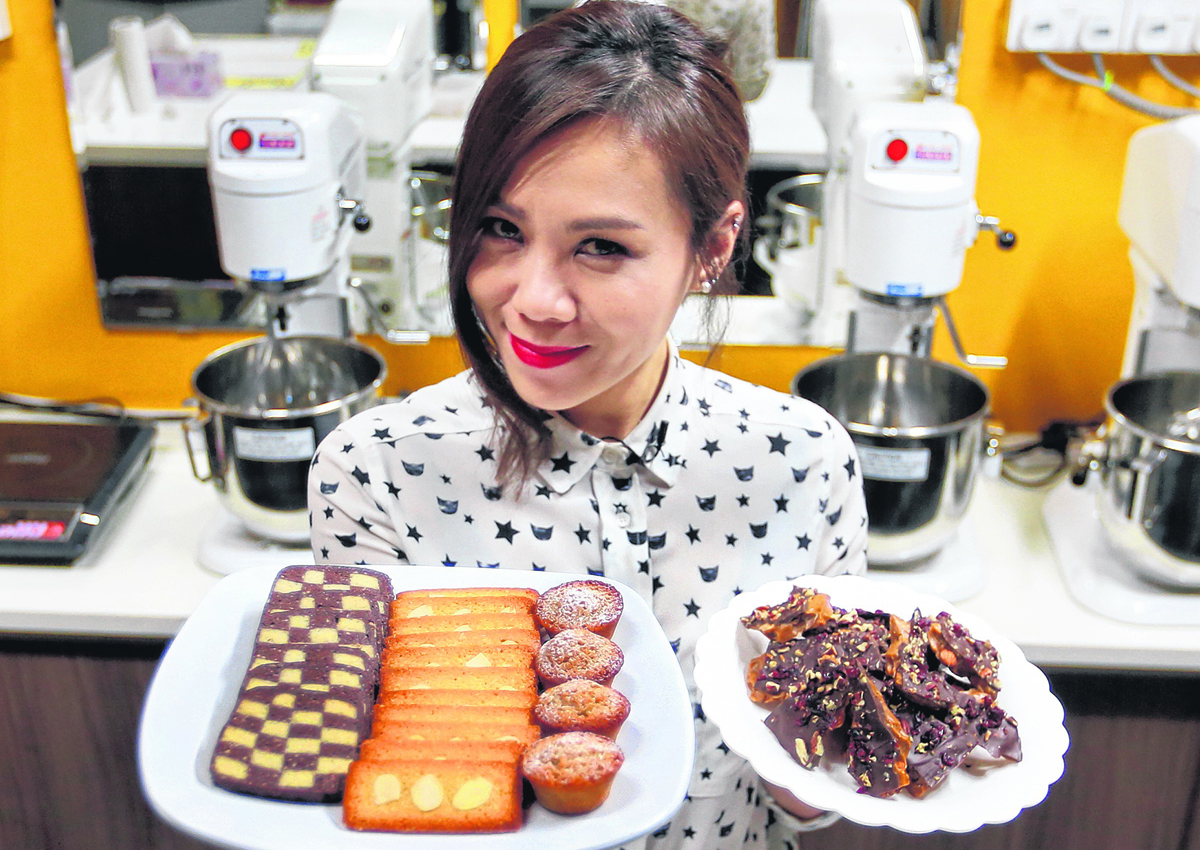 Local singer Tanya Chua thinks she could be a food show host in another life.
"I really feel like one today," she told M with a laugh, posing for the camera with a spatula in her hand. "Maybe I should start making baking videos."
It's not every day that we get to taste food made by a celebrity.
Our mouths are watering as Chua whips up one of her recipes - homemade toffee - for us at The Baking Studio in Changi Road.
"It's simple to make, delicious, and makes a good gift for friends," she said.
The 40-year-old was clearly in her element in the kitchen, weighing and mixing methodically and being extra careful when melting her caramel as it tends to burn easily. Her face was a picture of concentration, but she broke into a proud smile when the toffee was finished.
Taiwan-based Chua is known for her Mandopop music career and was in town last week to promote her new album, Aphasia, but she also has a hidden talent for baking.
She is so serious about her hobby that she will go to Paris next month for a three-month baking course. She did not provide details on its cost.
COURSE
Chua said: "I'm really looking forward to the course, as I've been wanting to find time in my schedule for it for a while now.
"Now that Aphasia is out, I can take some time off. I'll be learning everything - how to make cakes, cookies, pastry and even pulling sugar."
She anticipates fitting into Parisian life easily because she visits the city once in a while and has friends there.
Chua deliberately chose not to enrol in a famous cookery school like Le Cordon Bleu because she preferred to go off the beaten track. She declined to name the boutique school, citing privacy reasons.
"It was recommended by a chef friend and it is well known within the industry.
"That really excited me, because it means I'll be doing more hands-on learning, unlike some schools which focus more on demonstrations."
She has no plans at the moment to open a shop, as Chua is only looking to improve her own skills through the course.
"It's expensive to start a bakery in Singapore, but in future, who knows? Never say never," she said.
The singer's love affair with baking began at the age of nine, when she would flip through cookbooks and bake cookies for her family.
She said: "My mother was more into Indonesian cooking, so I learnt to bake by myself. I was really adventurous in the kitchen."
By the time she was a teenager, Chua was baking Chinese New Year goodies like kuih bangkit and pineapple tarts for her family, all on her own.
When she became a singer in 1997, baking was all but forgotten until four years ago.
"One night, I was in my apartment in Taiwan writing songs and feeling kind of depressed," she said.
"I needed to do something creative. I remembered the oven my friends had given me as a housewarming present and decided to bake something on a whim."
Even though it was past midnight, Chua rushed to the 24-hour supermarket to buy onions to make a tart.
To her surprise, it turned out well though it was her first attempt at making pastry.
Since then, she has churned out pies, cookies and cakes and often posts pictures of them on her Facebook and Weibo pages.
Her friends often enjoy the fruits of her labour, she added with a smile.
Chua has even given out financiers (French tea cakes) at one of her Taiwan concerts, hiding packages under some seats for some lucky fans to discover.
So why does she love baking so much?
"Baked goods are created out of love and baking is very therapeutic. When you eat something good, you feel really good... it's like a different kind of orgasm. It's like when you hear a great song."
She said baking has also taught her to appreciate details.
"It's about precision and knowing little things like when to take something out of the oven, how to get the right texture for dough.
"It's helped me as an artist, because my music style used to be more rough around the edges. Now, I think about putting in all the details and giving that special touch to make it my own."
Other celebrities who bake
Jolin Tsai
Teh May Wan
Taylor Swift
Blake Lively
Scarlett Johansson
Harry Styles
Justin Timberlake
lisat@sph.com.sg

This article was first published on January 20, 2016.
Get The New Paper for more stories.