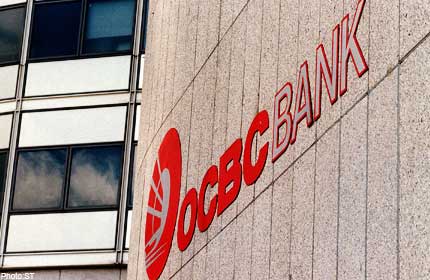 Amid an ongoing probe by regulators on how benchmark rates are set, at least two banks have taken action after internal reviews.
Sources told BT that in the last few months, OCBC Bank and UBS AG have put a few of their employees on forced leave. These employees are on teams that deal with non-deliverable forward (NDF) foreign-exchange contracts, which are over-the-counter derivatives used to hedge or speculate in thinly traded currencies.
This is an area which the Monetary Authority of Singapore (MAS) directed banks to look into last September, to expand the scope of the independent reviews by banks on the rate-setting process.
A source said that at OCBC, the move was made after the bank primarily went through what employees told each other over Thomson Reuters Messenger, a chat programme.
Over at UBS, several people on the bank's NDF team have been put on forced leave, but it was unclear whether they have been accused of any specific wrongdoing, another source said.
Both sources said that the move has demoralised those involved, who were unaware that what they were doing could be illegal.
When contacted, both banks declined to comment.
MAS also declined to comment on the action taken by the banks.
Other banks which set NDF rates, such as Barclays Bank, Citibank and Credit Suisse, also would not be drawn to comment.
There is talk that some traders in other banks were suspended, but subsequently resigned.
BT understands that DBS Bank, which also sets NDF rates, has not suspended any of its traders.
In a statement issued last month, MAS said that the review into how rates were set was still going on.
"It is premature to speculate on the outcome of these reviews at this stage," it said.
The regulatory probe began in July, when MAS told banks to review their rate-setting processes, focusing on the Singapore interbank offered rate (Sibor) and the Singapore swap offer rate (SOR), key benchmarks linked to mortgage loans.
In September, MAS extended the review to include the rates on NDF forex contracts. It said then that banks have to immediately report any irregularities they uncover in their reviews of their rate-setting process and take appropriate disciplinary action against staff involved.
The currencies for which banks here offer NDF rates are the Chinese yuan, Indian rupee, Indonesian rupiah, New Taiwan dollar, Philippine peso and South Korean won.
The Sibor probe by MAS came in the wake of a banking scandal last year over the rigging of the London interbank offered rate (Libor), a benchmark interest rate for trillions of dollars in financial products around the world.
E-mailed and electronic chat requests to make Libor artificially lower implicated the bankers; falsely inflating or deflating rates by a little bit can potentially lead to millions of dollars of profits.
In June last year, Barclays was fined a record US$450 million for allowing traders to rig Libor and Euribor, and for making rates lower during the 2007-2008 credit crunch. Barclays boss Bob Diamond resigned, along with two other executives.
Last month, UBS was fined US$1.5 billion by US, British and Swiss regulators after it pleaded guilty to fraud in setting Libor rates. A day later, two former UBS traders became the world's first individuals to be criminally accused of manipulating Libor and other benchmark rates.