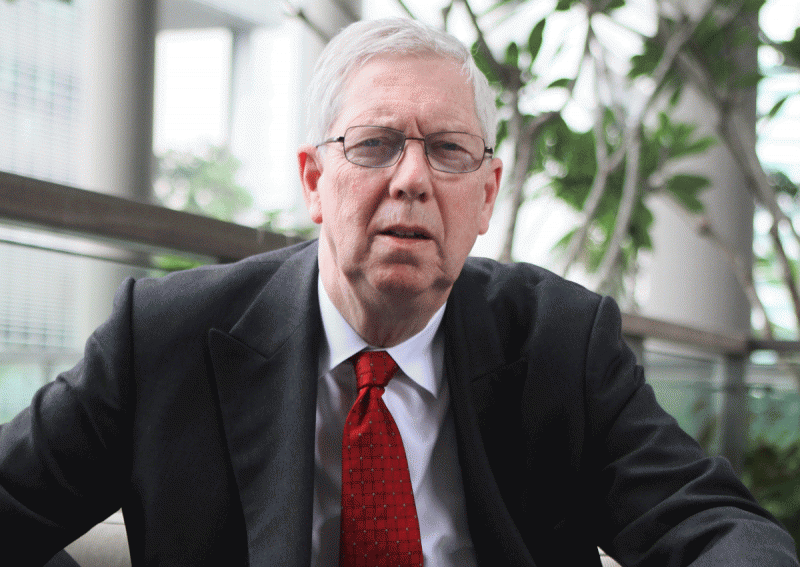 It's not your grandfather's road, as the local saying goes. Sir David Clementi, though, might get a pass in a certain town in the western part of Singapore - no prizes for guessing where. Not that he'd be the sort to take advantage of it anyway.
The former banker-turned-regulator, who is now chairman of rapidly expanding fintech company World First, says he insists on doing everything by the book even if business rivals are profiting off grey zones.
"I'm quite keen that we actually follow the regulations, having been a regulator, because I think the businesses that get into trouble with regulation, they have to spend an immense amount of time looking backwards and spend inordinate amounts of senior management time trying to rectify things," he says, at an interview at the Parkroyal on Pickering hotel where he stayed for the brief Singapore leg of an Asia trip for World First last year.
"It's frustrating occasionally, because we can occasionally see competitors who are possibly not following all the rules and they say they've got a competitive advantage. And I still say, well, in the short term they may. But all things will come good for the virtuous."
This principle has, perhaps, shaped and been shaped by the various hats he has worn over the course of a distinguished career that winds through the top ranks of both the private and public sectors.
After graduating with a degree in philosophy, politics and economics from Oxford and an MBA from Harvard, he went into banking, in what amounted to a break with family tradition.
"My grandparents were civil servants . . . my father was in the Air Force. So I'm the first member of my family to be involved in trade and commerce . . . I'm a capitalist," he says with a laugh. "When I was 16, I wanted to join the army but by the time I was 18, I wanted to go into business."
Illustrious career
He started his career at bank Kleinwort Benson and worked on notable deals such as the privatisation of British Telecom and of the British electricity industry, eventually rising over the course of roughly two decades to become the bank's vice-chairman and chief executive.
Many folks might have been content to stay in the corner office, have an early retirement and spend the rest of their lives kicking back in comfort. Mr Clementi, though, has been kept quite busy.
"I think I've been fortunate and I sort of thought as I grew up that my career would be over by the time I was 50, because a lot of bankers' careers are over by the time they are 50," he says. "But by the time I got to 50, there were still plenty of people still prepared to offer me jobs, so I've been very lucky to do various things. I left investment banking when I was 48."
That departure from the bank came because he had been tapped in 1997 to become deputy governor of the Bank of England, a post that he held until 2002.
"I'd spent a lot of time in and out of government departments advising them, so I was fairly used to the way government worked although I was a private sector banker. Because I'd done a lot of work for the government, they knew who I was, which is why I was on the shortlist," he recalls, quipping: "It wasn't very good for my salary prospects. That's life as a public official."
At the central bank, he was responsible for its day-to-day activities, and was a member of its interest-rate setting Monetary Policy Committee along with the other deputy governor, Mervyn King. "The decision of the monetary policy committee was to hear all the evidence, consider the options and then vote . . . Fortunately, I'd read economics when I'd been at university so I had quite a strong background there, but I was surrounded by some very able professional economists so that kept me on my toes."
He was also on the board of the Financial Services Authority (FSA), which was at that time the main regulator for financial services in the United Kingdom. The FSA was replaced by two separate regulatory authorities in 2013.
After he left the Bank of England, he took up appointments as chairman of insurance giant Prudential and later as chairman of Virgin Money.
While chairing Prudential, he was also tapped to undertake a review of the regulatory framework for legal services in England and Wales. This was published in late 2004 and is now widely known as the Clementi Report.
His report proposed sweeping changes to what he notes had been a "very haphazard" system. "It had grown up over several hundreds of years. They even had one type of lawyer - the notaries - who were authorised by the Archbishop of Canterbury." He later became senior adviser and then chairman of World First, a fintech company headquartered in London that specialises in foreign exchange transactions, and was also tapped last year to lead an independent review of how the BBC is governed and regulated.
The keen yachtsman, who spends most of his time in London but also quite some time in Cowes, a yachting centre in the UK where he has a home, recalls making many trips to Asia in his previous jobs. That included Singapore, part of a region that he nicknames "the forest".
"I've been coming here regularly since about 1980, first of all with my bank . . . then I used to come here when I was deputy governor of the Bank of England, then I came here when I was chairman of Prudential. And now I'm chairman of World First and we are growing rapidly in the forest, which is a source of great contentment to me." But his family connection to Singapore and Asia actually goes back generations.
Both his grandfather and great uncle were governor of the Straits Settlements. His great uncle, Sir Cecil Clementi Smith, was the namesake for Clementi town in Singapore, he notes, adding that after having not seen the district for about 20 years, paying it a visit one afternoon in mid-October turned out to be "slightly surreal".
"It was different. It's more developed, the housing stock looks better, the MRT is working better, the transport is working better."
The visit "was actually good fun", he adds. "We met Dr Tan (Wu Meng), who's the local Member of Parliament. He showed me around. He knew some of the constituents and he took me to one of his housing estates . . . we sat in the food market and met some of the local stallholders, who were probably very bemused."
Linguistic prowess
His grandfather, Sir Cecil Clementi, was no less illustrious, having been instrumental in initiatives such as the conception of the former Kallang Airport.
"His great love was Chinese literature and Chinese poetry . . . but he had one other passionate interest, which was the growth of air transport in the first two or three decades of the 20th century. He influenced my father, who went into the Air Force. He told my father, 'the future is in the air, my son'."
"He believed in the future of air transport . . . he could see even then what now we all know, through Singapore Airlines and BA (British Airways) et cetera, that if you're living in Australia, the nodal point would be through Singapore. And it's still true, very prescient actually."
Though his grandfather died before he was born, Mr Clementi recalls family tales handed down about the man, in particular regarding his facility with languages.
"When my grandfather was in the forest, he was a great Chinese scholar. He could speak both Cantonese and Mandarin - actually he could speak every dialect, he spoke about 15 or 16 dialects. So quite often when Chinese people from different parts of China would meet, my grandfather would have to act as a translator.
"And it didn't matter which part of China they came from, whether they came from Beijing, from Guangzhou, from wherever . . . because in those days, which was about 1900, they couldn't converse with each other. They could write to each other but they couldn't speak, the people from Hong Kong couldn't speak any Mandarin. Now, of course, most of the people in Hong Kong can speak Mandarin."
Instead of the scholarly lens employed by his forebears, Mr Clementi says he views Asia with more of a businessman's eye. "My interest in China and Greater Asia is rather more commercial, because I grew up as a banker . . . And so when I think of China, I think of an extraordinary place, of course, but I also see it in business terms as a place of great opportunity."
And rather than venturing forth to far-flung geographies to make his mark, the frontiers Mr Clementi has made his own are of a slightly different sort. That includes the kind of new territory that comes with joining a scrappy startup that was founded in a basement apartment in south London.
To hear him tell it, it was one of the "most surprising" events in his long career when two young men, Nick Robinson and Jonathan Quin, approached him around 2006 to talk about their then-new enterprise in the business of changing money.
"They were very small . . . and they didn't really know me, but Nick Robinson's sister was a very good friend of my daughter . . . They came to see me, and they said, we've got 15 people, we've got big ambitions, and we need a mentor. And I liked them a lot, I thought they were men of great integrity and very bright."
The two men and Mr Clementi agreed to meet once a month for six months. At the end of that, they said: "We really like meeting with you," he recalls.
"And I said: 'This is a breath of fresh air.' I'd spent my life on very big companies, with governments, et cetera, where if I can achieve one decision every other year, it's a brilliant achievement. And here we're making two a week - it's very exciting."
He was appointed senior adviser for World First from 2006 to 2011. The two founders then asked Mr Clementi to be the chairman. "I said, well I'm already chairing the meetings in fact. But they said, 'Well you'd have to take on statutory responsibility, because if you're the chairman you become legally responsible. So I said fine, I don't mind the responsibility, I like the people."
By then World First had grown to about 100 people, and as of late 2015 it had close to 400 employees.
Well, so much for a quiet retirement. "I used to spend a day a month, or not even a day - half a day a month - for our meetings when we first met," he notes. "And now I find I have to spend a whole week on the business because it's growing very rapidly. It has lots of promise."
But he doesn't seem to mind at all, adding that he was visiting Asia because World First was "growing so rapidly in Asia and I feel, as chairman, I want to see for myself how they're getting on".
Though World First needed two years to get a licence in Singapore, it seems to have made up for any lost time. The company, which handles foreign exchange transactions, has more than 1,500 customers here now.
And though the technology it uses may be on the newfangled side, Mr Clementi says the core of the business still remains rather traditional.
"I think that our business is built around two quite old-fashioned virtues. There are some clever things we do behind the scenes but as far as customers are concerned there are two things that really matter.
"One is having a proper client service, having someone they can speak to . . . because we have offices around the world, we can service our clients 24/7.
"And the second is price. On the whole, the banks do a perfectly good job and they do a good job for their major clients. But the price spread for smaller companies is quite wide and we think that by being quicker off the mark, by servicing them better, we'll get more repeat business and we can offer slightly tighter spreads. So we think we are very competitive for smaller, medium-sized companies."
Upholding traditional core values is still as important as ever for the financial services industry despite its rapid evolution over the past several years, he suggests. New technology and systems now "make things pretty much real time", and the financial services industry is moving more quickly and in some respects offering more complex products, Mr Clementi notes.
"But in other areas, I just think we should stand back and think, how much is the world changing? Because the mistakes of 2009, the crisis of 2008 and 2009 wasn't really caused by technology and it wasn't really caused in many aspects by complexity," he points out. "It was caused by very, very poor lending.
"When we looked at the London banks or indeed some of the other banks which really got into trouble, it wasn't their technology department that got them there. It wasn't actually some of their clever products. It was that they had completely over-lent to certain sectors. And in the UK, notably, a couple of our banks had completely over-lent to the property sector. They were taking huge write-offs on the back of their property portfolio.
Old-fashioned values
"Now, this isn't to do with technology. Even one of the older companies, Northern Rock . . . which actually Virgin Money took over and rescued when Northern Rock got into trouble - this wasn't a company involved in any investment banking activities. It wasn't involved particularly in technology. It had just made some very, very bad lending decisions on the property market, over-lent in the mortgage market.
"So I think that while some things change, I also think that a bit of old-fashioned banking skill at getting the credit right is important. And banks that get in trouble generally do so because they make a series of bad credit decisions."
While increasing complexity in financial products might perhaps make it tougher for credit committees to see precisely where their portfolios are concentrated, it shouldn't be that way, he argues, adding that it would be best for lenders to do their own checks.
"I think that the rating agencies recognise that their systems were inadequate (before the GFC) and a lot of the rating being done wasn't good enough. On the other hand, those who lend the money shouldn't entirely rely on rating systems.
"They should have their own credit checks. And it's fairly clear that some of the paper being issued by issuers which was rated AAA or AA was nothing of the sort. It was still a bad lending decision and the regulators have recognised that they played their part in the difficulties of 2008 and 2009. I like to think that they have improved their act since then."
DAVID CLEMENTI
Chairman, World First
1949: Born in Bury, Hunts, England
1970: BA in Philosophy, Politics & Economics from Lincoln College, Oxford
1975: MBA from Harvard Business School
1975 to 1997: Worked at Kleinwort Benson, rising to Chief Executive and Vice-Chairman
1997-2002: Deputy Governor of the Bank of England
2002-2008: Chairman of Prudential
2003-2010: Non-executive director and audit committee chairman at Rio Tinto
2006-2011: Senior adviser to World First
2011-2015: Chairman of Virgin Money
Since 2011: Chairman of World First

This article was first published on January 30 2016.
Get The Business Times for more stories.