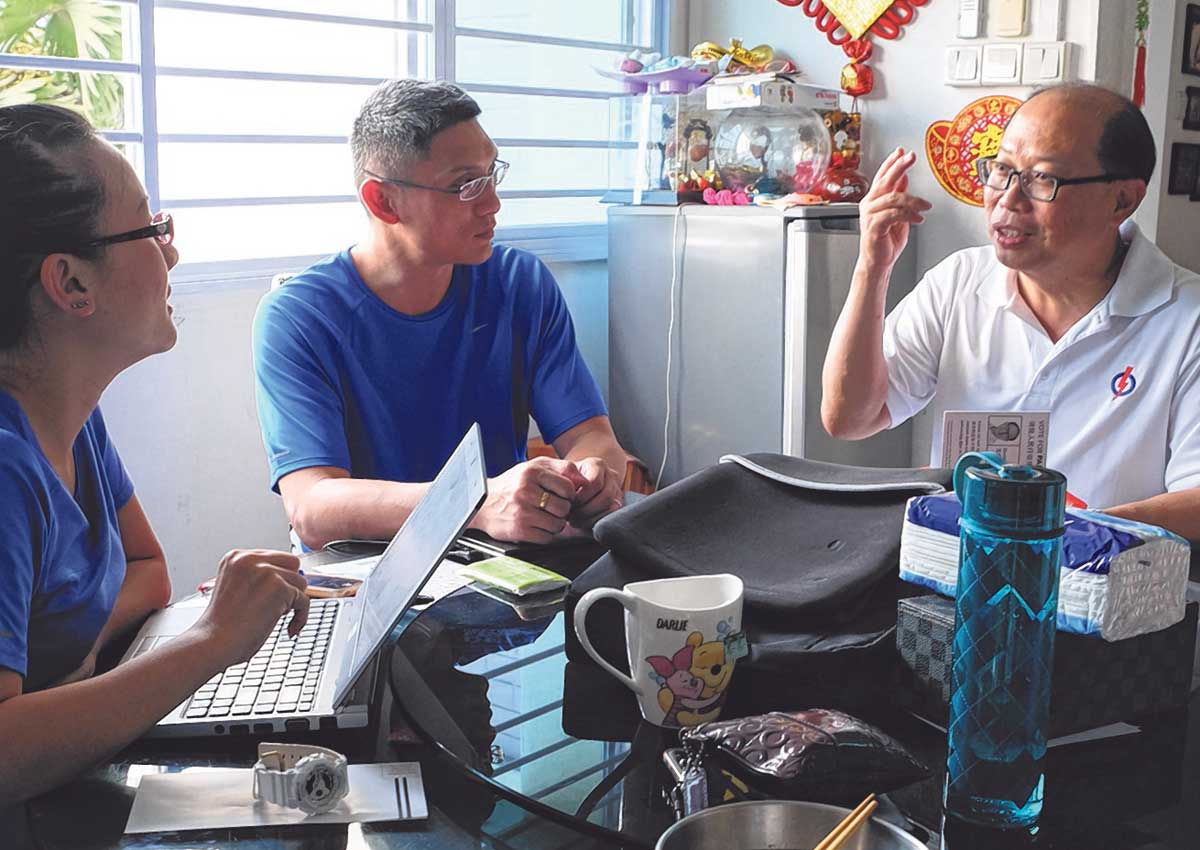 Two of the candidates for Bukit Batok SMC lost no time starting their campaigns in the unexpected three-cornered fight, going door to door and walking about the estate and markets to secure support.
Mr David Ong, 54, of the People's Action Party (PAP) and Mr Sadasivam Veriyah, 63, of the Singapore Democratic Party (SDP) hit the ground immediately following nominations on Tuesday.
The third candidate, Mr Samir Salim Neji, 45, an independent, started his walkabouts only last night in the single-member constituency (SMC) that was carved out of Jurong GRC.
Mr Ong, as the MP in the ward for the last four years, is banking on the rapport he has built up with residents. "People do recognise me, most calling me by name, and that's quite nice. I think the last four years of hard work on the ground have paid dividends," said the manager of a publishing firm.
On a walkabout this week, residents greeted him warmly, with many promising their support.
Said Madam Rita Suria, 56, a resident of 30 years: "He gets things done." But she said that while the older generation knew how Bukit Batok had developed under the PAP, younger voters might see things differently.
Mr Ong, a grassroots leader since 1999, said he was not resting on his laurels. "You have to make sure that things are managed well, explain policies to residents and listen to their feedback," he said.
The last time Bukit Batok was a single seat, in 1991, the PAP beat the SDP narrowly, with a margin of 4 percentage points. SDP secretary-general Chee Soon Juan has called this year's contest a homecoming of sorts for the party.
Its candidate, Mr Sadasivam, a former teacher and ex-PAP member, said that though a relative newcomer, he did not feel disadvantaged, calling the constituency a "level playing field".
He said response from Bukit Batok residents had been good and the problems they had with living and medical expenses were the same issues residents elsewhere faced.
He said: "The cost of living is a national issue which doesn't just affect residents here. I'm highlighting all national issues which are also applicable to voters of Bukit Batok."
Bukit Batok SMC, comprising 27,077 voters, is made up mostly of public housing, with 4 per cent of residents living in condominiums.
Though both parties have had to rewrite the script a little, given the surprise appearance of a third candidate, neither has shown any dismay.
Mr Samir, managing director of software company Anaplan Asia, needed help on Tuesday to find assenters so that he could complete his nomination form.
Mr Samir immigrated to Singapore 18 years ago and has been a citizen for the last 11. "My fellow contestants are capable, but probably they belong to the older generation. I'm young and have better ideas that I can execute for the constituency and I have more energy," he said.
lesterh@sph.com.sg

This article was first published on September 5, 2015.
Get a copy of The Straits Times or go to straitstimes.com for more stories.