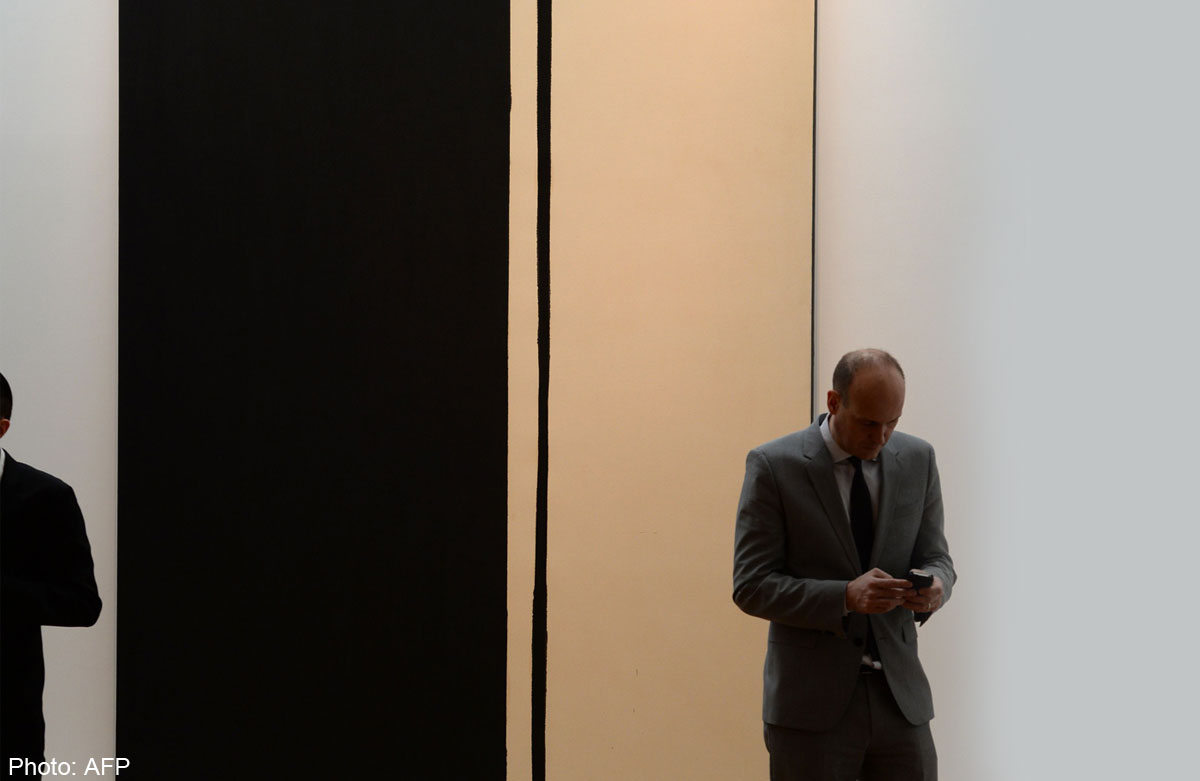 NEW YORK - A painting by American Barnett Newman, "Black Fire I," went under the gavel for US$84 million (S$105 million) Tuesday at Christie's postwar and contemporary art auction in New York, a record price for the artist.
Barnett's black and white piece topped the US$80.805 million raked in for Francis Bacon's "Three Studies for a Portrait of John Edwards," a collection of three canvases painted in 1984.
"Black Fire I" sparked a contentious bidding war between two telephone bidders, ending with a standing ovation as the hammer fell with a price of US$84.165 million, far exceeding the estimated value of US$50 million.
The previous record for Barnett, an abstract expressionist painter who lived from 1905 to 1970, was US$43.8, when his "Onement VI" sold a year ago at Sotheby's.
However, the world record for the highest price fetched at auction for a work of art remains with Bacon, whose triptych, "Three Studies of Lucian Freud," was sold last year by Christie's for US$142.4 million.
The fervour around Bacon, who lived 1909 to 1992, was also in evidence in February in London, where a portrait of his lover George Dyer, "Portrait of George Dyer Talking," sold for more than 42 million pounds ($70 million), also by Christie's.
Among other items auctioned off Tuesday was "Race Riot," by Andy Warhol, which sold for US$62.885 million, well above the US$50 million Christie's had predicted.
His "White Marylin" also exceeded expectations, selling Tuesday for US$41.045 million, more than double the US$18 million anticipated by Christie's.
Warhol works, like Bacon's, are very in demand currently by collectors. His giant canvas "Silver Car Crash: Double Disaster" sold in November for more than US$105 million.
Another star of the auction was American Mark Rothko's "Untitled," which sold for US$66.245 million.
On Wednesday it will be Sotheby's turn, where yet another Warhol, "Six Self Portraits," is expected to spark bidding between US$25 and US$35 million.
Other anticipated highlights are the sculpture "Popeye," by American artist Jeff Koons, estimated at US$25 million, and "Blau" (Blue) by German Gerhard Richter, for which it expects to get between US$25 and US$35 million.
The spring auction season opened last week with impressionist and modern art.