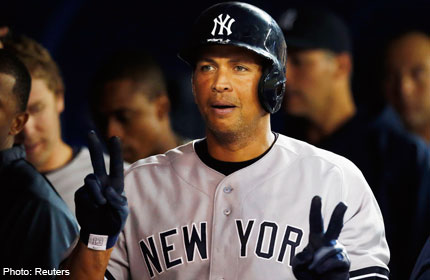 NEW YORK - Anthony Bosch says he ran a secret doping programme for US athletes out of his Miami clinic, including one specifically tailored for Alex Rodriguez that included testosterone and human growth hormone.
Speaking publicly for the first time, the former Biogenesis director told American news programme "60 Minutes" that he was being paid US$12,000 (S$15,200) a month in cash by Rodriguez before a probe by Major League Baseball into performance-enhancing drugs forced them to halt their complex doping scheme.
"Alex cared. Alex wanted to know. He would study the product. He would study the substance. He would study the dosages," Bosch said.
The show, which aired Sunday night, also detailed Bosch's falling out with Rodriguez and the bribes and death threat that Bosch says he received after they stopped working together.
Bosch, the main witness against Rodriguez in the major league probe, said the New York Yankee third baseman's main motivation for taking performance-enhancing drugs was so he could become the first American baseball player to hit 800 home runs.
"He wanted to achieve all his human performance or in this case, sports performance objectives. And the most important one was the 800 home run club. Which was only going to have one member, Alex Rodriguez," Bosch said.
After Bosch was exposed, Rodriguez and 13 others were suspended. All accepted their fate except Rodriguez who appealed. Rodriguez was given a harsher ban after evidence showed he tried to interfere with the probe.
Bosch spent five days testifying at Rodriguez's appeal hearing which the public was barred from attending.
Bosch said he personally injected Rodriguez and once had to draw blood from Rodriguez in the men's stall of a bathroom at a nightclub.
Bosch says he gave Rodriguez a cocktail of performance-enhancing drugs, including a testosterone lozenge the slugger could ingest in the dugout or on the field during games.
"They're so small that you could literally while sitting in the dugout take it, put it in your mouth, and people could think it's sunflower seeds or a piece of candy or a piece of gum, for that matter," Bosch said.
"It gives him more energy. It gives him more strength. It gives him more focus. And in combination with the growth hormone, that combination would make playing the game of baseball a lot easier."
Bosch said he has hundreds of text messages that he exchanged with Rodriguez to back up his claim. He said they would use code words for the illegal drugs such as "cohete" for injectable drugs and "night cream" for testosterone.
He said Rodriguez's people tried to buy his silence by offering to fly him to Colombia where they would pay him over US$20,000 a month and when things quiet down he could return to America and receive another US$150,000.
Bosch declined and said he then started to worry for his safety. He said his then girlfriend received a text message saying that he would not live to see the end of the year.
The MLB Players' Association issued a statement Sunday, criticising Bosch for talking to "60 Minutes".
"It is unfortunate that Major League Baseball apparently lacks faith in the integrity and finality of the arbitrator's decision and our Joint Drug Agreement, such that it could not resist the temptation to publicly pile-on against Alex Rodriguez," the release said.
"It is equally troubling ... that Tony Bosch, MLB's principal witness, is appearing on the programme with MLB's blessing."
Rodriguez, who has vehemently denied that he took performance-enhancing drugs while a member of the Yankees, says he will pursue the case in US federal court.
Rodriguez, the highest-paid player in MLB, was slapped with a record 162-game doping suspension by an arbitrator on Saturday, banning him for the entire 2014 season and playoffs.
Arbitrator Fredric Horowitz upheld most of the 211-game ban imposed upon Rodriguez last August for his role in the Biogenesis doping scandal.
Despite the reduction in total games missed, the suspension remains the longest in the history of MLB for doping, and "A-Rod" remains the highest-profile baseball player ever banned.
Rodriguez, whose 654 career homers are 108 shy of Barry Bonds' all-time record, will lose $25 million in salary from the Yankees this year, or about US$154,000 for every game missed in 2014 under the record 10-year deal for US$275 million he signed in 2007.