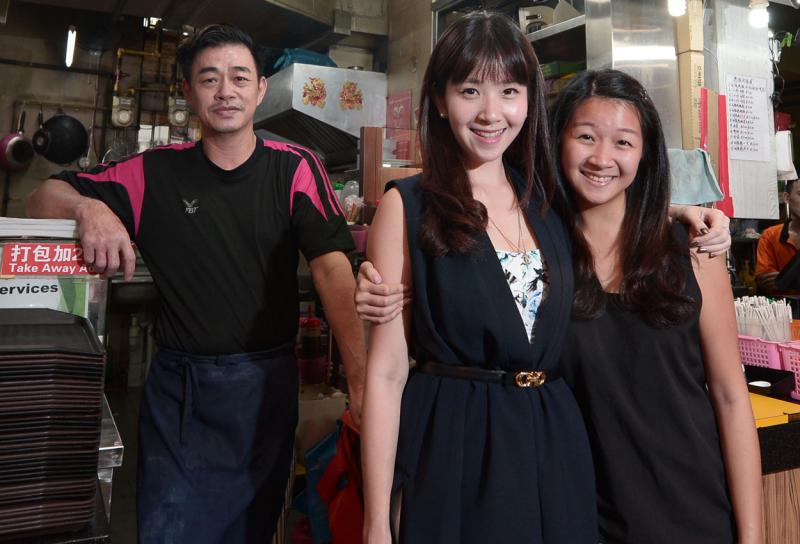 Wealth planner Jasmine Teo was only 16 years old and studying for her O levels when a financial storm disrupted her life.
A market downturn cast a long shadow on her family's noodle stall business while her father's gambling led to clashes in the household. These resulted in debts and her dad's eventual bankruptcy.
The next two years of Ms Teo's life were a nightmare. Loan sharks frequently knocked on the door of their Housing Board apartment, her father moved out and her mother got a job as a helper at a coffee shop noodle stall to support her and her younger sister. Ms Teo's parents eventually divorced.
At this lowest phase of her young life, Ms Teo had only $5 in her pocket. The girl who once helped out at her dad's stall to earn pocket money was now juggling a number of part-time jobs - giving tuition and working as a deli waitress in a five-star hotel - to share the family's financial burden as well as pay for her own fees and expenses.
It was during these hostile circumstances that a windfall from one of her mother's previous investments arrived in the mail and changed her life. The $20,000 cheque - a maturity payment of an insurance policy with Prudential bought by her mother during good times - was an eye-opener for the young girl who realised the importance of savings, financial prudence and planning.
Now 25, Ms Teo has come a long way since those difficult years. She has made peace with her father, who is back on his feet running another noodle stall, while her sister is studying. Her mother still helps out at the coffee shop part-time. With a bachelor's degree in marketing from Nanyang Technological University, Ms Teo is an executive financial consultant at Prudential insurance company, and has built up a strong portfolio that she hopes will reach a six-digit figure in the next four years.
An award-winning high achiever at work who helps clients invest their savings for their own future stability, Ms Teo aspires to some day start a charitable foundation for the less privileged - especially children and the elderly.
Her aim is to be among the youngest people in Singapore to retire early with a steady passive income.
Q Moneywise, how were your growing-up years?
A Our financial situation was pretty stable during my growing-up years. My parents had a noodle stall business that was doing great, while I and my little sister would get a monthly allowance of $300 for our food and expenses.
When my father's business failed and he piled on gambling debts, I worked part-time. The income from these jobs helped me through some very difficult times at the time.
In fact, I would volunteer to work overtime and during the weekends, not just for the money, but because I genuinely loved what I did and wanted to be the best at it. I worked harder and became more prudent with my spending - saving as much as I could.
Q How did you get interested in investing?
A At 18, I worked as a secretary in a financial institution, helping my manager arrange appointments, and was put in charge of customer relationship management.
My understanding of finance and investment started then, but it developed due to seniors who are well-versed in finance.
I learnt to make my savings earn for me through different investment channels like the property and stock markets. Most importantly, I learnt to think and act like an entrepreneur and realised that the best investment is always the one which is made in human capital.
Q Describe your investing strategy.
A I look for good investments rather than speculation, medium risk over a quick buck, and go for fundamental analysis over technical information. Be it equity or bonds, I look for a stable, dividend-paying stock of a company whose foundations are strong, and whose core is deep so that market volatility will not shake weaken its roots. I look at the companies' financial statements, business strategy and previous records to make my move. Technical analysis, in which investors are glued to their computer screens for slight changes in stock prices, is not for me. I do not have the time for it.
I have put maximum funds in real estate and corporate bonds to make my money grow.
But, more important than all the above is investing in oneself. I make it a point to spend at least 5 per cent of my annual income to educate and equip myself with extra skills.
In the course of my six-year career as a wealth planner, I have acquired skills like being a chartered financial consultant, writing a will, and even learning the art of fengshui, palmistry and face-reading. Some of these skills come in handy in building a rapport with my clients, while others provide an extra layer of skill for my work.
Q What's in your portfolio?
A I believe in having a diversified portfolio, to distribute my income among various investment vehicles instead of piling them into one place.
So far, I have used 30 per cent of my liquid savings on corporate bonds with coupon rates of 5.375 per cent that are maturing in 2019. My stock holdings are 10 per cent of my liquid savings, in various companies like SIA Engineering, Olam International and other blue-chip companies. Each month, I also invest 10 per cent in diversified unit trusts with 4 to 6 per cent interest per annum, and another 10 per cent in a high-yield capital-guaranteed savings plan which gives me a projected 4 per cent interest per annum.
In 25 years, I will have a maturity sum of more than a million.
Q How are you planning for retirement?
A I believe in working very, very hard while I am young and energetic so that I will have enough savings squirrelled away to allow me to retire early, probably by the age of 50.
At that age, I plan to have at least five investment properties in Singapore and overseas which will generate at least $10,000 a month for me in rent. Besides that, I plan to have at least a few million in my account from my various investments. The aim is to stabilise my passive income at $20,000 per month for the rest of my retired life.
There are those who think that the high cost of living in Singapore makes it difficult for one to retire early. But I believe that it is possible if you start planning early.
Q What are your immediate investment plans?
A I plan to invest my earnings and savings in paying off my property loan as well as investing in a new property. I do not wish to carry the burden of loans or debts on my shoulders as far as possible, so my plan is to use my income to fully pay off my debts on the The Poiz Residences condominium. I am hoping by age 31, I would have paid off my condominium loan. Later, I may consider selling it off and investing the amount, along with my savings, in buying landed property.
Q What does money mean to you?
A Money is just a number.
I have seen the ups and downs in life at close range, and so has my family. It does not matter how much I earn, but how I use the money to better my family's life that is more important. Money should bring stability, and with stability comes happiness for our loved ones, provision for their basic needs as well as giving them a good lifestyle they deserve.
Q What's the most extravagant thing you have done?
A I would say the most extravagant spending on my part was taking my family on three holidays in three different foreign countries in a year.
The best experience was to fly my mother and sister to Munich in business class. I spent $20,000 on the trip, which left a hole in my pocket. But, to me, the smile it brought to my mother's face was priceless.
Q Home is now..
A My mother's HDB flat in Yishun where I live with my sister, but I plan to move into my The Poiz Residences condominium in future.
Q I drive...
A An Audi A3 cabriolet.

This article was first published on September 18, 2016.
Get a copy of The Straits Times or go to straitstimes.com for more stories.