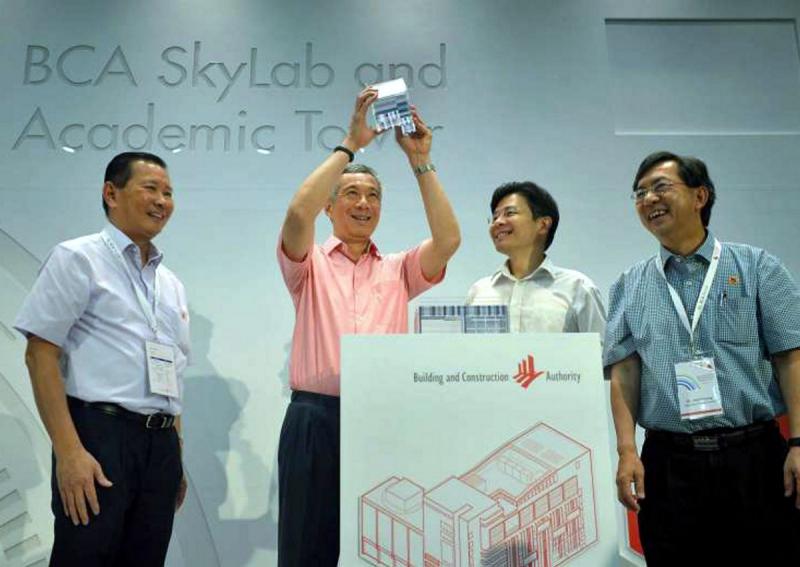 SINGAPORE - A facility of the Building and Construction Authority (BCA) that advances tests and research into innovative energy-efficient building technologies was declared open on Wednesday.
The BCA SkyLab, built at a cost of S$4.5 million, features a rotatable lab that can be angled to any orientation to the sun and wind for the purpose of such studies, and has extensive instrumentation and sensor networks that are scalable when the need arises.
The S$62 million Academic Tower, on which the SkyLab sits, has, among its features, a rooftop education deck with a functional energy-efficient chiller plant.
The lab and tower are located at the BCA Academy in Braddell Road.
Less than a year after its unveiling, the SkyLab has already been in discussions with more than 20 organisations and lined up possible experiments into areas such as air-conditioning systems, predictive methods for tropical daylighting and cool-surface technologies.
These research projects will take it till the end of 2018.
Researchers from local universities such as Nanyang Technological University, National University of Singapore and Singapore University of Technology and Design are among the first principal investors in these projects, which are being undertaken with the industry.
The BCA says it is aiming to host six to eight projects a year and that multiple technologies can be tested in each of them.
The guest of honour at the official opening was Prime Minister Lee Hsien Loong, who said that the SkyLab will play an important role in Singapore's drive for environmental sustainability.
"We now have state-of-the-art hardware, but we also need to upgrade our software - how we build, whether we are productive, whether we are building safely, whether our work is of high quality," he said.
He added that the construction methods used in Singapore are still labour-intensive and time-consuming, and that it is not sustainable to keep relying heavily on low-skilled manpower.
He made a call for the construction industry to do better in fostering workplace safety, and noted that although the number of workplace deaths has been falling in the last decade, it was worrying that there were more workplace fatalities in the first half of this year than in the corresponding period last year.
John Keung, chief executive of the BCA, said that improving productivity and safety boiled down to developing people in the industry.
"Building capability in our people forms the core in changing the way we build, and we have to innovate to position our built-environment practitioners and future talents ahead of the game.
"The transformation of BCA Academy is a reflection and microcosm of BCA's initiatives."
In the first experiment now ongoing at the SkyLab, automated shades tilt according to the angle of the sun, and communicate with the LED lights built on a digital addressable lighting interface. When there is sufficient sunlight, the LED lights dim accordingly.
The 132 sq m SkyLab is equipped with a network of more than 200 sensors, which can track metrics such as energy performance, indoor environmental quality, outdoor environmental parameters and building automation system indicators.
The Academic Tower boasts a number of firsts; for example, it is the first in Singapore to use light-emitting plasma (LEP) lighting.

This article was first published on July 21, 2016.
Get The Business Times for more stories.