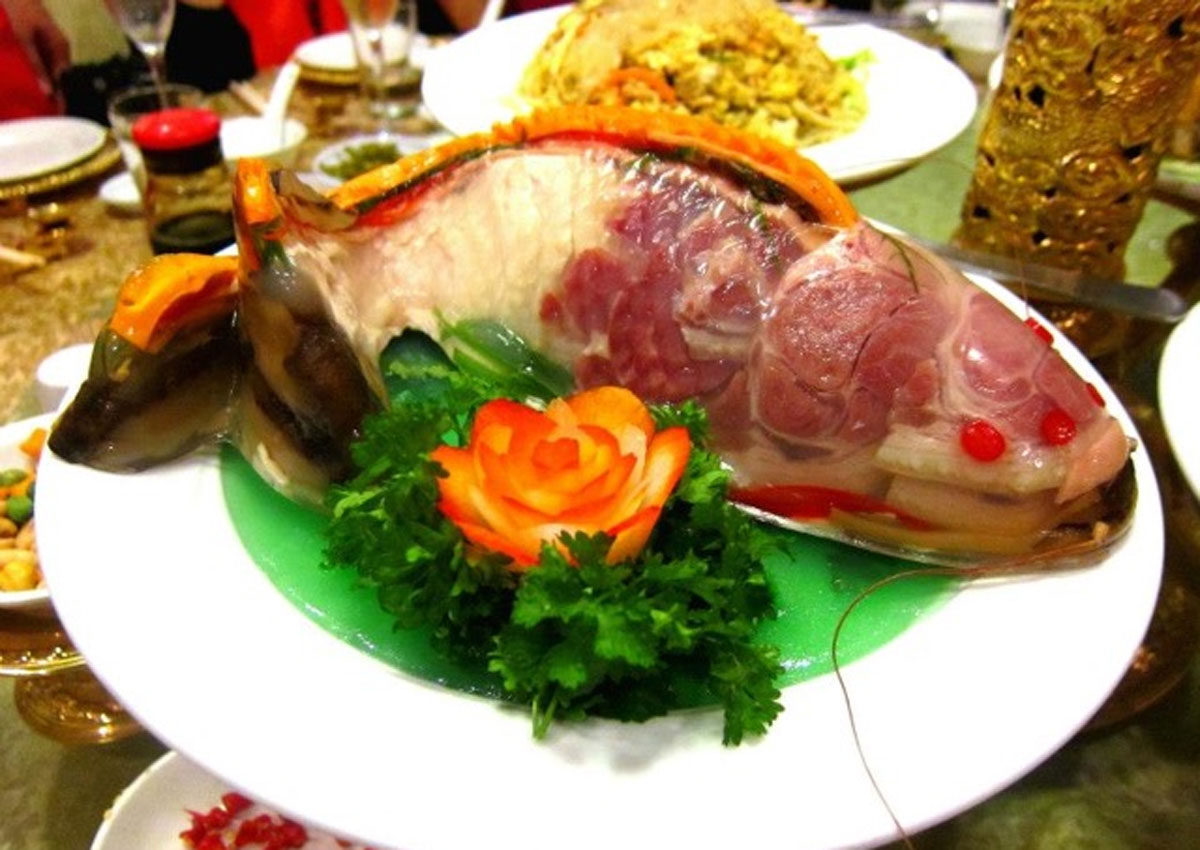 The Chef's Table - especially in a famous restaurant - is the ultimate badge of privilege in western dining. It means bragging rights for being special enough to be allowed into the kitchen and served by the chef himself, and also a chance to sample special dishes that the hoi polloi in the main dining room can't. In Chinese restaurants, however, it's almost unheard of. It's not that they don't have VIP customers - but who would want to sit for three hours in the middle of the flame-busting, wok-clanging, grease-fogged hell of a Chinese kitchen?
Still, Chinese chefs are now going the way of their western counterparts to pamper their best customers with their "out-of-menu" menus - specially tailored dinners with specially sourced ingredients.
Leong Chee Yeng, the head chef at Jade restaurant in the Fullerton Hotel, has been doing this for some five years. But it wasn't so much a deliberate marketing ploy as it was a response to customers' requests. "We are located in the middle of the financial district and many business deals are conducted during meals at our restaurant. Customers would bring their own wines and I was asked to create special dishes to match them."
Such requests grew steadily and the chef now extends the service to family gatherings and special occasions.
Meanwhile, Alan Chan of Jiang-Nan Chun at the Four Seasons Hotel relates a similar "origin story". Since starting at the restaurant more than four years ago, the chef has fielded many requests, mainly from foreign guests with dietary restrictions. He soon extended the privilege to regular hotel guests as well as his ardent supporters.
While sometimes the special menus are more to appease problematic diners, Chef Chan puts a positive spin on it: "It sometimes gets monotonous cooking the same dish over and over again. Such things challenge the chef's skills and repertoire as well as tighten the bond between chef and customer. Furthermore, it helps increase sales revenues in times of stiff competition."
One thing's for sure. Customers are all for the "out-of-menu" concept. Stephen Lee, a retired engineer who travels the region hunting for "food that bites back" as he calls it, says that it takes more than just tastiness to attract him to a restaurant. "The chef has to offer more," he says, "something prized or hard to come by; some artisanal ingredient or dish that really makes an impression."
Such treasures are not confined to up-market dining; Tonny Chan of Tonny Restaurant starting going "out-of-menu" 10 years ago. Being both owner and head chef of a medium-sized restaurant helped spur an easy-going camaraderie with his customers and allowed Chef Chan to "push" one-of-a-kind dishes, using special ingredients and other unique finds.
A trained Cantonese chef from Hong Kong, Chef Chan often visits his homeland, returning with small quantities of seasonal ingredients such as dried mantis prawns. "Not only is the supply of seasonal ingredients limited, some of them might not keep well for long periods. So while I cannot include these ingredients on my regular menu, I can offer them to my regulars," he whispers.
The foodie-fuelled demand for one-of-a-kind dishes has even extended to the neighbourhood zichar eatery, as exemplified by Chef Wayne Liew of Keng Eng Kee Seafood. Representing the third generation of the family business, Chef Liew posted his newly created dishes via Facebook and Instagram three years ago, garnering an ardent following that turned up at his stall demanding to taste them. The online foodie community followed, including Makansutra, which organised monthly eat-outs at his stall focusing on his more unique creations.
So while the relationship between chef and customer has become more intimate, and even takes place in "real time" thanks to the Internet, keeping customer loyalty is a burning issue. Social media can ironically be the chef's worst enemy, exposing his customers to a slew of competitors and imbuing them with an insatiable taste for the new.
To Jade restaurant's Chef Leong, keeping customers from feeling bored is a constant challenge. "Especially when families organise dinners for special occasions and budget is not a main concern, I've a free hand to create surprises," he says. "While most dishes would still be old classics involving dried delicacies such as abalone, sea-cucumber and fish maw, some customers would bring their own ingredients, especially certain types of fish that are new to me."
When faced with the business meal, Chef Leong innovates with western ingredients, mixing and matching them within the framework of classic Chinese cooking. He also gets to learn more about wines from the business meal. "I take every opportunity as a challenge and learn from it."
Cooking "out-of-menu" also holds many advantages in the eyes of Jiang-Nan Chun's Chef Alan Chan. "It exposes the kitchen to ingredients that seldom appear in the a-la-carte menu. In the past, Chinese chefs had a rigid mindset," he explains. "These days, chefs from different restaurants and even countries meet often to have culinary exchanges."
He points out how today's Chinese kitchen differs greatly from the past, highlighting the specially constructed wood-fire oven in the newly minted Jiang-Nan Chun kitchen and a wide use of ingredients once deemed as western, such as caviar and foie gras.
"I was once confronted with a huge piece of turtle cartilage. This hard-to-come-by delicacy created excitement in my kitchen for a while," Chef Alan Chan recalls. "The other was an ostrich egg where we needed a hammer to break the shell."
In fact the customers who opt for these unconventional menus tend to be less picky and more receptive to strange ingredients, observes the chef. "We often recommend cordyceps in our double-boiled soups. In fact, this soup has become so popular that we make and deliver it to our customers on a regular basis. And while I'm game for almost anything, I draw the line at certain meats, especially the endangered ones."
At Tonny Restaurant, "out-of-menu" requests usually come from wine lovers, and not families. Since each wine has a specific flavour, Chef Chan sometimes has to combine traditional Chinese cooking techniques with modern touches in order to complement the wine. And along with his hauls from Hong Kong, he also tries to inject some exoticism, especially when he is given notice a day or two in advance, which allows him to source for a catch such as wild leopard carol grouper or tiger grouper.
It seems that the impulse to cook "out-of-menu" doesn't diminish with age, as even the "grandfathers" of local Chinese gastronomy, Masterchefs Sin Leong and Hooi Kok Wai, occasionally do it. Nostalgic diners, usually in their late 40s and 50s, would request for culinary re-creations of by-gone eras such as the complete Chinese wedding dinner of the 1950s. Amy Van, an editor and food journalist who attended an event, says: "I was excited over the dinner that featured wedding dishes that were very unique, which I've never experienced before, not in this lifetime. It was a glorious meal from another era, so intricate, exquisite and memorable. Food aside, both masterchefs put in so much effort to recreate a wedding with the gold-plated tableware, decor and even music of yesterday."
Andrew Wong, a veteran food organiser with Makansutra, is organising his monthly foodie gathering at Keng Eng Kee Seafood next week. He says of Chef Liew's specially conceptualised menu: "Chef Liew belongs to the new batch of zichar chefs who are creative and aware of current food trends. Not only is he able to modify traditional dishes to appeal to the young, he attends international food events such as the Copenhagen Cooking 2014 in Denmark, Singapore Takeout 2015 in New York, San Sebastian Gastronomika 2015 in Spain, and World Street Food Congress 2016 in Manila for inspiration."
Mr Wong emphasised that Chef Liew toyed with salted egg yolks in his cooking five years ago before it became the craze it is now. "Some of his signature creations have found their way to his stall's a-la-carte menu because of demand," he says. "With 12 years of cooking behind him, Chef Liew is now so popular with friends and even business corporations that he would conjure a menu featuring his own interpretations of local Chinese zichar dishes starting from S$50 per head!"

This article was first published on May 7, 2016.
Get The Business Times for more stories.