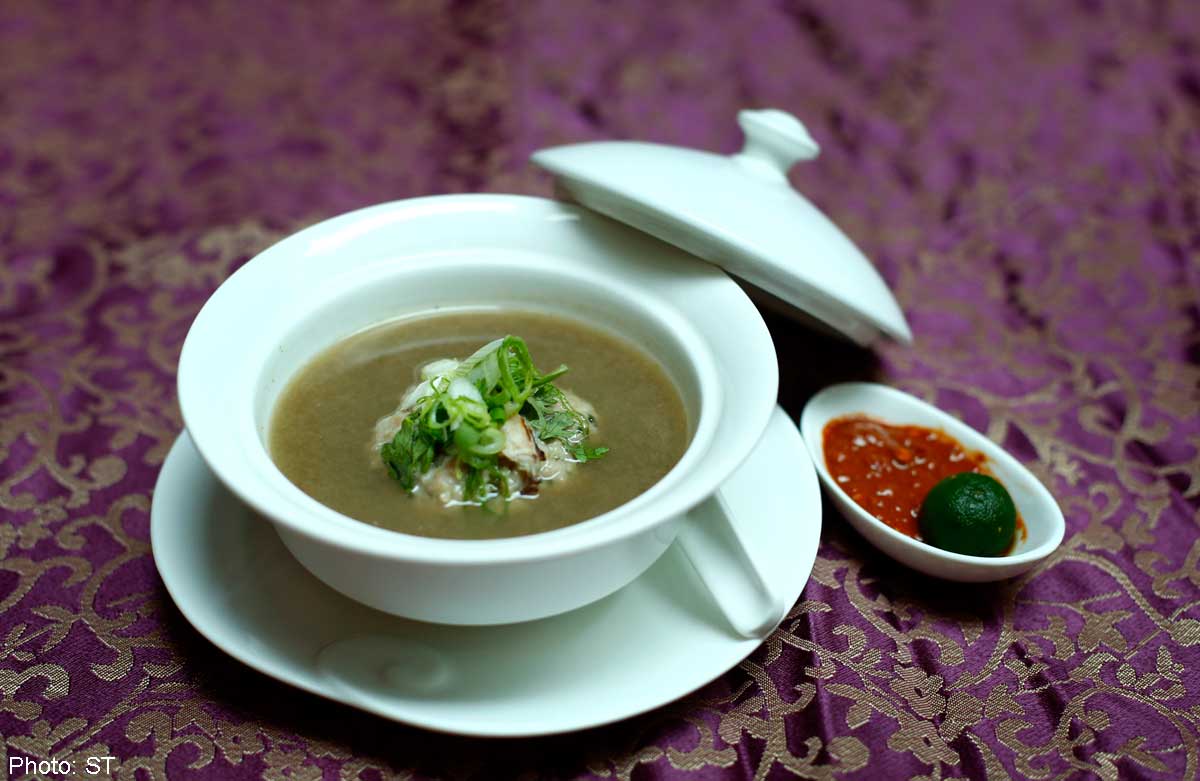 BAKWAN KEPITING
Peranakan Flavours, The Ardennes Hotel, Lobby Level, 11 Jalan Klapa, tel: 6789-1001
In a boutique hotel on Jalan Klapa is a little gem of a Peranakan restaurant, run by chef Ben Teo, 57. His dishes are gutsy, but his cooking also displays the kind of finesse Peranakans expect in their food.
Case in point: the bakwan kepiting. It is not for dainty appetites. The fist-sized ball of crabmeat, prawn, minced pork and bamboo shoots sits in a rich soup made by simmering flower crab and prawn shells.
Luscious, I think, when I dig into the ball, savouring the crab. Elegant and powerful, I think, when I sip the soup. Then it dawns on me: This is the best thing I have eaten in a Singapore restaurant this year.
LOBSTER ROLL
The Naked Finn, 41 Malan Road, Gillman Barracks, tel: 6694-0807
This has been the year of the lobster roll, when Singapore went mad for a sandwich popular in the east coast of the United States. Some places here do it better than others and the most delicious of them all is served during lunch at The Naked Finn.
Some 90g of cooked lobster meat, warmed on a cast-iron griddle before serving, is packed into each roll. The juicy meat is chunky so it has a satisfying bite. Butter and housemade mayonnaise on the bread rub off on the lobster, adding richness to sweetness.
The roll holds up admirably too, with no hint of squishiness. Like everything else at this seafood shack, it is well thought out and perfectly executed. I could eat this every day.
SCRAMBLED EGGS, SEA URCHIN, ASPARAGUS, STURGEON CAVIAR
Anti:dote, Fairmont Singapore, Level 1, tel: 6431-5315
Eggs in all forms take centre stage in this beautiful offering from the bar bites menu at Anti:dote bar. Velvety scrambled eggs are topped with raw egg, tongues of sweet sea urchin and briny caviar. Thin slices of asparagus provide crunch. It is deluxe and delectable.
Spanish chef Carlos Montobbio, 26, has upped the ante on bar food, filling bao with braised veal cheek, serving Hokkaido scallop in an intense, chilled tomyum broth. Fried chicken wings and potato wedges? Please. I look forward to more good things next year from his fertile imagination.
CHICKEN MARYLAND
The Ship Restaurant & Bar, 03-16/18 Shaw Centre, tel: 6235-2235
Nostalgia is endlessly delicious and The Ship serves the kind of retro food that takes me back to childhood. One of these dishes is Chicken Maryland, popular in the 1960s and 1970s. It comprises a chicken chop and rather unusual accompaniments: corn fritter, bacon and deep-fried banana.
On the day I have this dish, the chicken is pounded so thin that I taste not chicken but the crisp breading. It is too dry to finish.
I hope that was an aberration and the restaurant has got its Maryland groove back.

This article was first published on December 28, 2014.
Get a copy of The Straits Times or go to straitstimes.com for more stories.