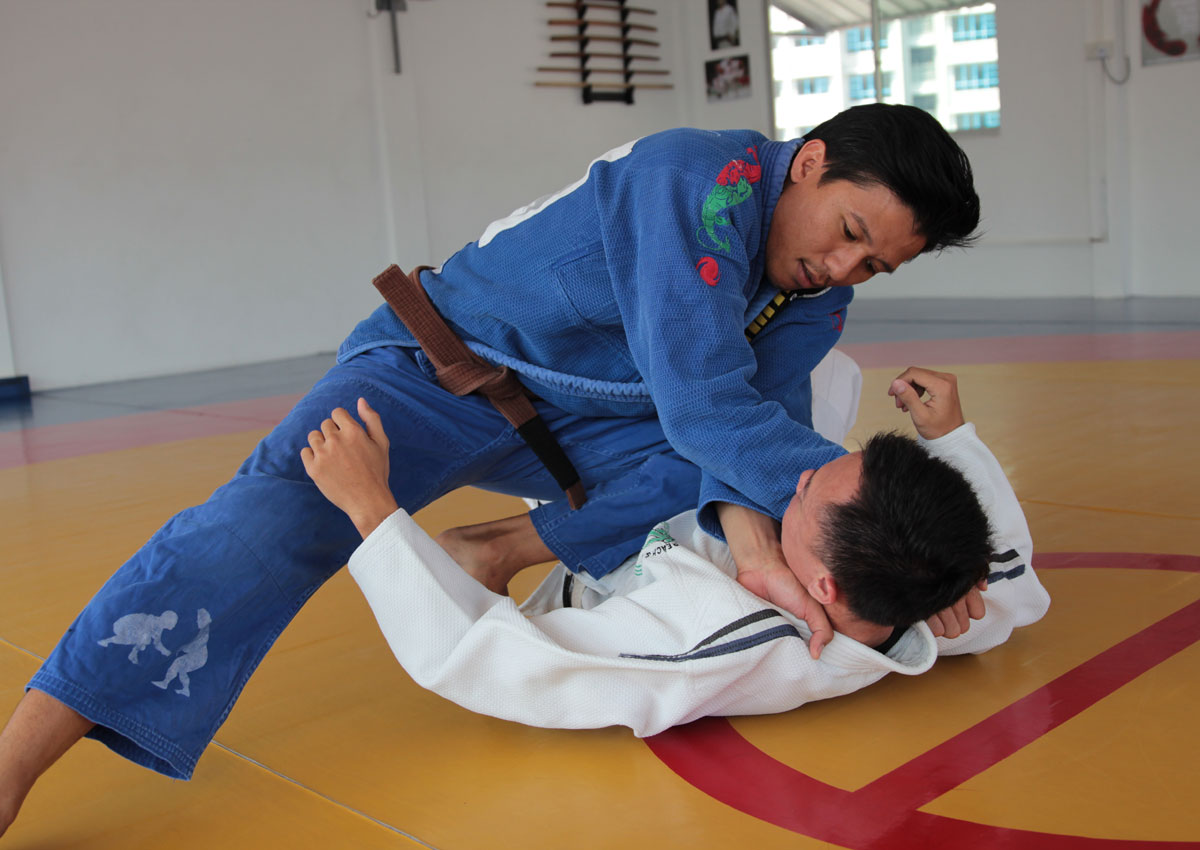 Brazilian Jiu Jitsu (BJJ) burst onto the global scene in the late 1900's popularised by the birth of mixed martial arts (MMA).
Developed in Brazil, the intriguing fighting system specializes in hand-to-hand techniques designed to gain an advantage when a fight goes to the ground. Its devastatingly efficient use of chokes and locks to submit opponents quickly turned into a worldwide phenomenon as fighters and fans alike, sought to comprehend its technicality.
Today, BJJ has spread from its roots in South America all the way across the globe to Asia. It might surprise many to know that some of the finest practitioners of the art of BJJ are now based here in Asia as the resurgence of interest in martial arts takes hold of the continent.
If you are ready to try your hand at the sport that has gained a global following with millions of practitioners worldwide, here are the top 7 BJJ schools in Singapore:
1. Evolve MMA
With the largest stable of BJJ world champions anywhere in Asia, Evolve MMA is a clear leader in the development of the art not just in Singapore, but across Asia as well. The array and variety of black belts include UFC star Leandro Issa, ONE Lightweight World Champion Shinya Aoki, two-time No Gi world champion Bruno Pucci, UFC Lightweight Champion Rafael Dos Anjos, two-time Mundials world champion Teco Shinzato, Brazilian national champion Gamal Hassan and more.
From children's classes to elite-level competition training and everything else in between, Evolve MMA remains the premier destination for BJJ training in Singapore.
2. Fight G
Tucked away between the bustling Clarke Quay and Boat Quay nightspots is Fight G - the oldest MMA gym in Singapore. While the gym was founded almost two decades ago by Singaporean MMA pioneer Darren De Silva, its BJJ programme only took flight when 23-year-old Australian-Japanese world champion prodigy Shane Suzuki joined them in 2008.
Today, the gym has a fast growing team of competitors who are regularly seen at local and regional tournaments.
Staying true to its roots of developing local talent, this gym remains a very suitable low-cost, no-frills option especially suited for tertiary students.
Singapore's first home-grown BJJ black belt Jason Quek is the founder of BJJ Singapore. Since 2006, Quek has been grooming cohorts of youngsters into BJJ practitioners, helping to develop the sport from the grassroots level. BJJ Singapore's facility is ample and spacious, complete with training equipment and space for strength and conditioning as well.
Having worked his way to the top of the belt rankings, Quek not only focuses on introducing BJJ to beginners, but also lends his time towards teaching and cultivating future competitors who can represent Singapore on a world stage.
4. Impact MMA
Impact MMA's BJJ black belt Alexsandro Machado hails from Brazil and is of Checkmat lineage.
Affectionately known to his students and friends as "Leke", Machado attained his black belt under the BJJ legend Ricardo Vieira in Brazil. The team has been known for producing strong competitors locally and their classes are characteristically intense with ample time spent on honing skills through BJJ sparring.
The gym sits squarely in the midst of Shenton Way, making it easily accessible for career-driven fans of the sport.
Having relocated within the past year to a spanking new facility along Lavender Road, Transcendence MMA now offers a 2-level, 4000 sq ft training area that includes a fully matted level specifically for BJJ training. The facility offers a host of martial arts courses including Muay Thai, Aikido, Karate, Judo and more.
BJJ was introduced recently with Singaporean national champion and SEA games wrestling representative Sulaiman Yusof taking the lead. With a wealth of competitive experience in multiple combat sports and disciplines, Sulaiman works to hone the skills of an ardent group of practitioners and competitors in Transcendence MMA.
Although smaller than most BJJ schools in terms of training area, Equilibrium still delivers a solid BJJ programme led by BJJ black belt Bruno Amorim of Brazil.
Amorim is an active competitor himself who has won gold in the Brazil nationals, Pan-Americans, and Mundials. He is of Gracie Barra lineage and also has experience as a competitor in professional MMA.
Equilibrium caters mostly to university students with most of its classes in the evenings. It is also open 7 days a week although it has a limited schedule on weekends.
Jiu Jitsu Lab's head instructor Vinc Tan is another home-grown black belt.
A prodigy who only started his journey in BJJ during his tertiary days, Tan spent time training in Brazil and was awarded his black belt by Luis Carlos "Manimal" Mateus while in Brazil.
Jiu Jitsu Lab is conveniently situated in the heart of Little India and classes are held daily with emphasis on active sparring on the weekends.