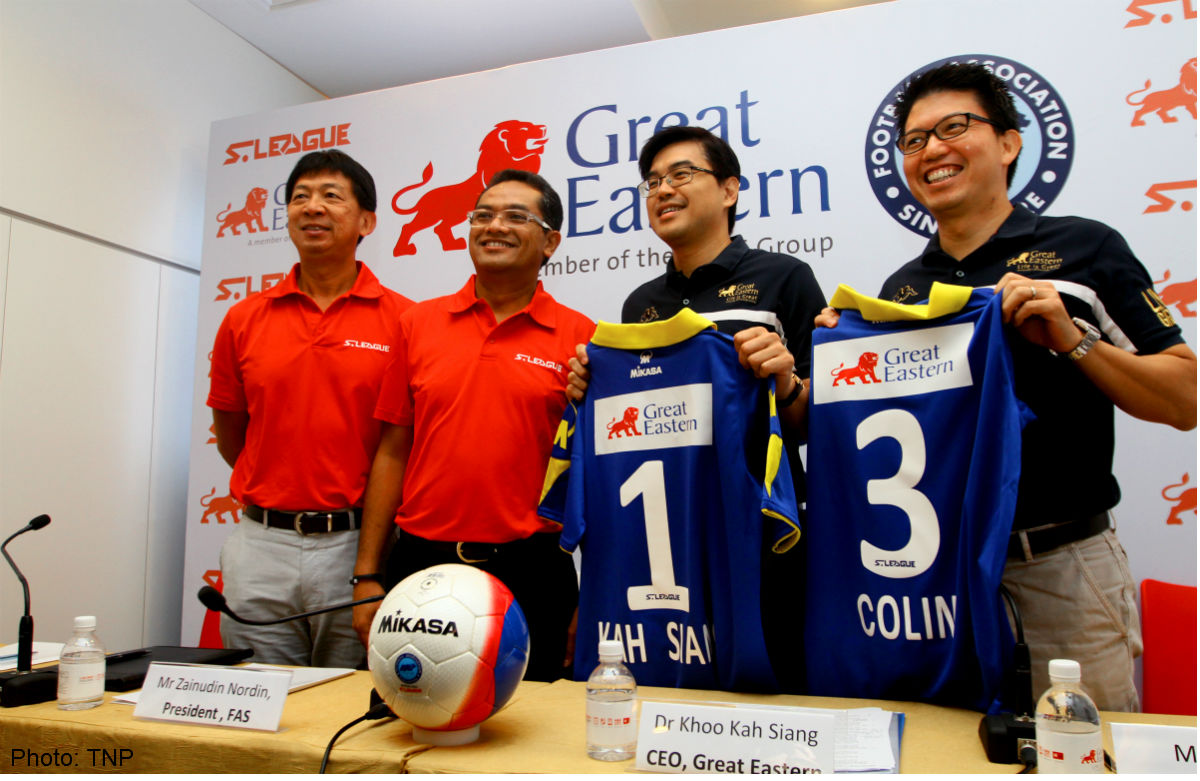 SINGAPORE - The S.League received a timely boost yesterday ahead of the start of the 2014 season on Friday.
Life insurance group Great Eastern revealed it will continue for another year as a co-title sponsor of the country's professional domestic league, which is about to enter its 19th season.
Great Eastern exercised the option of a one-year extension written into the two-year sponsorship contract - believed to be worth around $500,000 annually - that it signed before the 2012 season.
While the announcement was a fillip, the Great Eastern-Yeo's S.League will have to overcome big hurdles coming up.
The $1.3 billion Singapore Sports Hub will open its doors progressively from April.
With a series of marquee international sports events expected to find its way to Singapore shores, competition for sponsorship dollars will heat up.
It is a fact the Football Association of Singapore (FAS) president Zainudin Nordin is well aware of.
"If I'm perfectly honest, there is a real risk there," he said, speaking on the sidelines of yesterday's signing ceremony at Great Eastern's Pickering Street headquarters.
"We'll have to find the element that will make people want to support us. If we are not on our toes and cannot think of that on a regular basis, we'll be in trouble."
The S.League kicks off on Friday with defending champions Tampines Rovers taking on RHB Singapore Cup winners Home United in the Charity Shield.
REVIEW
Great Eastern has partnered the S.League since 2009, and Singapore chief executive officer, Khoo Kah Siang, indicated that it will be conducting a review of their sponsorship tie-up, which is standard practice.
"We have had a meaningful sponsorship with the S.League for the last five years, and we will continue to explore, but (for now) we will just focus on 2014," he told The New Paper.
"We always are open to opportunities to work with various types of sponsorships as and when they come up."
A subsidiary of OCBC Bank, the insurance company also backs the Great Eastern Women's Run and recently signed an in-principle agreement for a significant partnership with the Sports Hub.
Besides sponsorship, the S.League will also have to grapple with direct football competition.
The S.League is already running concurrently with the Malaysian Super League, which features the LionsXII, the Singapore outfit that command a big following.
Next year, the ASEAN Super League (ASL) is scheduled to kick off.
The ASL is expected to feature teams from South-east Asian countries doing battle on a home-and-away basis.
Zainudin feels that with differing targets in differing markets, there will be sponsors interested all three sports properties - the ASL caters to sponsors preferring a regional element, while both the MSL and S.League will focus on those with a local slant.
"The reality is that Singapore is a small market and we must work at making (the S.League) relevant," he said.
"It is an inherent challenge of a city state and something that we must overcome creatively."
In its bid to put bums on seats at stadiums, the S.League has removed the $10,000 salary cap for clubs to hire one big-name player each.
In a bid to improve the matchday experience for fans, various initiatives including programmes, club mascots, vouchers and finger food will be available at selected fixtures.
With a smartphone app and a fantasy football league to be introduced soon, the S.League also hopes to engage fans online, as it keeps its eye on improving the average attendance at games - a figure that has risen from 2012's low of 932 to around 1,200 last year.
It is a healthy turnaround over just a year.
Right now, Great Eastern is keen on developing its partnership with the S.League.
"The key point is how we work together (with the FAS) to reach out to the community," said Great Eastern's chief marketing officer, Colin Chan.
"Those are things that we have to do well in."
shamiro@sph.com.sg

Get The New Paper for more stories.