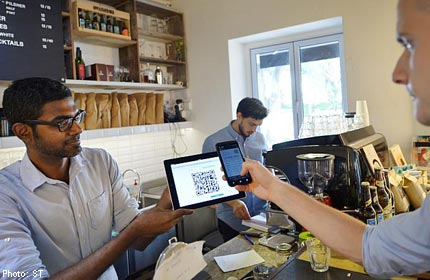 SINGAPORE - The Monetary Authority of Singapore (MAS) is cautioning consumers against bitcoin trading even as a few merchants in Singapore have started accepting the digital currency as payment for physical goods.
Invented in 2009, bitcoin is the world's most well-known digital currency. It is not issued or managed by a single company or monetary authority.
Bitcoins can be bought through online exchanges that convert real money into the virtual currency. Due to its anonymous nature, bitcoin trading was declared illegal in Thailand in July over money laundering concerns.
On Singapore's sole bitcoin exchange FYB-SG, more than $440,000 worth of bitcoins have been transacted since it started operating in January this year. One bitcoin was sold for about $167.83 on Thursday.
An MAS spokesman told The Straits Times that consumers should be wary of such trading.
"If bitcoin ceases to operate, there may not be an identifiable party responsible for refunding their monies or for them to seek recourse," the spokesman said.
Like other virtual currencies, such as game credits and airline miles, MAS does not regulate bitcoin trading.
MAS' warning comes even as a handful of merchants here, such as cafes, have started to accept bitcoins for goods like beer and coffee.
Merchants said they profit from not paying any transaction fee and from a potential rise in the exchange rate.
Mr Chad Samson, 30, owner of Cad Cafe at Haji Lane, said: "It does not make sense for a small business like mine to pay the high credit card transaction fees."
But Mr Prashant Somosundram, 33, owner of cafe Artistry at Jalan Pinang, acknowledged the element of risk. "As my transaction volumes are still small, I'm willing to write off my investments," he said.
Artistry had about 30 bitcoin transactions worth a total of $300 since mid-July, when it started taking in bitcoins. Its value has risen by about one-third, which works out to a profit of $100.
itham@sph.com.sg

Get a copy of The Straits Times or go to straitstimes.com for more stories.