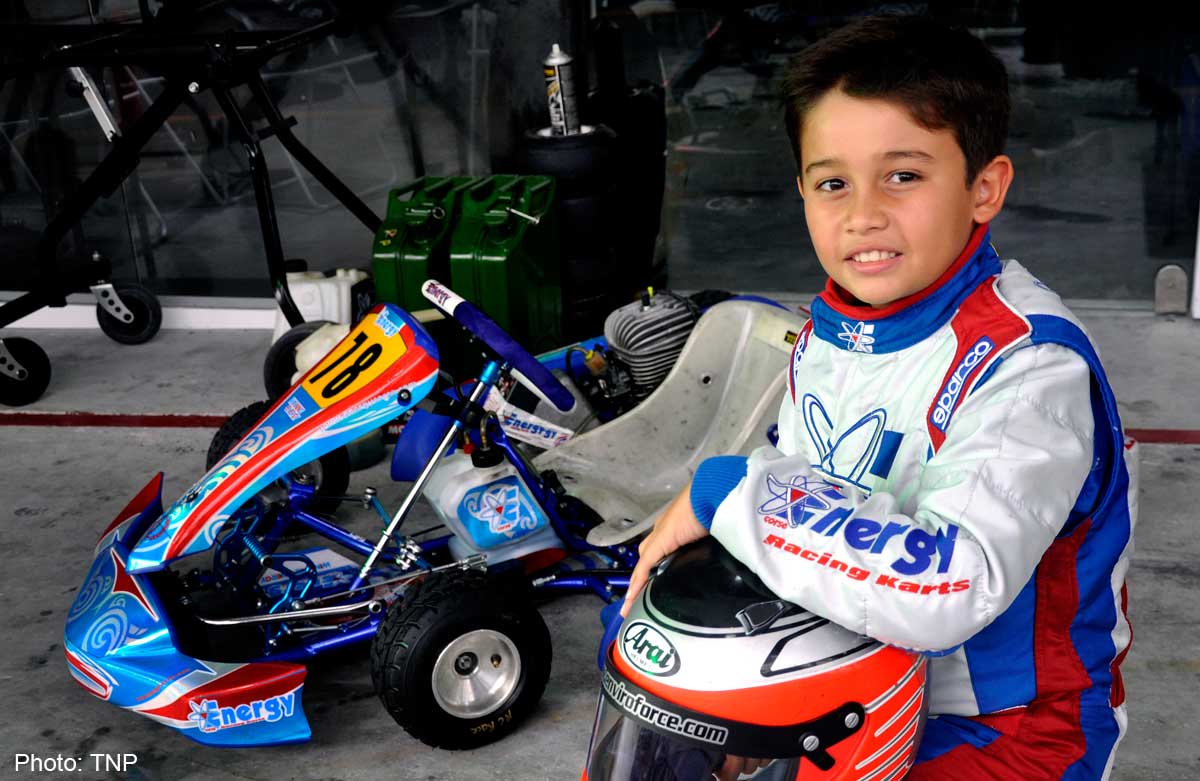 He zips around the Kranji KF1 Circuit, keeping up with his competitors with deft turns.
When the karts are going at full tilt, it is hard to tell Ryan Michael Chapman apart from the adults - even though he is only 10 years old.
Decked out in his racing suit and hunched over the wheel, the young Singaporean professionally navigates the course.
When the session is over, the exuberance of a child comes through again as he tells The New Paper on Sunday about how his engine was running and his steering was unbalanced.
Rattling off jargon such as "stalling", "misfiring" and "engine running rich", the international school student walks us through the workshop where his mechanic, Mr Ericson Abaja, 35, is giving the racing kart a look-over.
Sheepishly, Ryan realises he might have left his audience behind, he turns around and says: "Nothing beats the feeling of being at the starting line moments before the race."
He is among the youngest racers here, and has had quite a showing so far in his 18 months of involvement with the sport.
Indeed, he had podium finishes in the cadet categories of last year's Singapore Karting Championships and this year's Rok Cup Asia.
Though he is not the youngest racer here, Ryan has a lot of potential, says Singapore Motor Sports Association's vice-president of karting, Mr Kenneth Wong.
"He learns driving quickly, and I think his attitude and focus towards motor sports is one of a kind," Mr Wong says.
HOW HE GOT INVOLVED
Ryan's mother, housewife Marieza Undasan-Chapman, 41, recalls how her son took to the sport naturally after giving it a go while on holiday in Spain.
He clamoured to continue karting, and it has turned into a full-on endeavour with the Chapmans spending about $15,000 for Ryan to compete in the racing season.
TNPS understands that it also costs $50,000 a year for him to be part of professional racing team Energy Corse Asia. This gets him racing karts, helmet, racing suit, and other equipment. He also receives support from mechanics.
Mrs Chapman does not tell us how much exactly has been spent on her son's hobby, but says they try to find sponsors.
Mr Abaja says: "The engine and parts that we have on our team's karts are of higher quality than those of regular rented karts. If you buy your own kart, you have the option of upgrading its components to make it perform better."
On his part, Ryan admits he has had his fair share of accidents.
He recounts: "I had other racers who crashed into my kart, which caused me to lose control and crash.
"Once, my friend even had his kart fly in the air after another kart crashed into it. The kart landed on top of him, but he emerged with only minor injuries."
That said, Ryan has steered clear of serious injuries so far. His mother says he has actually become more grown-up because he is more aware of time management and the need to get his homework done before he races.
And she recalls how when he crashed out of a race, rather than throwing a hissy fit, he told his mum that he enjoyed the driving.
She says: "I am very proud of him."
Karting in Singapore
There is a small community in Singapore that takes karting very seriously, spending thousands of dollars to get their own equipment and karts.
And they say more needs to be done to improve the sport here.
There are two karting tracks, the KF1 Circuit at Kranji and the Kartright Circuit at Jurong, with a new one set to open in Bukit Timah.
For those who kart competitively, like 10-year-old Ryan Michael Chapman, Malaysia is where the action is as their races are usually larger than Singapore's.
In many countries, there are regular kart races that happen several times a year.
Karters want more people to know that you can try out the sport without spending loads of money.
Those without a driver's licence will be given only a 30kmh kart.
If you have a driver's licence, you can drive a kart that goes up to 50kmh.
But if you are an experienced kart driver, you can have karts with higher speed limits. The speed limit for leisure karting tracks in Singapore is 80kmh.
For the two karting tracks here, you can rent a kart for up to 10 minutes at a time. The fee ranges from $18 to $65 a session.
SAFE
Managing director of Energy Corse Asia Josh Hunt says: "Karting gets you a lot closer to your opponents than car racing, adding to the thrill.
"Yet, it is incredibly safe.
"I have been racing for 25 years and never been injured, but I have been hurt while cycling, surfing and playing rugby and soccer."
There are children as young as four learning how to drive a kart.
Mr Hunt says: "There are 50cc karts suited for children even at the age of four, but they are too young to compete, so all they do is practise."
ycchin@sph.com.sg

This article was first published on May 31, 2015.
Get The New Paper for more stories.