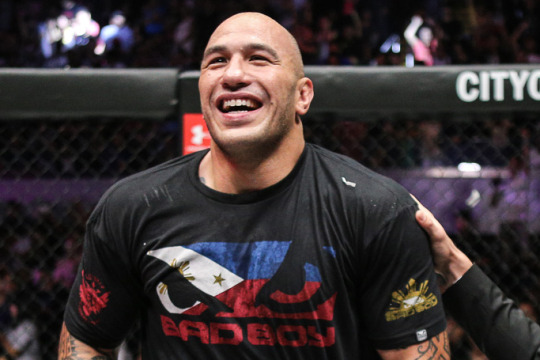 Brandon "The Truth" Vera is carrying a nation on his tattooed back.
The reigning ONE Heavyweight World Champion will defend his prestigious title belt against Hideki "Shrek" Sekine at ONE: AGE OF DOMINATION, on Friday Night, 2 December, in front of a packed hometown crowd at the Mall Of Asia Arena in Manila, Philippines.
Although this bout marks the Filipino-American's first title defense, it is extra special because this is the first time the champ is officially fighting in his new home, and he already feels the strength of his countrymen rallying behind him.
"It is honestly like fighting in front of your family, but your family is the entire country," Vera says. "It is a blessing and a curse. I cannot let them down. But it pushes me and drives me, and helps me make the decision that, 'Hey no, you need to go another round. Hey no, you are not tired yet, you need to push some more. Hey no, you need to make this happen.' 
"It keeps me motivated, it keeps me hungry, and it keeps me wanting more."
Earlier this year, Vera decided to relocate from America — a country where he joined the US Air Force and a later blossomed as one of the nation's brightest mixed martial artists — to the Philippines in search of a new life.
"The Truth" is planning to open an MMA gym soon, as well as apply for dual citizenship. But between adjusting to his new surroundings, acting in local films, and getting in some quality training for his upcoming tilt, his schedule has kept him from accomplishing his other goals.
"I have been so busy in the Philippines since we have moved that I do not think it has even hit us that we have moved yet," he admits. "[I have] been doing stuff for movies, stuff for the Philippines, stuff for my citizenship… it does not feel like I have moved yet."
While he has remained busy, Vera found some time in the schedule to meet lifelong combat sports hero, Filipino government official, and brand new WBO Welterweight Champion, Manny Pacquiao.
"Senator Manny Pacquiao is an inspiration on more than one field. More than sports and more than him being a senator, it is him as a humanitarian. Him as a person, the work that he does," Vera explains. 
"The first time I went to the gym to watch him train, Senator Pacquiao walked in with all his security and said hi to everyone. [He] walked into the locker room and came out. It was beautiful to see Senator Pacquiao turn into Pacman [and] watching him train."
"The Truth" got to do more than just watch Pacman throw some hands. During his gym visit, he was able to pick the brains of some of the boxing champion's trainers. Vera even had the opportunity to see Pacman display his limited MMA skills.
"I am working with one of his assistant coaches [and] I talked to his head coach. He was giving me some tips," he reveals. "Pacquiao was doing some bag work and looked over at me and started throwing knees on the bag. It was really cool."
Besides the MMA training, film shoots, and hanging with the boxing legend's squad, the Filipino-American has ambitions of running for public office and ushering in a social change.
"I have heard from other people that the hardest fight game is politics," he says. "I have always been interested in politics and someday, after I am finished with this fight [career], I will be looking for another fight, so I would probably be interested in running for Senate here in the Philippines one day."
He is already targeting a few issues. 
"Bullying is a big problem here in the Philippines. Corruption. Better living for my kababayan. Better education," he says are just a few of the problems he plans to bring change to.
Although it has been less than a year, Vera can safely say that he has adjusted well to life in the Philippines. He was already a national hero. Now, he plans to become a staple on pop culture and influence the community in a positive way.
"The Truth" is in the Philippines and it seems he is there to stay for good.