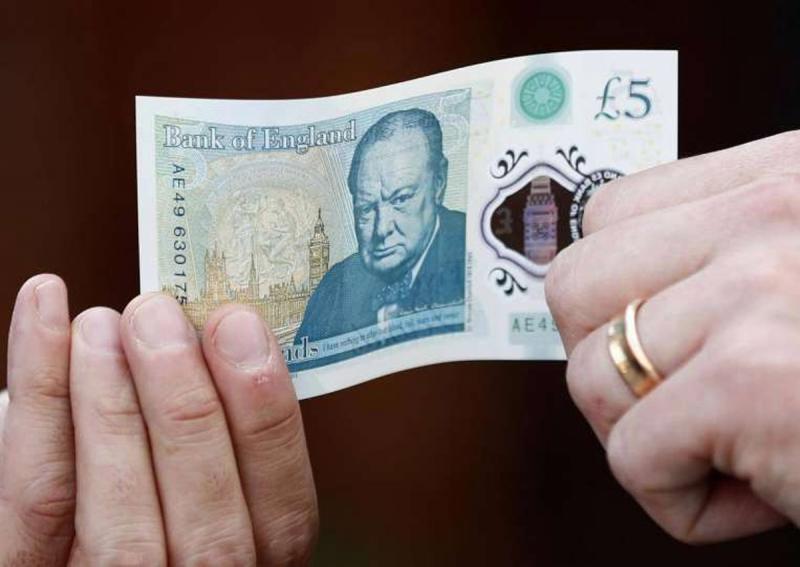 Britain has joined a legion of countries, including Singapore, in embracing polymer plastic notes, with a new £5 (S$8.90) version hitting the markets last week amid a lot of curiosity as well as some amount of criticism.
As many as 440 million notes debuted last Tuesday in a size smaller than their now-withdrawn paper counterparts, but promising benefits like a longer lifespan, bacteria resistance and being harder to forge.
Resilient to being crumpled, crushed, scratched or having liquid spilled on, the notes can also be recycled into plastic products when they are withdrawn from circulation, media reports said.
However, the new notes have caused unhappiness among those angered by the removal of the old paper note which bore the portrait of social reformer Elizabeth Fry.
"It meant that, apart from the Queen, there would be no female figures on British banknotes," they griped, The Guardian reported.
However, the £10 polymer note to be introduced next year will feature novelist Jane Austen.
Others have complained on the Bank of England (BOE) website that the notes are too slippery and may be prone to sticking to one another. The bank said their sticking effect would be short-lived with usage.
BOE governor Mark Carney has insisted that the fivers "will stay in your pocket when you fold them", and summed up their performance as capable of surviving "a splash of claret, a flick of cigar ash, the nip of a bulldog and even a spin in the washing machine". He then proceeded to dip one such note in a chicken curry pot at the local market to prove his point, the Financial Times said.
The new notes feature the Queen and a gold foil of Big Ben on the front, while Sir Winston Churchill, Britain's leader during World War II, is featured on the back. The note will bear the signature of BOE chief cashier Victoria Cleland.
The launch follows several years of research, public consultation and preparation by Britain's central bank, which also intends to launch a polymer £10 note in mid-2017 and a £20 version by 2020.
Australia was the first country to circulate polymer notes, followed by Singapore which initially introduced commemorative plastic notes on special occasions, and later partially converted a portion of its circulating currency to polymer. Currently, the $2, $5 and $10 notes are made of the material.
Many countries such as Canada, New Zealand, Mexico and Israel also issue polymer banknotes.

This article was first published on September 19, 2016.
Get a copy of The Straits Times or go to straitstimes.com for more stories.