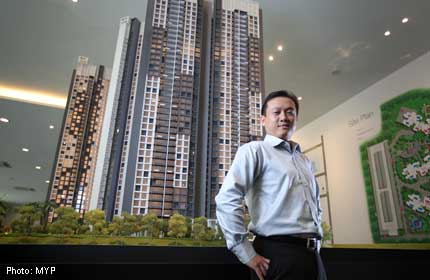 If being innovative is one key ingredient in business success, home-grown property firm EL Development's managing director, Mr Lim Yew Soon, 37, seems to have hit the mark.
His previous ideas for maximising space functionality and having interesting layouts in his projects were clever - but, coincidentally, were put to a stop subsequently by the building authorities. Fortunately, this was only after Mr Lim had completed and sold the units.
His developments at that time were completely in accordance with the guidelines set by the authorities and did not require revisions, even after the new guidelines came into place.
One example is the 72-unit luxury-apartment development Illuminaire on Devonshire that his company launched in 2009.
Mr Lim came up with the idea of having a mechanical carpark - where residents' vehicles would be transported to parking spaces in cargo lifts outfitted with mirrors and sensors - in a separate warehouse next to the residential block, instead of having a traditional basement carpark.
This was to reduce the high construction costs which would have been incurred in underground digging, and it would also save on ramp and car circulation space which could be better utilised.
But the authorities, worried about other developers following suit and residents complaining about noise disruptions and mechanical faults with the lifts, soon revised its guidelines to stop the building of mechanical carparks housed separately, after EL Development completed its project.
However, the idea was highly popular with homebuyers. The freehold development in the prime district was sold out within three days of its launch, at a high price of S$1,700 psf - above its S$1,400 psf prevailing price then.
There was also a three-storey strata-titled terrace factory, Nordix, in Woodlands which the company launched in mid-2007.
Mr Lim had the idea of selling units on the first two storeys as normal industrial space, and converting the third floor into dormitories for workers. He got approval for the idea.
All 38 units, ranging from 5,500 sq ft to 6,500 sq ft, were sold within two months, at a strong price of about S$150 psf.
But the building authorities again soon revised its development guidelines afterwards, concerned about the proliferation of such secondary worker dorms and the ease with which such dorms could be sublet to illegal foreign workers.
This has resulted in Nordix being among a handful of such developments to have permission to be used as secondary worker dorms today.
Mr Lim said with a chuckle: "It's not deliberate that we try to get around loopholes in the building guidelines, but I would say that we are a pretty innovative developer. We aim to create an optimised layout in all our projects for our clients."
Indeed, his efforts in building the company seem to have bore fruit.
EL Development may be only seven years old, but it is slowly but surely upping its game against the bigger boys.
Starting from its first boutique-size project, the Rhapsody on Mount Elizabeth, which was sold out in six weeks, the company is now being trusted with large-scale mass-market condominium projects encompassing close to 900 units.
His latest project is a 810- unit condominium at Sengkang, which he said is likely to be called La Fiesta and sell at about S$1,100 psf.
It is set to be launched at the end of next year. Mr Lim has plans to incorporate pizzerias and teppanyaki hot stoves as part of the development's shared facilities.
Asked about his success, he said that his young age is perhaps his biggest advantage in the competitive property-development scene here.
"I think I'm about the same age as most homebuyers and this (means I) share their mindset, (and) have a better idea of what they want in a home.
"It also (means I'm) more exposed to technology, (and am) more receptive to incorporating more innovative features into our developments."
reicow@sph.com.sg