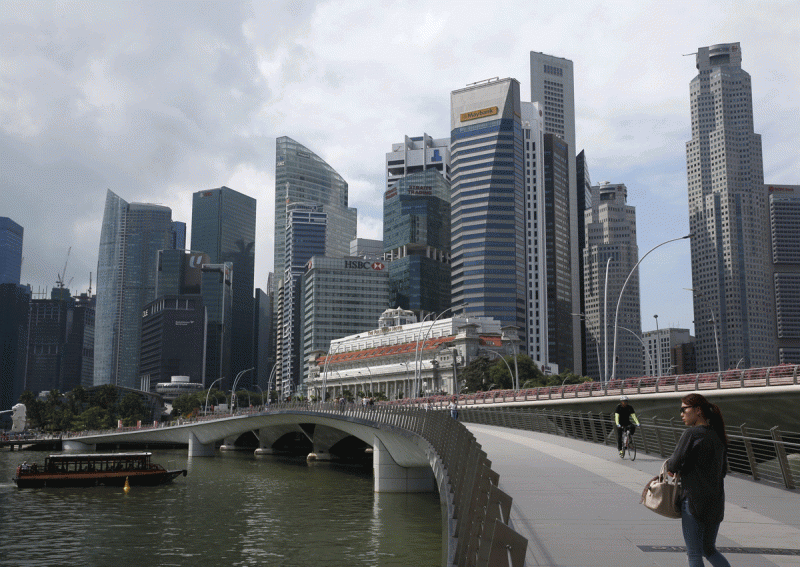 THE Singapore market was the region's leading performer yesterday, taking its cue from the stellar gain on Wall Street overnight.
The benchmark Straits Times Index added 11.42 points or 0.43 per cent to 2,672.07, in its second straight session in the black. In all, 1.35 billion shares worth $1.15 billion were traded - a relatively active day.
Singapore's upbeat day was the exception across the region with other key Asian markets closing lower. Shanghai shed 0.82 per cent, Hong Kong pared 0.25 per cent and Tokyo dropped 0.37 per cent, as investors took profit from previous gains.
But investors here were inspired by the bullish sentiment that pushed the Dow Jones Industrial Average up by 1.4 per cent overnight.
Energy stocks drove the gain, following a recovery in the crude benchmark Brent futures to more than US$34 per barrel.
Remisier Desmond Leong believes the current momentum can hold up for at least a short while.
"I expect profit-taking to happen and some correction may follow. We can see signs of that (yesterday) when STI closed lower than its opening.
"But the strength of the rebound has been generally strong and I think it can go into next week," he said.
In all, 17 of the 30 STI constituents gained ground, led by Hutchison Port Holdings Trust. It put on two US cents or 4.44 per cent to 47 US cents.
All three banks rose, with OCBC up 13 cents or 1.64 per cent to $8.08. United Overseas Bank gained 19 cents or 1.11 per cent to $17.33 while DBS Group Holdings went up seven cents or 0.51 per cent to $13.69.
The gains came after all three banks announced better-than-expected results, even as credit quality risks continue to linger.
Keppel Corp managed to add six cents or 1.15 per cent to close at $5.27, despite unverified news this week that Sete Brasil may file for bankruptcy protection within days.
Both Keppel and Sembcorp Marine, which dropped half a cent or 0.3 per cent to $1.635, have pencilled in huge provisions for the potential impact from Sete Brasil, which was a major rig client for both.
"It also raises concerns if the rigbuilders are required to write down the value of their yard facilities in Brazil given the lack of revenue visibility in the medium term, in particular for Sembcorp Marine which has invested $1 billion for the new yard over the past three years," DBS analyst Ho Pei Hwa said in a note.
Meanwhile, Genting Singapore lost the most among the blue chips, giving up three cents or 3.92 per cent to 73.5 cents as investors exited on a high following the steady gain since the middle of the month.
Golden Agri-Resources, which is set to announce its 2015 results next Tuesday, dropped one cent or 2.67 per cent to 36.5 cents. Singapore Airlines closed down 18 cents or 1.55 per cent at $11.46.
Activities in the penny segment were also strong. Profit- taking sent Spackman Entertainment - which rose 58 per cent in the previous five days - down 0.4 cent or 3.23 per cent to 12 cents, with 57 million shares changing hands.
Ezra Holdings was another top active, with 50 million shares traded. It rose 0.1 cent or 1.89 per cent to 5.4 cents.
Mr Leong said: "After last week's gain which was driven mostly by big caps and blue chips, we now see investors rotating through the pennies. When the rotation reaches the cheapest pennies, that's usually the sign for a market correction."
whwong@sph.com.sg

Get MyPaper for more stories.