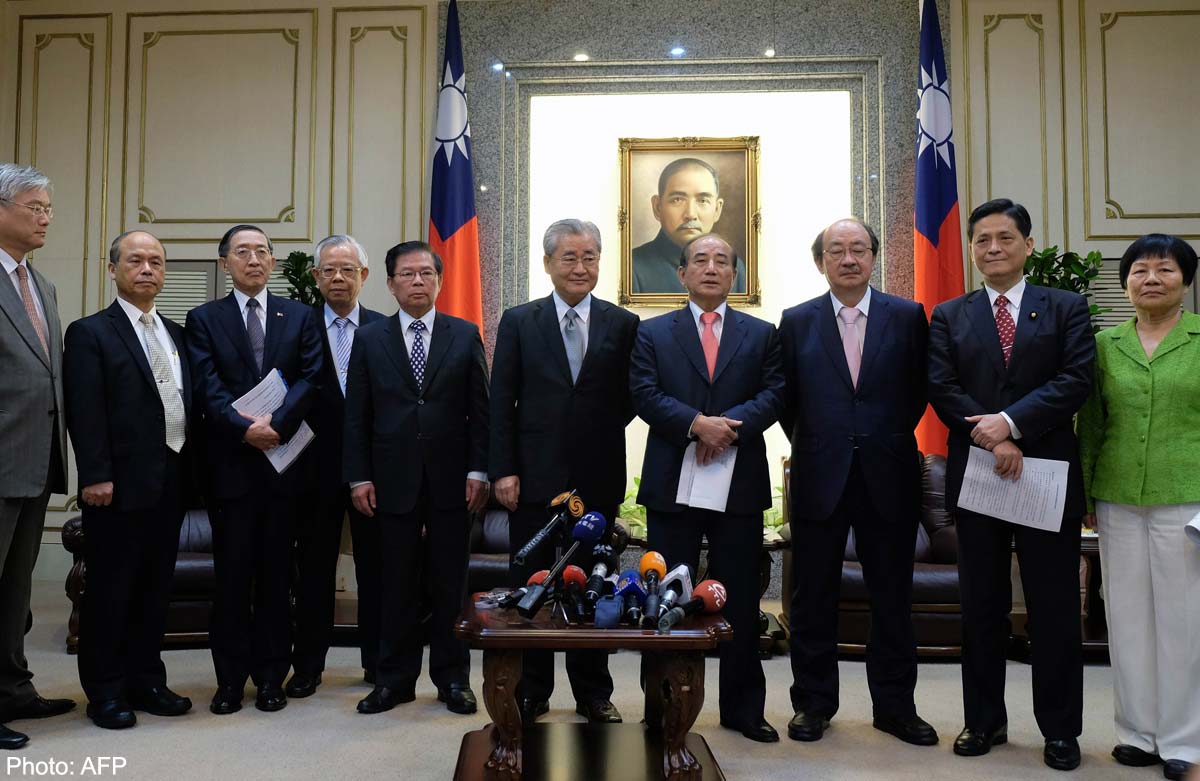 TAIPEI, Taiwan - Finance Minister Chang Sheng-ford reached to put out a proverbial fire yesterday by saying Taiwan's NT$2.2 billion (S$100 million) investment in the China-led Asian Infrastructure Investment Bank (AIIB) won't go to waste.
In a live interview that aired online late Wednesday, Chang said Taiwan has to invest a minimum of NT$2.2 billion in the AIIB, in order for participation to translate to market opportunities.
"The worst that could happen is that our capital turns into wallpaper, that is all," Chang said, in a remark that inflamed netizen ire.
At the Legislative Yuan's Finance Committee yesterday, Chang said the comment was "only a metaphor."
The NT$2.2 billion will not become a wasted investment even in the worst-case scenario, Chang said.
Like the Asian Development Bank, the AIIB will be structured as an international financial institution with operational sustainability. Both have high visibility on the global stage and will not collapse, he said.
If Taiwan wishes to exit the AIIB, the capital will be returned, he continued.
On Appropriate Names
During an hour-long interview the day before, Chang spoke with Executive Yuan spokesman Sun Li-chyun about Taiwan's bid to become a founding member of China's nascent venture.
China has stated that it welcomes Taiwan in the AIIB under "an appropriate name." In the interview, the Cabinet spokesman said Taiwan also hopes to join under an appropriate name.
"Our response is that we also hope we join under an appropriate name. When the time comes, we will look at their appropriate names and our appropriate names and see how appropriate we can get together," he said.
"Perhaps we will be able to reach a point where both parties can agree that the name is very appropriate."
The finance minister said it's improbable that Taiwan will accept AIIB membership under "Taipei, China."
"That name would most likely unacceptable (for Taiwan)," he said.
The Republic of China was allowed to retain membership in the Asian Development Bank (ADB) as Taipei,China, after the People's Republic of China entered in 1986.
"Our designation in the ADB is still under protest," Chang said.
The Legislative Yuan has the right of final decision on Taiwan's designation, Sun said.
Not the Services Pact
In the interview, Chang also responded to opposition party criticism that the Cabinet's policy formation over the AIIB is a "black-box operation" - a repeat of controversial procedures on the Cross-Strait Services Trade Agreement.
"They are very different. The services pact was already negotiated and signed before lawmakers were asked to approve it. That's why there was a reaction," he said.
"With the AIIB, the rules and regulations have not been formed. We have signed nothing. We have only expressed that we are willing to participate."
Chang also responded to a question on why his ministry aimed at submitting Taiwan's statement of intent by March 31, Beijing's deadline for founding members.
"Why did we want to rush to apply to become a founding member? It's because only founding members have the right to work with them to form the rules and regulations and to strive for our rights. As only a regular member, Taiwan would need to abide by already established rules and regulations," Chang said.