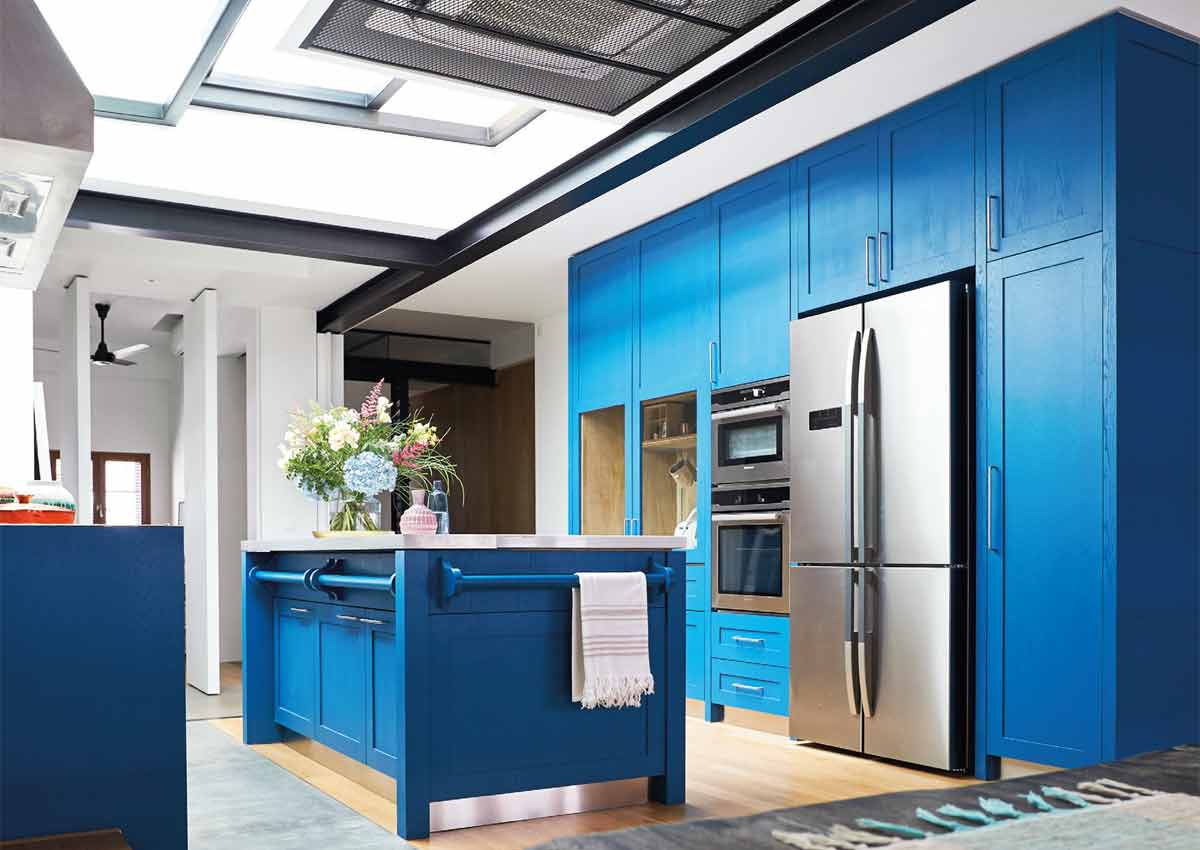 Who: A couple in their 40s
Home: Three-bedroom walk-up apartment in Tiong Bahru
Size: 1,100sqf
You'd never have guessed it, but this 1,100sqf walk-up apartment used to be a crammed rental home with small compartmentalised spaces - not the ideal layout for homeowners Sheau-Yin and Eugene Tan, who wanted an airy, Mediterranean-influenced space to call home.
Keeping in mind their other requirements, such as a large kitchen for baking and an en-suite bathroom, interior designer Mark Yong of Piu decided that a complete reconfiguration of the apartment was in order.
Here's what they used to achieve this interior design, with renovation costs totalling $200,000.
Wood - lots of it!
"We spent nine years in Europe, visiting the Mediterranean region whenever we had a chance," shares Sheau-Yin. "There is a lot of nature incorporated in the style, so we used nyatoh wood for the louvre windows and bedroom door."
Oak was used for part of the home's flooring as well as kitchen cabinets; they painted the latter a Provencal blue, a colour often seen in the Mediterranean, and which reminds them of the sea.
They also chose raw plywood, for its natural and raw look, when making major built-ins such as the dining bench, wardrobes and beds.
Creating new spaces
With half the rectangular-shaped home taken up by the new living room and kitchen, adding a guest room would have surely eaten into the remaining limited space.
Mark's solution was to build a series of pivoting doors, which would close off a space adjacent to the kitchen (and opposite the living area), to become a room, when needed. Inside that space, a sliding door (which looks like a wall) cleverly hides the built-in wardrobe and tatami mats reserved for guests.
Colour and texture
Rustic-style furniture pieces, such as a second-hand rattan sofa and a weathered wooden picnic table, give the home a beach-house look.
Complementing these items are similarly weather-beaten green wooden chairs, and mirrors, all from Penang, and a large range of wine crates the couple had collected over the years.
Playing off the country-style blue in the kitchen and adding a touch of warmth is the red brick wall, which Mark "aged" using a wash of concrete.
Where to go: PIU, www.piu.com.sg
BONUS! Furniture retailer HipVan is giving AsiaOne readers 15% off all purchases on their website. Simply enter promo code: HVASIAONE15 at the checkout.
Home & Decor, Singapore's #1 interior decor magazine is
now available in both print and digital formats.
Log on to www.homeanddecor.com.sg to subscribe!
AsiaOne is looking to feature our readers' renovations and beautiful homes. If you would like to show off the transformation of your HDB flat, send us before and after photographs of the home, along with your name and contact number, to a1photo@sph.com.sg, with the email subject: "Home Works", and you could win a prize if your home is featured!