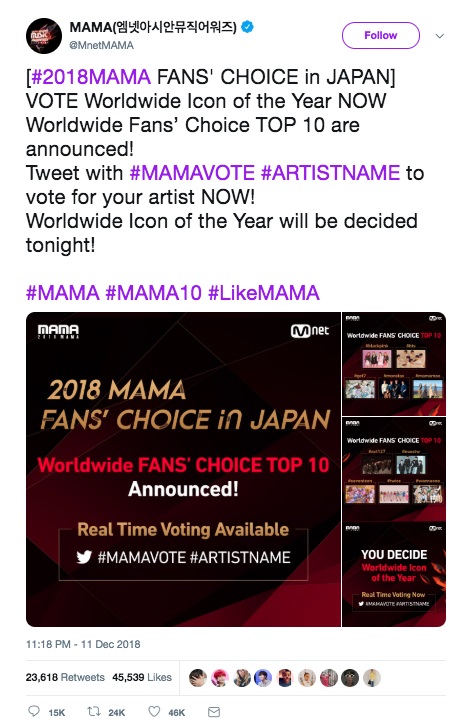 The partnership between MAMA and Twitter gave K-Pop fans multiple exclusive real-time award voting opportunities and access to Red Carpet live streams
SEOUL, SOUTH KOREA - Media OutReach  - 18 December 2018 -  2018 celebrates the 10th anniversary of Asia's biggest music awards - Mnet Asian Music Awards (MAMA), bringing about a collaboration between Twitter and #2018MAMA . From Red Carpet live streams to real-time voting that happened exclusively on Twitter, K-Pop fans across the world responded enthusiastically with nearly 56 million Tweets (from December 12 to 15, 2018), breaking 2017 MAMA's record of 42 million Tweets.
In particular, the #MAMAVOTE hashtag was used by K-Pop fans to vote for their favourite artistes and topped the list of Twitter Trends in 44 markets with 13.3 million votes sent exclusively on Twitter during the real-time voting segment for the "Worldwide Icon of the Year" award. BTS ( @BTS_twt ) was the winner of this brand new award presented during the 2018 MAMA Fans' Choice in Japan ceremony.
Embeddable Tweet: https://twitter.com/TwitterKorea/status/1073072906916093952
Embeddable Tweet: https://twitter.com/MnetMAMA/status/1072797860289081344?s=20
The MAMA Red Carpet event in Hong Kong was also live streamed through a special live page( https://twitter.com/i/events/1070115068908462080 ) for fans to get a closer look at their favourite artistes/bands' red carpet looks. The Hong Kong Red Carpet event had over 1 million viewers tuning in to the livestream and voting for their favourite artistes using the #MAMARedCarpet hashtag for the "Best Asian Style Awards" in Hong Kong.
The #MAMARedCarpet hashtag trended #1 on Twitter in 35 markets with 10 million votes sent on Twitter in just 2.5 hours. The award in Hong Kong went to BTS ( @BTS_twt ) as well, delighting ARMYs all over the world.
Conversations for 2018 MAMA started since 1 Nov 2018, with fans using the official hashtags #2018MAMA , #MAMA10 , #LikeMAMA and #MAMARedCarpet to express their love and admiration for their favourite idol and artistes. Here are several of the top Tweets from artists and fans alike for 2018 MAMA:
The top ten Hashtags used during 2018 MAMA were:
Twitter delivered many opportunities for K-Pop fans across the world to be part of the 10 th anniversary of the MAMA ceremony, find out what's happening in real-time, and to talk about it with other K-Pop fans. If you want to relive the exciting experience, you can visit the official MAMA Twitter account ( @MnetMAMA ).
About Twitter
Twitter, Inc. (NYSE: TWTR) is what's happening in the world and what people are talking about right now. On Twitter, live comes to life as conversations unfold, showing you all sides of the story. From breaking news and entertainment to sports, politics and everyday interests, when things happen in the world, they happen first on Twitter. Twitter is available in more than 40 languages around the world. The service can be accessed at twitter.com , on a variety of mobile devices and via SMS. For more information, visit about.twitter.com or follow @TwitterKorea . For information on how to download the Twitter and Periscope apps, visit twitter.com/download and periscope.tv .