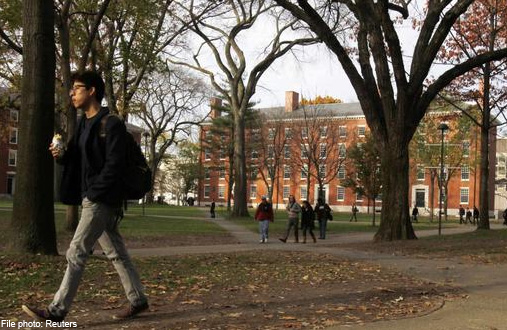 It is no secret that getting a top-notch education in the US is expensive. Harvard University's website lays out just how much it would cost to attend the prestigious school.
Tuition and fees, coupled with room and board, would set you back US$60,659 (S$81,667.6) for the 2015-2016 academic year. Personal expenses, travel and insurance push the bill up to an estimated US$71,990.
All told, the cost of a four-year Harvard education exceeds US$280,000. That is 35 times more than the per capita gross domestic product of China, or 159 times that of India. And the Massachusetts institution is not even the priciest place to study in the US: The University of Chicago, Columbia University and around 50 other American schools charged more in 2014, according to human resources information provider PayScale.
Now consider another statistic: Students from China and India account for 43 per cent of foreign students in the US, data from the Institute of International Education shows. The wealthy in these countries are clearly willing to pay for what they perceive to be the best education on the planet.
Read the full article here