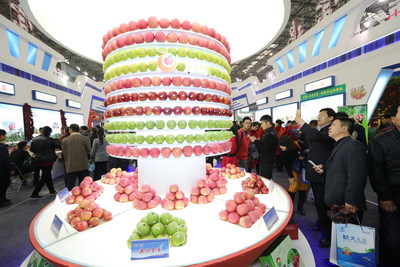 The 25th Yangling Agricultural High-tech Expo will be held in Shaanxi Province from November 5-9
YANGLING, China, Oct. 24, 2018 /PRNewswire/ -- The 25th Yangling Agricultural High-tech Expo, known as "Agricultural Olympics", is to be held in Northwest China's Shaanxi Province from November 5 through November 9. Covering only 135 square kilometers but equipped with over 7,000 scientific and educational personnel, Yangling is the first state-level agricultural hi-tech zone and provides continuous technological and innovation support to the agricultural development in China's arid and semi-arid area.
With the theme of "New Era, New Momentum and New Agriculture", the 25th Yangling Agricultural High-tech Expo has a total exhibition area of 182,000 square meters. It will hold nearly 100 events featuring seven sub-themes such as international agricultural cooperation and exchange and exhibition of modern agriculture with characteristics, etc.
Since its establishment 24 years ago, Yangling Expo has attracted tens of thousands of agriculture-related enterprises and scientific and educational units from more than 70 countries and regions. 28 million businessmen and visitors have participated in the exhibition and conference. The total trade volume reaches more than 840 billion yuan. Since 2006, Yangling Agricultural Hi-tech Industries Demonstration Zone has consecutively held 11 International Cooperation Weeks with Kazakhstan, Germany, Serbia and some other countries attending as The Guest of Honor.
Yangling Agricultural Hi-tech Industries Demonstration Zone has established cooperative relations in agriculture with more than 60 countries around the world, and has carried out substantive projects with more than 40 countries. Relevant agreements have been signed to strengthen agricultural cooperation with more than 20 countries including the United States, Germany, New Zealand, Russia and Kazakhstan. Thirteen international cooperation platforms have been established and more than 120 international cooperation projects implemented. Eight international cooperation parks including Sino-Kazakhstan, Sino-US and Sino-Russia Parks have been established. More than 100 training sessions have been hosted as foreign aid to developing countries, and more than 2,400 students from more than 110 countries came to Yangling to study advanced agricultural technology.
With more acceptance of the Belt and Road Initiative, Yangling's "circle of friends" has been continuously expanding, and Yangling has become a "green visiting card" of China's international cooperation in agriculture.
Image Attachments Links:
http://asianetnews.net/view-attachment?attach-id=322549
http://asianetnews.net/view-attachment?attach-id=322550
View original content to download multimedia:http://www.prnewswire.com/news-releases/agricultural-olympics-to-open-in-northwest-china-this-coming-november-300735899.html