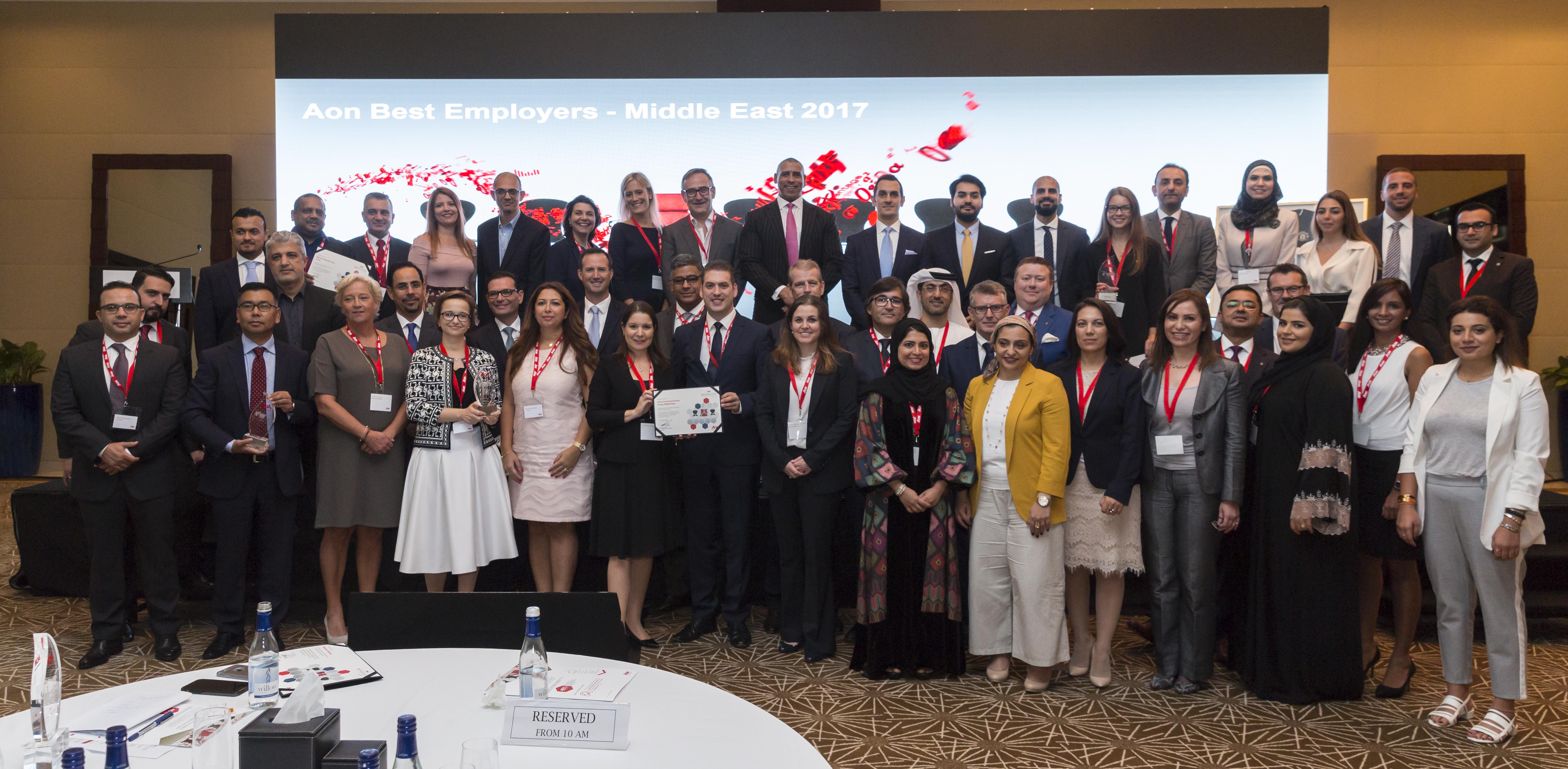 Most comprehensive employer benchmarking study in the Middle East sees 10 organizations stand out across various markets Best Employers Middle East demonstrate 20% higher engagement scores compared to the rest of the Market Best Employers Middle East filled 47% more openings internally and have 17% lower attrition compared to market average Dubai, UAE -
Media OutReach
- 2 October, 2017 - Aon, a leading global professional services firm providing a broad range of risk, retirement, and health solutions, has announced the Best Employers  Middle East for 2017. 
In the most comprehensive employer benchmarking program of its kind  in the region, participating organizations were assessed against Aon's regional database consisting of more than 350 organizations and 275,000 employees, and Best Employers Middle East 2017 were selected based on achieving high levels of employee engagement, a culture of high performance, effective leadership and a compelling employer brand.
The Aon Best Employers in the Middle East for 2017 are:  
Organization (listed alphabetically)  
Category  
DHL  
Best Employer in the Middle East (Oman, UAE, Qatar, Bahrain, Iraq, Jordan, Lebanon)  
Emirates Fast Food Company  --  McDonald ' s  
Best Employer UAE  
Intercontinental Hotels Group  
Best Employer Middle East (Global Program)  
Jumeirah  
Best Employer UAE  
Marriott International  
Best Employer Middle East (Global Program)  
Marriott Vacation Club  
Best Employer Middle East (Global Program)  
Mundipharma  
Best Employer UAE  
Novartis Levant  
Best Employer Levant (Lebanon, Syria, Iraq, Jordan, Palestine)  
Rotana Hotel Management Corporation    
Best Employer Iraq and Lebanon  
Sodexo Benefits and Services  
Best Employer Middle East (Global Program)  
Key insights revealed Aon Best Employers Middle East continue to lead with exceptional engagement scores of 81 percent --a lead of 20 points over the rest of the market (market average, 61 percent), and excel with 17 percent lower attrition levels while filling in 47% more openings internally compared to the market average. Best Employers also scored in excess of 20 points as compared to market average across employer brand, leadership, and high performance culture indices. Furthermore, in a competitive talent market, wherein learning and development and collaboration ranks high on employees' list for a workplace, 87% of employees at Best Employers believe their organization strongly supports employee learning and development (market average, 62%) and 85% of employees at Best Employers feel there is effective cooperation between different groups/departments in the organization (market average, 62%).
Khalid Youssef, Employee Engagement Lead, Middle East, Aon Hewitt
said: "Aon Best Employers measure and deliver extraordinary employee experience, around the four Best Employer indices of high employee engagement, effective leadership, compelling employer brand and high performance culture. This in turn enables them to outperform other organizations on a range of critical business, and talent metrics including revenue, profits, talent attract and retention, and productivity creating a sustainable difficult to replicate competitive advantage for their business." 
Christopher Page, CEO Middle East and Africa, Aon Hewitt,
added: "Increasing technological capabilities and the need to more frequently connect with employees make measuring and tracking the employee experience easier and quicker throughout the employee life cycle. By combining rigorous data and survey science with powerful technology that provides deeper insights into the results, Best Employer organization have a continuous visibility of how their employees feel about working in their organizations. By implementing a continuous feedback, insight, and action loop they have the right data to measure and manage employee experience that has a direct impact on business outcomes."
About the Aon Best Employers program
Aon Best Employers is a flagship program, designed to improve employee engagement, leadership effectiveness, employer brand, and culture to drive high performance. It is the most credible and comprehensive survey of its kind in Asia Pacific and Middle East. The survey leverages on Aon Hewitt's professional 3-tier assessment tools and includes participants from a variety of industries--including finance, F&B, hospitality, pharmaceutical, and more. Now in its 17th year, the Aon Best Employers program runs across 14 markets in APACMEA: Australia, China, Hong Kong, India, Indonesia, Japan, Korea, Malaysia, Middle East, New Zealand, Philippines, Singapore, Taiwan, and Thailand.  For further information about the Aon Best Employers program, visit:
http://bit.ly/2h5inoW
About Aon
Aon plc (NYSE:AON) is a leading global professional services firm providing a broad range of risk, retirement and health solutions. Our 50,000 colleagues in 120 countries empower results for clients by using proprietary data and analytics to deliver insights that reduce volatility and improve performance. For further information on our capabilities and to learn how we empower results for clients, please visit
https://aonhewitt.ae