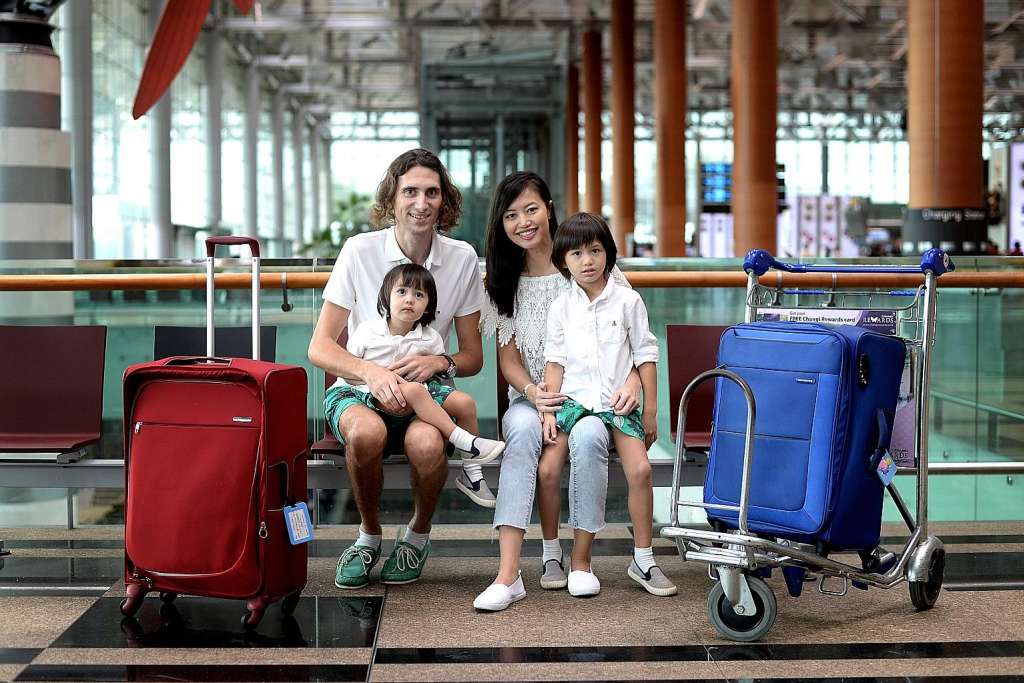 Ms Grace Cheng, co-founder and editor-in-chief of credit card comparison site Get.com, has put her knowledge of getting the best deals out of plastic to good use.
A year ago, Ms Cheng, 36, and her Spanish husband Pedro Pla, 34, Get.com's chief executive, set out on a quest to accumulate one million miles through credit cards.
Today, the couple and their two children, Ramses, four, and Ranefer, two, are embarking on a six-month trip using round-the- world business-class tickets with Singapore Airlines (SIA) redeemed from 960,000 miles - all from the couple's credit card spend over a year.
It helps that both Ms Cheng and Mr Pla are "travel hackers" - a term to describe people who set about piling up a large number of air miles.
The couple plan to work while travelling, something they did for a year, in 2007, before their boys came along.
Ms Cheng said they wanted to travel around the world with their children, but such flights for four people are extremely expensive on economy class and even more so on business class.
She added: "As people who have expert knowledge on credit cards and who love to collect air miles, we knew there was a way to travel for free through travel hacking, which is all about getting free or cheaper travel.
"We are bent on collecting the most credit card points or miles per dollar spent, because frankly speaking, we are obsessed with getting the best value for our money, especially for the finer things in life.
After all, why pay more when you can get it for free or less?"
Q Tell us about your quest.
A. In our quest to get four free round-the-world air tickets, we set out with a goal of earning one million miles through credit cards.
In September last year, we reached our goal of one million miles after nearly a year.
We love flying on SIA, so we transferred all our credit card points or miles to the SIA KrisFlyer programme.
Out of the one million miles we accumulated, we redeemed 960,000 miles for four round-the-world air tickets on business class worth $77,000 with SIA, which is part of the Star Alliance network .
We may be the first people in Singapore to get $77,000 worth of air tickets for free, just by maximising our credit card rewards.
We will start our epic six-month journey today, travelling to South and Central Africa, then to Europe, Latin America, North America, and lastly, Asia.
Q How did you do it?
A. Reaching this goal hasn't been easy and it required a lot of military precision researching, planning and execution on our part.
We aren't super frequent flyers who fly every few days, so most of our miles were earned as reward points or miles when we used our credit cards to pay for purchases.
As credit card comparison geeks, we took steps to maximise our rewards to earn the most points and miles possible.
We use a mix of credit cards, including those from Citibank and American Express.
Once we had enough credit card points and miles, we converted them into actual air miles on SIA.
One of the strategies we used to maximise our air miles was to time our card application with a planned purchase.
For example, we collected more than 50,000 bonus miles through a welcome bonus offer for The American Express Singapore Airlines KrisFlyer Ascend Credit Card.
That promotion required a minimum spend of some $10,000 within the first few months of having the card, and this amount coincided with expenses we had to make for our trip to the Maldives.
We always pay off our credit card bills in full each month, so credit cards are just a mode of payment, not a line of credit.
Our maxim is: When you use cash, you lose cash.
Using cash means you are missing out on getting credit card reward points, miles or cashback.
Q Any tips on travel hacking?
A Travel hacking is for everyone.
Set a goal of how many miles you need to redeem for a free flight to your dream destination, then use the best credit cards to help you earn the most points or miles per dollar spent.
Use your card to pay for everything, if possible.
Travel hacking works only if you don't overspend and if you pay your credit card bills in full each month.
Compare and find the best credit cards at Get.com and apply online for the cards that best suit your needs. ?
Use the Getdeals app to find all credit card deals near you to enjoy savings any time and anywhere.
Many credit cards offer a welcome bonus of tens of thousands of miles for new members if they spend a certain amount in the first few months of having the card.
Thus, applying for such cards could coincide with your plans for a big purchase, such as computer equipment or air tickets.
Never shop direct from online stores.
For example, use KrisFlyer Spree to earn more miles on top of credit card earnings.
lornatan@sph.com.sg

This article was first published on Jan 15, 2017.
Get a copy of The Straits Times or go to straitstimes.com for more stories.