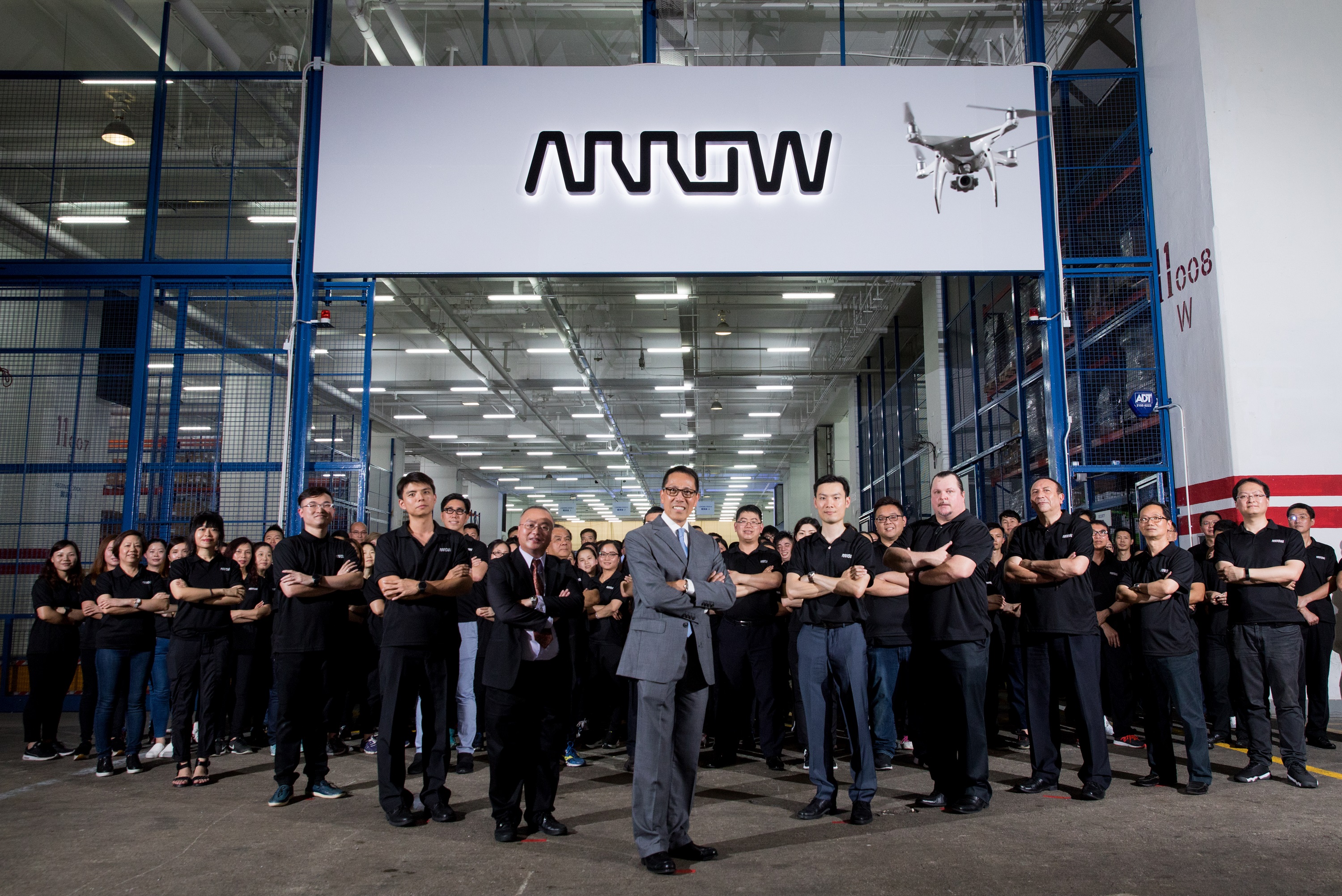 HONG KONG, CHINA - Media OutReach - JUNE 15, 2017 - Arrow Electronics, Inc. (NYSE: ARW) today announced the deployment of its award-winning Lean and Six Sigma drone project at its two primary distribution centers in Hong Kong and Malaysia, in a bid to optimize supply chain infrastructure and warehouse management capabilities in the Asia-Pacific region.
Mr. Simon Yu, president of Arrow's Asia-Pacific components business and supply chain team unveiled this award-winning drone project at Arrow's primary distribution center in Hong Kong
Honored as the "Innovation of the Year" in March, Arrow's drone project combines drone technology, proprietary video technology and a rapid-improvement methodology to observe Arrow's extensive warehouse operations from a birds-eye view and effectively identify areas for continuous improvement.
"Arrow manages one of the most complex supply chain networks in technology sector.  We are always on the lookout for new and innovative ways to advance our supply chain and logistics capabilities, bringing the best-in-class warehouse management services to customers and suppliers in the region," said Simon Yu, president of Arrow's Asia-Pacific components business. 
By using DJI's smart drone - Phantom 4, the drone project has already increased the efficiency of targeted processes by 82 percent and eliminated more than 6.5 million walking steps in warehouse processes since its first launch in late December last year.
Though an extensive network of 70+ sales offices, 8 key distribution centers and local warehousing facilities with a total area of more than 400,000 square feet across Asia-Pacific, Arrow provides specialized services and expertise across the technology lifecycle and help customers fuel innovation through distinctive market solutions.
To ensure operational excellence, Arrow offers regular Lean and Six Sigma training program to its employees. Aside from training, Arrow also conducts regular audits in every distribution center, making sure the problems are always identified and the best practices are widely shared, to improve operational performance and achieve high ROIs.
About Arrow Electronics
Arrow Electronics is a global provider of products, services and solutions to industrial and commercial users of electronic components and enterprise computing solutions. Arrow serves as a supply channel partner for more than 125,000 original equipment manufacturers, contract manufacturers and commercial customers through a global network of more than 465 locations serving over 90 countries.