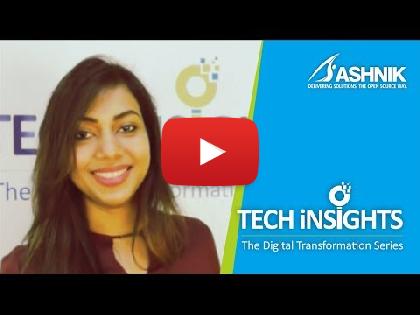 'Tech Insights' offers a tech-talk platform to offer insights into key open source technologies that are shaping digital transformation initiatives for enterprises in Southeast Asia and India
SINGAPORE - Media OutReach  - Feb 28, 2018 - One of Southeast Asia's leading enterprise open source solutions providers, Ashnik, has launched a focussed event platform to highlight digital transformation technologies. Over the past 6 months, since its launch, the company has already presented two events successfully. Through this platform, Ashnik offers technology professionals and vendors to come together to discuss digital transformation trends, get to know relevant technologies in detail and hear from experts and customers.
Ashnik's intent is to bring a series of events which will delve deeper into digital solutions and technologies that Asia's businesses need to turn agile and innovative. The highlights of Tech Insights is that it gives the attendees an overview of the industry, bringing forth real world case studies and a panel of customers who toss in their views and experiences.
"Ashnik is creating an opportunity for technology managers and decision makers to get to know technology trends and views of other fellow customers under a neutral platform. By partnering with key open source players like Docker, EDB Postgres, Elastic and others, Tech Insights offers enterprise class perspectives on solutions, adoptions and implementations" says Deepti Dilip, Ashnik's Director of Marketing and Communications.
Docker's Erik Baardse, Director Channel & Alliances APAC shared his experience partnering with Ashnik, "Tech Insights offers an excellent platform for us to interact with key enterprises, present our technology and listen to tech users' views. We look forward to step up our interactions with the enterprises in Southeast Asia region through Tech Insights."
"EDB Postgres has become the foundation of transformation initiatives at organizations seeking to modernize their infrastructures because of its high performance and flexibility," said Amar Chigteri, Business Development Director, Australia and SEA, EnterpriseDB. "The Tech Insights conference was an excellent platform for sharing best practices and innovation that will help technology contribute to greater competitiveness."
The attendees have had a positive feedback about the preceding events.
"Excellent event, with different speakers and their insights" said Chin Gim Leong from Performance Computing LLP who attended the event held in December. "The introductory talk was insightful. The product presentation gave me a bigger picture around Docker. And the demos were useful in illustrating some of the points shared earlier. I was also struck by how knowledgeable some of the members of the audience were. I have much to learn" shared another attendee Rom Marshall, Managing Consultant from IBM Singapore.
'Unlocking the power of real-time data and discovering analytics using the Elastic s tack' is going to be the focus of the upcoming session of Tech Insights in March. This half-day session will cover talks by technical experts, a live demo on 'working with Logs and Realtime Analytics, Machine learning' and a fireside chat with Elastic customers, Standard Chartered and Grab, sharing their know-hows.
Seeing immense success in Singapore, Ashnik is now taking this event to other regions of Asia. For the first time, Tech Insights will be held in two places - Jakarta on 8th March and  Singapore, on 6th March at Suntec. In addition, it is going to be held at Mumbai and Singapore in May 2018.
About Ashnik
Ashnik is a Singapore headquartered leading open source solutions provider, with presence across Southeast Asia, US and India. Ashnik delivers consulting services and solutions based on enterprise open source to overcome critical business challenges - enabling enterprises to achieve their digital transformation goals through open source technologies thus aiding their customers become agile, innovative and cost efficient.
Founded in 2009, Ashnik has since enabled over 100 enterprises in the region with its open source based technologies, services and training facilities. To know more about them, visit www.ashnik.com