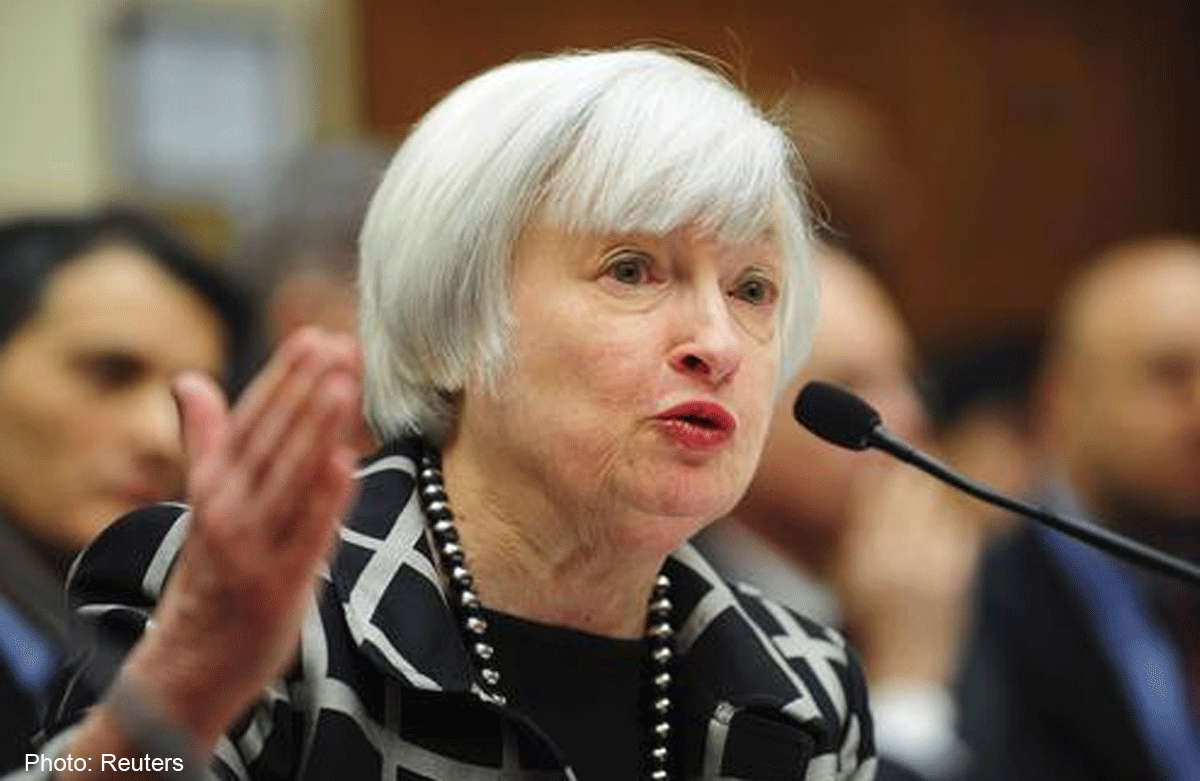 Asian stocks were mixed Wednesday after US Federal Reserve chief Janet Yellen damped speculation of a rate hike before summer, and as eurozone finance ministers backed Greek reforms critical to avoiding a disastrous default.
Tokyo snapped a five-day winning streak to close 0.10 per cent, or 18.28 points, lower at 18,585.20, while Sydney rose 0.30 per cent, or 17.92 points, to 5,944.90, and Seoul added 0.73 per cent, or 14.35 points, to finish at 1,990.47.
Chinese markets also rose at the open in the first day of trade after the week-long Lunar New Year holiday.
But Shanghai quickly reversed coursed, falling 0.93 per cent in the afternoon, despite a survey showing Chinese factory activity expanded in February, snapping two consecutive months of contraction.
Hong Kong also lost its opening gains as it slipped 0.07 per cent late trade.
"The two potential international risk events for markets had positive outcomes," said Ric Spooner, chief market analyst at CMC Markets in Sydney.
"Janet Yellen's testimony moved expectations for a rate hike out in time while the boxes were ticked to cement a four-month funding programme for Greece."
Global markets zeroed in on the start of Yellen's two days of congressional testimony, where she signalled that the Fed was preparing for a rate hike this year, but she hinted such a move would not come before June.
"The reaction of the market (to Yellen's testimony) is weaker dollar, lower yields, higher equities -- the classic reaction you'd see from a slightly dovish Fed," Omer Esiner, chief market analyst at the currency brokerage Commonwealth Foreign Exchange, told Bloomberg News.
- 'Many challenges ahead' -
Speculation has been rising over when the central bank would pull the trigger on a rate hike, amid growing optimism over the state of the US economy.
But Yellen said the labour market still showed cyclical weakness and inflation continued to slow, adding that uncertainty over China and Europe posed a risk for the world's top economy, supporting the need to keep loose monetary policy in place a bit longer.
Wall Street embraced the comments with the Dow Jones Industrial Average and the broader S&P 500 both closing at record highs.
European stocks also rose strongly, with a record close in London, as eurozone finance chiefs backed a four-month extension of Greece's bailout.
Despite reservations expressed by the International Monetary Fund and European Central Bank over the plan, eurozone ministers signed off on promised reforms which Greece's new left-wing government submitted to meet a demand made by its international creditors.
Several parliaments, including Germany's, must now approve the extension before the current bailout expires on Saturday, while key details will be hammered out in the coming weeks.
The euro gained in Asian trading at $1.1375(S$1.5) and 135.03 yen, against $1.1342 and 134.90 yen in New York.
Yellen's rate-hike comments helped push the dollar down to 118.71 yen against 118.94 yen in US trade.
Oil prices were mixed ahead of a key report expected to show further build-up in US crude inventories, hitting prices in an already oversupplied market, analysts said.
US benchmark West Texas Intermediate (WTI) for April delivery fell nine cents to $49.19 while Brent crude for April gained 13 cents to $58.79 in afternoon trade.
Gold fetched $1,210.36 an ounce against $1,198.59 late Tuesday.
In other markets:
-- Wellington rallied 2.09 per cent, or 119.33 points, to close at 5,842.29.
Air New Zealand led the way, surging 7.18 per cent after a strong interim profit result, while Fletcher Building was up 3.80 per cent at NZ$8.75.
-- Taipei rose 0.73 per cent, or 70.17 points, to 9,699.54.
Taiwan Semiconductor Manufacturing was up 2.32 per cent to Tw$154.5 while smartphone maker HTC fell 1.01 per cent to Tw$147.5.