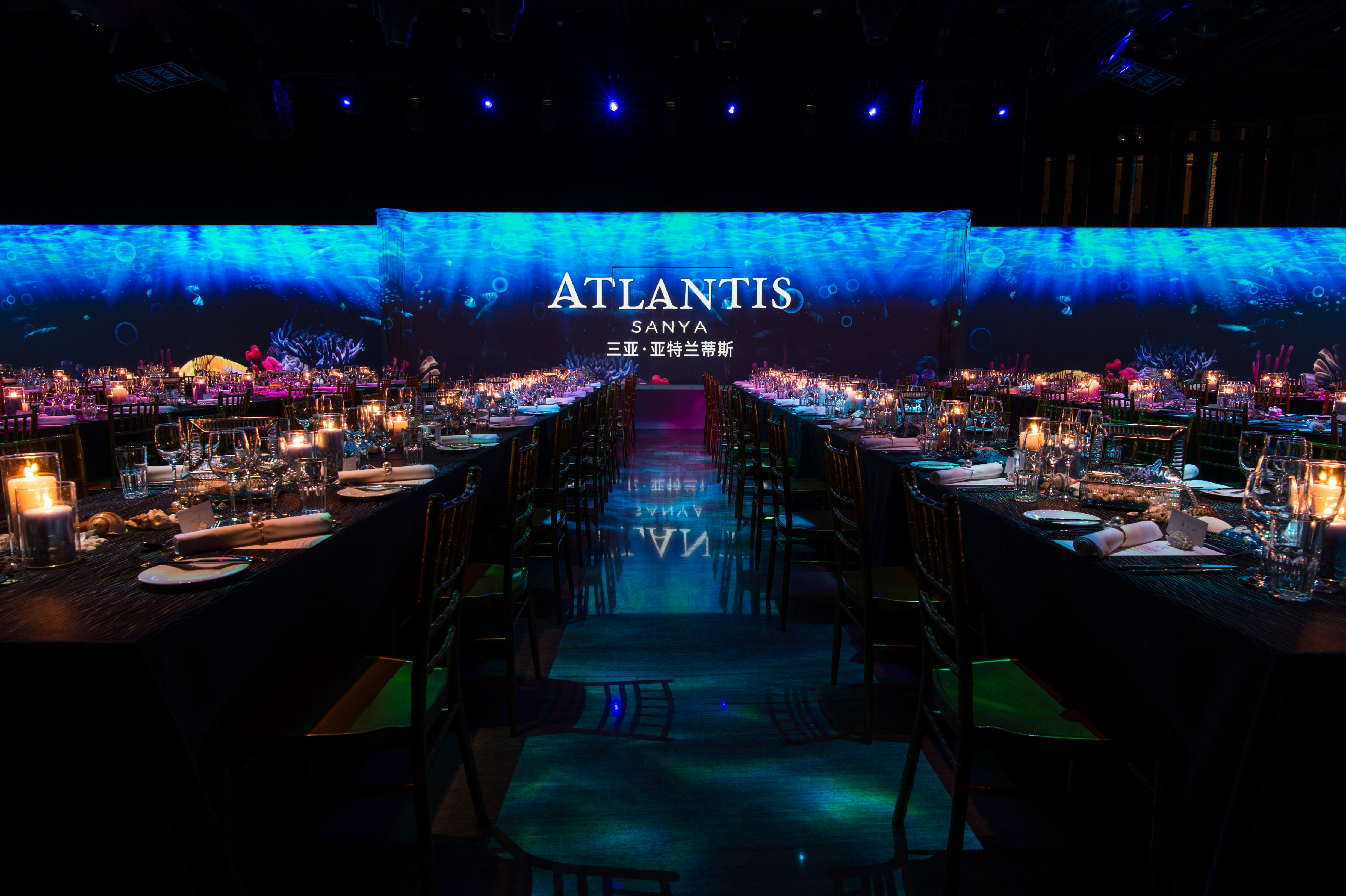 P remium  opening  offers for a range of luxurious  and well- appointed underwater   suites at Atlantis Sanya  will be unveiled through  a series of  experiential events across China's tier one cities .  
SHANGHAI, CHINA -   Media OutReach -  October  2 3 , 2017  -   Atlantis  Sanya  is excited to offer a number of luxurious signature suites and underwater suites to guests staying at this  extraordinary  destination resort. These  premium  suites will offer guests astounding  views into the marine  sanctuary  at Atlantis Sanya, whilst relaxing in lavish accommodation.  
Atlantis Sanya  will host a series of by-invitation experiential events across China's tier one cities -- Beijing, Shanghai, Guangzhou, and Chengdu, to introduce the resort's signature suites and luxurious under water suites ahead of the resort's  opening in the first quarter of 2018. During these exclusive events, Atlantis Sanya will not only unveil these breath-taking suites, but will announce a number of irresistible opening offers for guests wishing to stay in these magnificent underwater suites.  
For guests staying in Atlantis Sanya's  signature s uites, a special opening package  start  from    CNY 15,888  per night  is on offer. This includes complimentary  access to the Imperial Club plus airport transfers, private butler service, private in-suite  chef prepared breakfast or breakfast  provide d by in-room dining, a private bar, in-suite check-in and check- out, re ntal of one private cabana for four persons , 1  DigiPhoto ,  and use of  up to two hours each day with a private trainer for guests staying in the Imperial Suite which has its own private gym, and complimentary laundry and pressing.    
Five of the resorts spacious and luxurious rooms are underwater, immersi ng guests in the underwater civilization  of Atlantis.  The unique Neptune Underwater Suite and Poseidon Underwater Suite both command impressive views right into the heart of the Ambassador Lagoon and  the  86,000 marine animals  that reside inside  through floor to ceiling  glass window panels . The underwater suites further offer guests a  well equipped kitchen,  premium brand sound system, premium branded bath amenities and a  12 square meter balcony for the Neptune  Underwater Suites priced at CNY 58,888  per night  and a 33 square meter balcony for the larger Po seidon Underwater suite for CNY 108,888  per night . Able to relax in luxury whilst  gazing into the resort's marine habitat, there is no doubt that Atlantis Sanya's underwater suites serve as the ultimate viewing platform into the underwater world of the Ambassador Lagoon.  
The reso rt's Royal Suite, priced at CNY 35,888  per night  boasts an expansive view of the ocean and  Aquaventure  Waterpark.  The suite  is able to accommodate up to five  adults  and two children , with  two spacious bedrooms,  a fully equipped kitchen, premium brand sound system and a balcony measuring 73 square meters. The Presidential Suite is a two-bedroom luxury suite, offering ocean views and Imperial Club Lounge access  is set at  CNY 15,888  per night . The  Imperial Suite is the largest ocean-v iew  suite  and  the pinnacle of luxury in Sanya. It  occupies the entirety of the resort's top floor  and offers guests exclusive access to the floor's facilities including four lavish bedrooms, a grand living area, an equipped kitchen, a private gym and a private spa room.  
Located at  Haitang  Bay,  Atlantis, Sanya Hainan will encompass 300,000 sq uare  m eters  of unparalleled excitement and larger than life experiences embodied in China's newest five-star luxury resort.   Built around the my th of The Lost City of Atlantis  and o verlooking the spectacular South China Sea, the resort  offers  exhilarating water play  on  Aquaventure Waterpark 's twisting waterslides ,  one-to-one interaction with dolphins and sea lions at Dolphin Cay and Sea Lion Point,  exploring the ancient Atlantis civilization  at T he Lost Chambers Aquarium  alongside the exotic marine creatures that reside there ,  and   a look into the largest open-air aquarium in the world, The Ambassador Lagoon , through a mesmerizing viewing platform.  All  in-house  guests  have  full complimentary access to Aquaventure Waterpark and The Lost Chambers Aquarium.  
Guests and day visitors  will be  delighted with extensive  dining  choices at the resort with  21 different restaurants, cafes , lounges,  and bars that include  the signature  Ossiano Underwater Restaurant and  Bar; and  celebrity chef Gordon Ramsay's awarding winning Bread Street Kitchen  and Bar .  The resort also  features  over 5,000  square meters of meeting and event space  suited to hosts high-level and massive MICE activities .  Already a leading holiday destination, Hainan Island will be transformed into the new pinnacle of entertainment in China with the addition of this new trailblazing landmark.     
Atlantis Sanya Managing Director Heiko Schreiner said " Atlantis Sanya is hosting these exclusive experiential events across China to c reate awareness about our  unique ocean- themed entert ainment resort featuring never- before seen experiences in China . We are confident that we will be offering a truly extraordinary experience beyond our guest's imagination during their stay or visit to Atlantis. With the support of our partners from Fosun International and Sanya government, Atlantis Sanya will elevate the tourism landscape in Hainan Island."    
With  China' s first of its kind  luxury underwater suites, largest open-air aquarium , and a host to  unique gastronomic attractions, Atlantis Sanya will undoubtedly become a globally recognized travel destination and the premier resort in Sanya , Hainan Island .  For bookings , please visit  www.atlantissanya.cn   or call +86- 898-88986666 .  
*All rates are inclusive of service charge and value added tax.