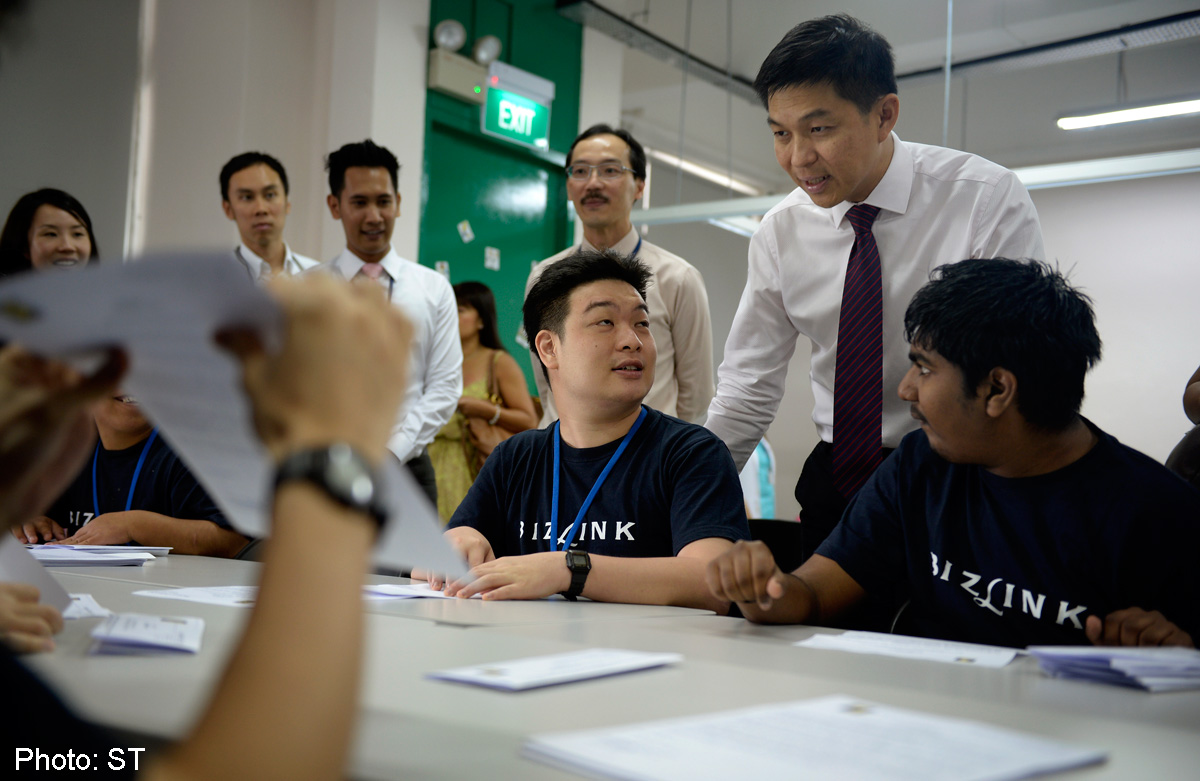 SINGAPORE - The largest employer of the disabled in the people sector has committed to paying its workers with disabilities a basic living wage.
The non-profit Bizlink Centre trains the disabled and disadvantaged for work and helps them find employment, often by hiring them for its sheltered workshops or social enterprises.
It plans to pay its 300 employees at least $450 a month, which is the sum a single-person household gets under the Government's Public Assistance scheme.
Bizlink also released last Friday the results of a two-year study conducted with the NUS Chua Thian Poh Community Leadership Programme on its workers' quality of life and financial well-being.
"We wanted to institute a living wage to encourage those who can work to work at a pace they can, because the study shows that there are intrinsic benefits to work," said Mr Alvin Lim, chief executive of Bizlink.
The study measured how contented its workers are in areas such as standard of living, health, achievements, relationships, safety, community connnectedness and future security.
It found that its workers had higher levels of contentment in all of these areas than the disabled who were unemployed.
The study also looked into developing a remuneration system that is based on the workers' productivity, and proposed topping up the wages of those who earn below a certain amount.
The average pay of Bizlink's workers is $563 now, excluding bonuses, Workfare and other benefits. Of its 146 disabled workers, 46 earn less than $450 a month.
To start, Bizlink will have a wage supplement for 10 of its workers so that they will be paid at least $450 a month from April.
To help its clients, those who are unable to do paid work, the group also launched a work therapy programme on Friday, where such clients can learn to tie ribbons or fold letters, for example, to keep their fingers and minds nimble. They are not paid.
It aims to offer an extra option beyond what is available now: day-care services for those who cannot work, and tasks such as data entry, telemarketing or packaging at sheltered workshops and social enterprises for those who can.
At its launch, Acting Minister for Manpower Tan Chuan-Jin said: "Bizlink clients understand and accept that there are limitations to their work performance and productivity level.
"Hence, they have more realistic expectations about their wages. They are also content with being able to work and being part of a community that they can turn to when in need."
Mr Brandon Lee, 23, who has Asperger's syndrome and cerebral palsy, is one of 16 clients in the new programme. When his mother placed him in a mainstream school, he fell behind in his studies and was bullied by his peers.
After joining the programme last year, he said he is much happier. "I prefer it here because I have friends now and I don't get bullied," he said.
Bizlink hopes that some of its clients can eventually earn some money for their sustenance.
Mr Andy Wong, 28, who has intellectual disabilities, used to earn $200 at Bizlink's sheltered workshop. He became less motivated and sometimes did not turn up for work. He was counselled and given further training. He now earns $600 as a cleaner at a social enterprise run by Bizlink.
He said: "My dream is to earn $800 but I'm happier now as I'm able to buy the clothes I want."
jantai@sph.com.sg

Get a copy of The Straits Times or go to straitstimes.com for more stories.