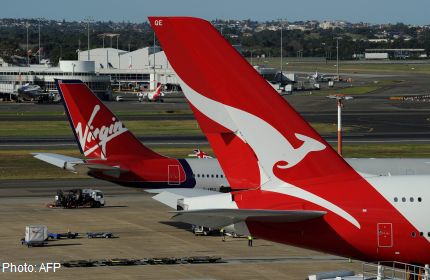 SYDNEY - British Billionaire Richard Branson waded into a dispute over the future of Australian carrier Qantas Wednesday, urging the government not to "prop up the weak".
Branson's Virgin Group is a 10 percent holder of Virgin Australia, the main domestic rival to Qantas which is lobbying politicians over what it claims is an uneven playing field in Australian skies.
Qantas claims Virgin Australia, which is now majority-owned by state-backed carriers Singapore Airlines, Air New Zealand and Abu Dhabi-based Etihad, is using its foreign owners' financial clout to set uncompetitively low prices to win customers.
Qantas said the situation was compounded by the disadvantage it experienced from the restrictions imposed by the Qantas Sale Act when it was privatised in 1995, which limits foreign ownership in the national carrier to 49 percent.
Treasurer Joe Hockey has called for a debate on Qantas' future, with a government buyback of 5 or 10 percent of the airline suggested as a measure to help if it fails to have its own foreign ownership restrictions lifted.
But Branson urged the government to resist intervention, saying Qantas' management and service were to blame for its financial woes.
"Qantas won't succeed in bleeding @VirginAustralia dry. Our superior team & service offer customers more choice & value," he tweeted.
"Government should encourage competition, NOT prop up the weak when the going gets tough."
He added: "If Qantas was better managed and offered the public a decent service it would not be in the financial mess it is currently claiming it is in."
Qantas chief Alan Joyce had been trying to get the government to halt a planned Aus$350 million (US$317 million) equity raising by Virgin which will allow its major foreign shareholders to further increase their stake.
But his campaign flopped Tuesday when the country's Takeovers Panel green-lighted the capital raising.